Italy Abolishes Isolation Mandates For Anyone Testing Positive For COVID-19 As SARS-CoV-2 Infections Start To Rise In The Country!
COVID-19 News
: It was announced by Italian authorities that with effect from tomorrow (Monday 7th August 2023), all rules and regulations concerning the need for those who have tested positive for COVID-19 to remain in isolation will be abolished.
https://www.orizzontescuola.it/covid-19-lunedi-il-governo-abolisce-obbligo-di-isolamento-per-chi-risultera-positivo-al-virus/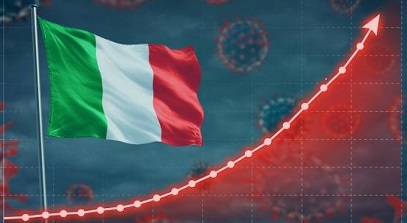 Italian Health Minister Orazio Schillaci told
COVID-19 News
outlets that the previous regulation requiring COVID-19 positive individuals to remain in isolation was an anachronistic measure that is currently redundant.
The Italian Health Ministry also said that it was moving forward with plans to treat COVID-19 as an ordinary respiratory infection similar to flu and common cold.
It seems that individuals at the Italian Health Ministry are ignorant about the issue of Long COVID or Post COVID-19 medical issues and conditions, some which can cause fatal outcomes!
Interesting the move comes at a time when Italy is starting to see a rise in COVID-19 infections, COVID-19 hospitalizations and also COVID-19 deaths.
https://www.salute.gov.it/imgs/C_17_bollettini_44_fileBollettino.pdf
There was a total of 5,732 new COVID-19 infections in the last week and 41 COVID-19 deaths based on official data.
https://lab24.ilsole24ore.com/coronavirus/?refresh_ce=1
However, COVID-19 testing rates are very low in the country. Physicians and healthcare staff are warning that they are witnessing an increase of individuals manifesting symptoms of respiratory illnesses especially fever and difficulty breathing presenting at their clinics and hospitals. Many also say that the official statistics released each week do not represent the actual situation and that actual infections are much higher than that which is being reported!
It is again very difficult to pinpoint which new SARS-CoV-2 variants could be behind the start of the new COVID-19 surge Italy as there is very little genomic sequencing being conducted!
https://cov-spectrum.org/explore/Italy/AllSamples/Past6M/sequencing-coverage
But it can be assumed that it is most likely the newer XBB sub-lineages that are behind this start of a new surge similarly to the rest of Europe.
https://cov-spectrum.org/explore/Italy/AllSamples/Past1M/variants?nextcladePangoLineage=xbb*&
Researchers are also keeping a watch on SARS-CoV-2 XBB sub-lineages bearing the ORF9b:I5T mutation.
amp;amp;">https://cov-spectrum.org/explore/Italy/AllSamples/Past1M/variants?aaMutations=orf9b%3Ai5t&
The SARS-CoV-2 protein Orf9b targets the MAVS/TRAF3/TRAF6 signalosome on mitochondria during infection and suppresses innate immunity.
https://pubmed.ncbi.nlm.nih.gov/33567255/
https://www.biorxiv.org/content/10.1101/2020.08.16.252973v1
https://www.biorxiv.org/content/10.1101/2021.06.06.446826v1
https://pubmed.ncbi.nlm.nih.gov/36184694/
It is believed that XBB sub-lineages carrying these mutations might possibly contribute to disease severity.
However, it should be noted that the current SARS-CoV-2 sub-lineages are mutating at a very rapid rate and many other concerning mutations are also emerging and stringent genomic surveillance is a must for all countries not just Italy.
But rest assured, Italy and the rest of Europe will be seeing a fun filled Autumn and Winter 2023 despite whatever reassurance are being given by various authorities or experts who are only turning to vaccinations to try to solve everything! This one-sided strategy is going to backfire on them very badly including the usage of the new boosters containing proteins of the XBB sub-lineage.
There should be more efforts and resources devoted towards identifying or developing safe and effective antivirals to control the SARS-CoV-2 crisis.
For the latest
COVID-19 News
, keep on logging to Thailand Medical News.
Follow us on twitter for more hourly updates:
https://twitter.com/ThailandMedicaX