Just As Carol Anne Said, "They Are Here!" Start Of The American COVID-19 Surges As Infection And Hospitalization Rates Starts Going Up
U.S. COVID-19 News
: Great News! Despite all the 'BS' from the Biden Administration and its dictatorial like mandates, COVID-19 surges are starting to be seen in the United States again.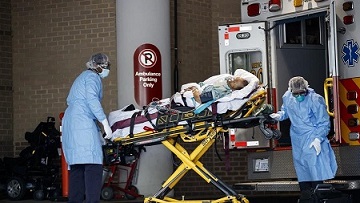 The state of Colorado reactivated crisis guidelines for hospital staffing as COVID-19 inpatients and infections rose, and state officials said anyone 18 and older now qualifies for a booster.
It was reported that more than one-third of hospitals reporting to the state of Colorado said they expected a shortage of intensive-care beds in the next week, and nearly two in five said they would be short on staff. The situation showed no sign of improving Tuesday afternoon, when 1,426 people were hospitalized statewide with confirmed COVID-19…..a level not seen since mid-December 2020.
And contrary to fallacies being propagated by the Biden administration, its not only the unvaccinated that are ending up in the ICU wards but also the vaccinated.
It was said that medical teams with the Federal Emergency Management Agency began arriving in Colorado over the weekend to help overstretched health facilities. Parkview Medical Center in Pueblo confirmed that a team of 15, which includes a doctor and a respiratory therapist, among others, is helping out in the hospital's general units.
Colorado has crisis standards for multiple areas, including how to stretch supplies of personal protective equipment and how to ration care by deciding who gets a medical resource, such as a ventilator or a bed in an intensive-care unit, if there aren't enough for everyone who needs them. The state only activated crisis standards for staffing Tuesday.
California, the nation's most populous state, once the epicenter of the U.S.'s COVID-19 outbreak, was briefly the only one to have a "moderate" rate of transmission in October. But the state's case rate has now climbed back up to the U.S. Centers for Disease Control and Prevention's (CDC) "high" rate of transmission.
It was reported via
U.S. COVID-19 News
today that California's 7-day COVID case rate climbed to 113.4 cases per 100,000 people, more than double Florida's rate despite stricter mandates and still much higher than the 72.7 cases per 100,000 people reported in Texas
Dr Bob Wachter, chair of the medical department at the University of California-San Francisco told media today, "California is experiencing a relatively mild uptick in cases, probably related to relatively low vaccination rates in some part of the state. It could get worse with more indoor activities; we'll have to see."
The state of California worked to curb coronavirus infections with some of the strictest mandates in the country. It was the first to announce a vaccine requirement for schools and has also mandated vaccines for state employees, healthcare workers and teachers.
Although the state's vaccination rate is higher than many Southern states, it's not high enough to prevent outbreaks as 62 percent of the state's total population is fully vaccina ted, compared to 60 percent in Florida and 54 percent in Texas.
Interestingly Mississippi, Alabama and Georgia each have less than 50 percent of their populations fully vaccinated against COVID-19, but currently have significantly lower-case rates than California.
Just as interesting, after plateauing in October, COVID-related hospitalizations are climbing in Arizona despite an already diminished hospital capacity.
It was reported that from Friday to Sunday, Arizona health officials reported over 3,000 COVID-19 cases each day. That number is down slightly today at 2,657, but the last time the state had over four consecutive reporting days that high was September 1 to September 5, which corresponds to the period when the summer COVID-19 surge settled into a plateau.
Infection rate trends are moving in the wrong direction. The 14-day average of newly added cases has risen for eight consecutive days resulting in an 18% increase in cases during that time alone.
It was said that unlike case numbers from early September, confirmed COVID-19 infections are increasing steadily for all age group categories tracked by the Arizona Department of Health Services.
About 65% of positive COVID-19 tests are still coming from Arizonans under 45, slightly higher than their total pandemic share of 63%. At the height of the summer surge in mid-August, younger people made up 75% of daily reported infections.
The key reason to track COVID-19 cases during any surge is they inevitably lead to a rise in COVID-19 hospitalizations.
What is unique about the most recent rise is that Arizona is already seeing higher hospital occupancy rates than at the start of any of the other surges.
The Arizona's hospital systems reported to the health department that only 11 of the past 100 days had bed availability rates at or slightly above 10%. That same metric for ICUs saw only 13 out of the last 100 days of reporting. Last winter's surge had similar rates of bed availability but only for 60 days.
Alarmingly COVID-19 hospitalizations are already on the rise in Arizona. Inpatient bed use has risen from 1,842 beds on October 31 to 1,943 beds yesterday, an almost 9% increase.
As of Wednesday at 8 a.m. ET, the unofficial U.S. COVID-19 toll reached 46,696,230 infections and 757,417 deaths, increases of 81,932 cases and 1,693 deaths versus this time Tuesday.
Thailand Medical News projects that the COVID-19 infection and death rates in America will continue to rise with new records broken this coming winter. Also another phenomena that will be more apparent this time round, will be more people getting disease severity and requiring hospitalization along with increased death rates for both unvaccinated and vaccinated as despite attempts to conceal data, most of the new emerging variants and sub-variants have a tendency to replicate faster leading to higher viral loads and also to a certain extent, 'viral priming' via past infections (Asymptomatic or symptomatic) or even vaccination will also be playing a key role in the increased hospitalizations and mortality in the next few surges.
For the latest
U.S. COVID-19 News
and more on the fun times ahead this next few weeks and months, keep on logging to Thailand