BREAKING! H5N1 Avian Flu News: 11-Year-Old Girl Dies From H5N1 Avian Flu Virus In Cambodia's Prey Veng Province!
H5N1 Avian Flu News
: Cambodia's Ministry of Health's Communicable Disease Control Department in the last few hours announced that a 11-year-old girl from the village of Roleang in Cambodia's southeast province of Prey Veng had died of H5N1 Avian Flu virus.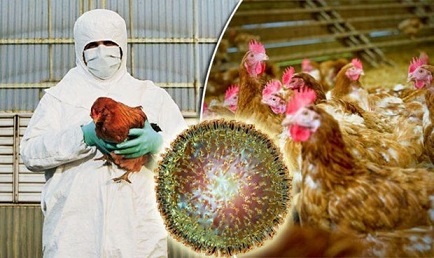 According to Cambodian health authorities, the girl fell ill on 16
th
February 2023 with the symptoms of a high temperature of 39 degrees Celsius, cough and sore throat.
It was reported that her parents had first sought local health service in their province but as her condition had worsened along with symptoms of rapid breathing, she was then transferred to the National Pediatric Hospital in Phnom Penh.
Cambodian health officials said that the attending pediatric physician at the National Pediatric Hospital in Phnom Penh took samples from the girl on the 21
st
of February for diagnosis at the National Institute of Public Health. However, the girl died after a few hours and her body was sent back to her village for burial.
However, results released on the 22
nd
of February morning confirmed that the girl had been positive for H5N1 Avian Flu.
Both Cambodian provincial and national health authorities were unable to comment as to how the girl could have been infected with the H5N1 Avian flu virus but according to reports, the village and various areas in the province had witnessed lots of birds, poultry and other animals dying strangely in the last two weeks.
The Cambodian Health Ministry has sent an emergency response team to scout the area.
Worryingly, reports are also emerging that that many other provinces are also witnessing a huge increase in deaths of birds, poultry and other animals along with locals developing flu like symptoms and the similar reports are emerging out of parts of Vietnam and also Myanmar.
Cambodian health authorities have issues warnings for all locals to stay away and not touch any dead poultry or any dead animals and to contact local authorities to conduct proper investigations. At the same time, locals developing any form of flu or cold symptoms are advised to seek help with any local hospitals or health centers.
The WHO has been notified about developments taking place in Cambodia and neighboring countries.
According to the WHO, from 2003 until 2014, there were 56 cases of individuals infected with the H5N1 Avian flu virus in Cambodia and that 37 people have died from the virus so far in the country. However, between 2015 and 2022, no humans were infected by the virus in the country.
The H5N1 Avian flu virus typically infects only birds and poultry but in the last 8 months it has been wreaking havoc by infecting huge populations chickens and birds in various geolocations around the world and causing a chicken and egg shortage.
Alarmingly, in the last 6 weeks, it is believed that the virus had gained some new mutations that has led to it infecting and killing various mammals across the world.
This has already been covered in various
;

H5N1 Avian Flu News

coverages.
https://www.thailandmedical.news/news/h5n1-avian-flu-news-preparing-for-an-imminent-outbreak-what-prophylactics,-drugs-and-supplements-work-part-1
It is believed that human-to-human transmissions of H5N1 Avian Flu are already occurring but relevant agencies are not disclosing this information yet to prevent a global panic or to cause disruptions in the economy or they are simply buying time to find ways to profit from the situation!
https://www.thailandmedical.news/news/health-news-we-are-living-in-dark-times-governments-and-health-agencies-around-the-world-are-not-telling-us-the-truths-of-what-are-really-brewing
The WHO has only sounded warnings so far that a H5N1 Avian flu pandemic among humans could emerge but stopped short or commenting more.
Interestingly, supplies of Tamiflu (Oseltamivir), the only antiviral with known efficacy to H5N1 Avian Flu has run out in many countries and the active pharmaceutical ingredient to manufacture the drug is also in shortage. At the same time, supplements of olive leaf extracts that have been shown to be effective against the Avian Flu virus are also in short supply. It seems that some groups are stockpiling all these possible therapeutics for H5N1 Avian Flu infections.
Interestingly there are speculations that GAVI, the vaccine alliance along with Gates and a few American pharma giants are already developing a new mRNA H5N1 Avian Flu vaccine for humans.
https://www.gavi.org/vaccineswork/why-bird-flu-vaccines-need-urgent-rd
There are also emerging conspiracy theories that Gates is behind the stockpiling of Oseltamivir and its precursors and that there is a deliberate attempt to let the H5N1 virus infect the human population to increase its viral fitness and transmissibility potential before any official announcement is made. With SARS-CoV-2 in circulation along with so many other respiratory viruses including RSV, Adenovirus and the Human Flu virus, it is easy to conceal the deliberate allowed spread of the H5N1 Avian flu virus even though it is more fatal. (Most deaths would be reported in the excess death category due to other conditions as what they are already doing for SARS-Cov-2 now!)
For the latest
H5N1 Avian Flu News
, keep on logging to Thailand Medical News.