World Health Organization Warns That Current Exponential Spread OF Omicron Could Lead To More Dangerous And Lethal Variants Emerging!
In the last two weeks, we had lots of so called 'experts' making unsubstantiated public claims that the Omicron being mild will mark the end of the COVID-19 pandemic or that it will become endemic etc.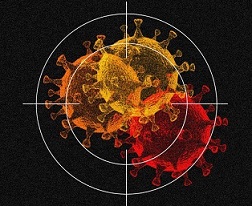 However, based on new preliminary data, the WHO or World Health Organization on Tuesday has issued a warning that soaring Omicron cases around the globe could increase the risk of a newer, more dangerous SARS-CoV-2 variants emerging. WHO's warning echoes what Thailand
Medical News
has been stressing in the last six weeks that newer recombinant strains, reassortant strains and newer zoonotic strains as a result of human infecting animals directly or indirectly and recombinant events taking place in those new animal host and the emerging new strains jumping back into humans.
https://www.thailandmedical.news/news/warning-sars-cov-2-surges-will-make-the-end-of-2021-far-worse-than-last-year-2022-marks-the-beginning-of-catastrophic-surges-that-will-peak-in-2024
Please have a heart and help to support and sustain this website and all our research and community initiatives by making a donation. You help truly means a lot and helps saves lives directly and indirectly. Thank You.
https://www.thailandmedical.news/p/sponsorship
In fact, many of these zoonotic recombinant events have already occurred including in mink farms in Denmark and Poland, two variants recombinant events have also been reported place in Spain and also in Africa as a result of co-infections etc. The only issue has been that these new strains were short-lived and did not have the right viral fitness and transmissibility to become predominant in circulation, however it is only a matter of time before such as strain acquires the right mutations and properties.
Although the Omicron variant is spreading like wildfire around the world, it appears to be far less severe than initially feared and has raised hopes that the pandemic could be overcome and life return to more normality.
However, WHO senior emergencies officer Dr Catherine Smallwood sounded a warning and an ominous note of caution, telling the public that the soaring infection rates could have the opposite effect.
Dr Smallwood told media on Tuesday, "The more Omicron spreads, the more it transmits and the more it replicates, the more likely it is to throw out a new variant. Now, Omicron is lethal, it can cause death ... maybe a little bit less than Delta, but who's to say what the next variant might throw out."
Europe which has registered more than 100 million COVID-19 cases since the start of the pandemic, alarmingly reported more than five million new cases in the last week of 2021, "almost dwarfing what we have seen in the past", Dr Smallwood said.
She warned, "We're in a very dangerous phas e, we're seeing infection rates rise very significantly in Western Europe, and the full impact of that is not yet clear."
Dr Smallwood also noted that while "on an individual level there's probably a decreased risk of hospitalization" with the Omicron variant compared to Delta, overall, Omicron could pose a greater threat because of the sheer number of cases.
She said, "When you see the cases rise so significantly, that's likely to generate a lot more people with severe disease, ending up in hospital and possibly going on to die."
Furthermore, new studies showing that the Omicron is using different strategies and receptors to gain cell entry and also disrupting the human host immune system and cellular pathways in new and different methods compared to the earlier strains could also see newer types of long-term health conditions arise and the implications for Long COVID or PASC (Post-acute Sequelae of COVID-19) are far more worrisome.
https://www.thailandmedical.news/news/breaking-omicron-has-shifted-to-using-cathepsins-for-cell-entry-via-endosomal-fusion,-impacting-cellular-tropism-and-pathogenesis
https://www.thailandmedical.news/news/breaking-study-alarmingly-shows-omicron-could-be-possibly-evolving-to-shift-its-focus-on-human-receptors-from-ace2-to-ddp-iv,-similar-to-mers
Meanwhile Britain on Tuesday faced warnings of an impending hospital crisis due to staff shortages caused by a wave of Omicron infections, as the country's daily COVID caseload breached 200,000 for the first time.
Dr Smallwood said she expected that scenario to play out in other European countries as well.
She said, "Even in well-capacitated, sophisticated health systems there are real struggles that are happening at the moment, and it's likely that these will play out across the region as Omicron drives cases upwards."
In the United States, Canada and also Australia, the same scenario is already starting to appear in various states and provinces and the same goes for India.
In coming weeks, the world will in a complete mess and we have the experts who keep telling the masses that Omicron is mild to blame.
Please have a heart and help to support and sustain this website and all our research and community initiatives by making a donation. You help truly means a lot and helps saves lives directly and indirectly. Thank You.
https://www.thailandmedical.news/p/sponsorship
For the latest
Omicron News
keep on logging to Thailand Medical News
Read Also:
https://www.thailandmedical.news/news/warning-omicron-is-still-evolving-the-world-will-pay-dearly-for-assuming-it-is-mild-