BREAKING NEWS! Isolated MERS-CoV CASE In UAE Sparks Panic As Scientists Claim Virus Could Have Mutated With Emergence Of New MERS Variant!
THE MERS coronavirus could have mutated to give rise to new variants that are better for human-to-human and airborne transmissions. Studies currently underway.
MERS News
: The recent media frenzy about the isolated case of a 28-year-old man in the Al Ain city in Abu Dhabi-UAE who contracted the MERS coronavirus and is currently in the ICU in a hospital fighting for his life is not only baffling local health authorities and also physicians but has also caught he attention of international virologists form around the world.
https://www.dailymail.co.uk/health/article-12332311/Killer-coronavirus-outbreak-fears-man-28-gets-struck-MERS-Abu-Dhabi-doctors-baffled-caught-it.html
https://www.thenationalnews.com/uae/2023/07/24/mers-case-confirmed-in-uae-who-confirms/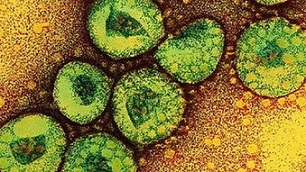 The WHO has also conformed that the infection is indeed MERS coronavirus and is raising concerns that there could be further cases and have also assembled a team to look into it.
https://www.who.int/emergencies/disease-outbreak-news/item/2023-DON478
The MERS coronavirus is a more deadly 'cousin' of the SARS-CoV-2 virus.
What is raising alarms in this case is that the patient was never in close proximity with any camels, goats or sheep which are the typical zoonotic sources for the virus.
The patient who is an expatriate in the country had visited a private healthcare centre several times between June 3 and 7, complaining of vomiting, and pain when passing urine.
According to reports form the WHO, the patient on the 8
th
of June, went to a government hospital with vomiting, and gastrointestinal symptoms including diarrhoea, and was given an initial diagnosis of acute pancreatitis, acute kidney injury, and sepsis.
The individual was placed in an intensive care unit and was in very critical condition on June 13.
A swab was collected on June 21, which returned a positive reading for the MERS -CoV virus two days later.
According to the WHO, "The case has no known co-morbidities, no history of contact with Mers-CoV human cases, and no recent travel outside the UAE."
Most cases of MERS infections have always been via zoonotic sources. But scientist are now speculating that the MERS coronavirus could mutated and is now possibly more better for human to human spread and also is airborne.
With a focus on just the SARS-CoV-2 virus that is still an ongoing crisis globally, not much attention as been paid to monitoring the MERS-CoV and laso its evolution. With SARS-CoV-2 also spreading to various animal species including Camels and also the global immunity landscape changing rapidly, these factors can also contribute to the evolution of other pathogens including MERS-CoV.
nih.gov/pmc/articles/PMC10262771/">https://www.ncbi.nlm.nih.gov/pmc/articles/PMC10262771/
While this is an isolated case, there have been
MERS News
reports and unverified claims of deaths in parts of UAE, Oman, Yemen and Djibouti matching symptoms and conditions of MERS infections.
The WHO has also warned that more of such cases can be expected.
https://www.who.int/emergencies/disease-outbreak-news/item/2023-DON478
A team of scientist for the WHO has been dispatched to study the situation in the UAE and also to conduct further genomic test on the MERS-CoV samples obtained from the infected patient.
Additional Information On MERS Coronavirus
MERS or Middle East respiratory syndrome is a viral respiratory infection that is caused by a coronavirus called Middle East respiratory syndrome coronavirus (MERS-CoV). Humans are infected with MERS-CoV from direct or indirect contact with dromedary camels who are the natural host and zoonotic source of the MERS-CoV infection.
It has been found that MERS-CoV infections range from asymptomatic or mild respiratory symptoms to severe acute respiratory disease and death. A typical presentation of a person with MERS-CoV disease is fever, cough and shortness of breath. Pneumonia is a common finding, but not always present. Gastrointestinal symptoms, including diarrhoea, have also been reported. The virus appears to cause more severe disease in older people, persons with weakened immune systems and those with chronic diseases such as renal disease, cancer, chronic lung disease, and diabetes. Severe illness can cause respiratory failure that requires mechanical ventilation and support in an intensive care unit resulting in high mortality.
To date, no vaccine or specific treatment is currently available, although several MERS-CoV-specific vaccines and treatments are in development including new mRNA vaccines by Pfizer and the Gates Foundation.Treatment is supportive and based on the patient's clinical condition.
For the latest
MERS News
, keep on logging to Thailand Medical News.