The Silent Culprits: High Levels of Cytokines IL-2, IL-1b, and IL-10 Linked to Thrombotic Complications In COVID-19 Infected Individuals
COVID-19 News
: As the world continues to grapple with the ongoing COVID-19 pandemic, the scientific community has been working tirelessly to better understand theSARS-CoV-2 virus and its effects on patients. One area of significant interest is the role of cytokines i.e. small proteins secreted by cells that have a specific effect on the interactions between cells, in the development of thrombotic complications in patients with COVID-19.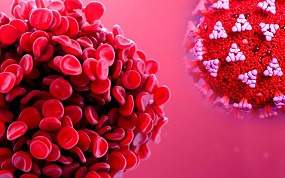 A recent study, conducted in the Triângulo Mineiro macro-region of Brazil, has shed new light on the association between high levels of cytokines, such as IL-2, IL-1b, and IL-10, and the occurrence of thrombotic events in COVID-19 patients.
The findings of this study may help medical professionals better understand the underlying mechanisms of thrombotic complications and tailor treatment plans accordingly.
The COVID-19 disease, caused by the SARS-CoV-2 virus, is marked by a wide range of clinical presentations, from asymptomatic cases to severe respiratory failure, multi-organ failure, and death. As reported in various studies and
COVID-19 News
coverages, among the various complications observed in COVID-19 patients, thromboembolic events have become an area of increasing concern. These events, caused by excessive inflammation, can lead to severe endothelial injury, microthrombi formation, and even death.
The study analyzed a cohort of 97 hospitalized COVID-19 patients between April and August 2020, aiming to characterize their clinical and laboratory aspects and identify any associations between serum cytokine levels and the occurrence of thromboembolic events. Of the 97 patients, seven confirmed cases of thrombotic events were identified.
The study team found that in the group experiencing thrombotic events, the levels of cytokines IL-1b, IL-10, and IL-2 were significantly higher than in the group without thrombotic events.
These study findings are particularly intriguing, as IL-10 is typically associated with anti-inflammatory responses. However, this study suggests that in certain situations, IL-10 may also contribute to inflammation and thrombotic complications. The redundant action of IL-10, which can act as both an anti-inflammatory and pro-inflammatory agent, may be one of the factors leading to thrombotic events in COVID-19 patients.
The connection between cytokine levels and thrombosis is further supported by other past research. A previous study showed that acute infections can alter hemodynamics, coagulation, and fibrinolytic systems in such a way as to precipitate ischemic events, linking thromboembolism to inflammatory processes.
Another study found that in patients with severe COVID-19, there was an exacerbated acute inflammatory response accompanied by changes in the coagulation system.
The role of platelets in COVID-19 patients is also noteworthy, as they have been increasingly recognized as mediators of inflammation and immune dysfunction.
The study conducted in the Triângulo Mineiro macro-region found a thrombocytopenia rate of 27.8% among the cohort, further illustrating the pot ential link between platelet dysfunction and thrombotic complications in COVID-19 patients.
Understanding the relationship between cytokine levels, inflammation, and thrombotic events is crucial for the development of effective treatments and diagnostic protocols for COVID-19 patients. As the world continues to navigate the pandemic, further research is needed to confirm these findings and gain a deeper understanding of the intricate relationship between cytokines, inflammation, and thrombosis in the context of COVID-19.
In conclusion, this study has uncovered a potential association between high levels of cytokines IL-2, IL-1b, and IL-10 and the occurrence of thrombotic complications in COVID-19 patients. These findings add to our understanding of the complex interplay between inflammation, coagulation, and immune response in patients with COVID-19. As we continue to investigate the mechanisms underlying thrombotic events in COVID-19, this knowledge may pave the way for more targeted treatment approaches and improved patient outcomes.
One potential avenue for future research is to examine the effects of modulating cytokine levels in COVID-19 patients, either through pharmacological interventions or other therapeutic strategies. This could help determine whether targeting specific cytokines could reduce the risk of thrombotic events in these patients, potentially saving lives and reducing the burden on healthcare systems.
In addition, as new COVID-19 variants emerge and the virus continues to evolve, ongoing research into the role of cytokines in thrombotic complications will be essential. Understanding how different variants may interact with the immune system and influence cytokine levels could provide valuable insights into the prevention and management of thrombotic events in patients with COVID-19.
Ultimately, the findings from this study and others like it contribute to a growing body of knowledge that will help inform clinical practice and improve patient care during the ongoing pandemic. As the scientific community continues to explore the complexities of COVID-19, we can remain hopeful that these discoveries will pave the way for more effective treatments and a brighter future for all those affected by the virus.
The study findings were published in the peer reviewed journal: Viruses.
https://www.mdpi.com/1999-4915/15/4/938
For the latest
COVID-19 News
, keep on logging to Thailand Medical News.