US News: America Heading Into Chaos This Week With Ex-President Trump Anticipating His Arrest And American Banks Heading For More Trouble
US News
: The former US president, Donald Trump, announced on Saturday, March 18, that he foresees his arrest on Tuesday, March 21, in relation to alleged hush money paid to an adult film actress prior to the 2016 election, and called for his supporters to take to the streets in protest.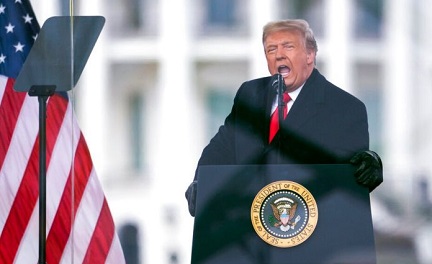 Trump, referencing a supposed "leak" from the Manhattan district attorney's office, posted on his Truth Social platform on Saturday morning, "Leading Republican candidate & ex-US president will be arrested next week on Tuesday. Demonstrate, reclaim our nation!"
According to
U.S News
outlets, the case revolves around a $130,000 payment made just before the 2016 election to prevent Stormy Daniels, whose real name is Stephanie Clifford, from publicizing an affair she claims to have had with Trump years prior. Prosecutors are considering whether to charge Trump in connection with the case.
The Democrats lead by Obama are apparently stooping to lower levels to find faults to prosecute a former President of the United States while law enforcements agencies and the judiciary have failed to proceed on certain revelations about Bidens son, Hunter Biden and also about certain Democrats involvement with the Epstein scandal.
If the Manhattan district attorney indicts Trump, the 76-year-old would be the first former president to face criminal charges. Trump's attorney informed media on Friday that his client would surrender to face charges if indicted by a Manhattan grand jury. Trump has denied having an affair with Daniels. In his post, written in all caps, Trump mentioned "unlawful leaks from a dishonest & highly politicized Manhattan district attorney's office."
Willing to testify Daniels met with prosecutors on Wednesday and, according to her attorney Charles Brewster, "consented to be available as a witness or for additional inquiry if necessary." Earlier this month, District Attorney Alvin Bragg's team extended an invitation for Trump to testify, which he is expected to decline to avoid potentially incriminating himself.
On Monday, Trump's ex-attorney and current adversary Michael Cohen testified in front of a New York grand jury. Cohen made the payment to Daniels and claimed he was later reimbursed. If not properly documented, the payment could result in a misdemeanor charge related to falsifying business records. This could escalate to a felony if the false accounting was intended to conceal a secondary crime, such as a campaign finance violation.
Trump is facing multiple criminal investigations at the state and federal levels for possible misconduct before, during, and after his first term in office, which threaten his renewed bid for the presidency. In Georgia, a prosecutor is examining Trump and his allies' efforts to overturn his 2020 election loss in the southern state. Last month, the grand jury in that case recommended multiple indictments, as revealed by the forewoman.
The ex-president is also under federal investigation for his handling of classified documents and potential involvement in the January 6, 2021, attack on the US Capitol.
&l t;br /> Trump cautions of unprecedented 'problems' if indicted On Thursday. The former President warned that the nation would face "problems... the likes of which perhaps we've never seen" if he were indicted over his handling of classified documents after leaving office, implying that such a move by the Justice Department could trigger violence from his supporters.
In an interview with conservative radio host Hugh Hewitt, the former president claimed that an indictment wouldn't deter him from running for the White House again, repeatedly stating that Americans "would not stand" for his prosecution. Trump said that if indicted, there would be "big problems" in the country and that the people "will not tolerate it."
Trump's comments are not the first time Republicans have alluded to potential civil unrest if the DOJ indicts him. Last month, Republican Sen. Lindsey Graham warned of "riots in the street" if Trump were prosecuted for mishandling classified information.
In response to Hewitt's question about how Trump would react when the"legacy media" accuses him of inciting violence, Trump stated, "That's not inciting. I'm just expressing my opinion. I don't believe the people of this country would tolerate it."
On Capitol Hill, senior FBI and DHS officials briefed members of the Senate Judiciary and Homeland Security committees on Thursday regarding the increase in threats against federal law enforcement following the Mar-a-Lago search.
Senators said that the briefers didn't specifically identify a politician or political party when it came to the threats, but the trend was evident.
Senate Judiciary Chair Dick Durbin (D-Ill.) expressed alarm at the number of threats that have been recorded since the Mar-a-Lago search on August 8, citing the gunman who attempted to enter an FBI building in Cincinnati, Ohio, shortly after the search.
Sen. Rick Scott (R-Fla.), a Trump ally and member of the Homeland Security Committee, called for the Justice Department to be more transparent about the rationale for the search to counteract "conspiracy theories." Scott emphasized the importance of providing accurate information to prevent rumors from spreading, and condemned attacks on law enforcement.
The FBI search of Trump's Mar-a-Lago residence in Florida ignited a political storm last month. In August, a Justice Department court filing revealed that prosecutors obtained a search warrant for the estate after receiving evidence that there was "likely" an effort to hide classified documents at the residence in defiance of a grand jury subpoena. Agents recovered highly classified records mixed among personal items, as well as numerous empty folders with classified markings.
The DOJ and Trump's attorneys are currently engaged in legal discussions regarding an external review of the seized documents.
Graham, a staunch Trump supporter on Capitol Hill, expressed concern that the Justice Department may have overreached in its dealings with the former president. However, he left open the possibility that the department's investigation could uncover material that might justify an indictment.
Speaking with Hewitt on Thursday, Trump continued to assert that he "declassified" everything he took to Mar-a-Lago.
The arrest of an ex-President could mark the downfall of the Democrats in the coming elections.
Fears of a Banking Crisis Ripple Through Global Financial Markets And America.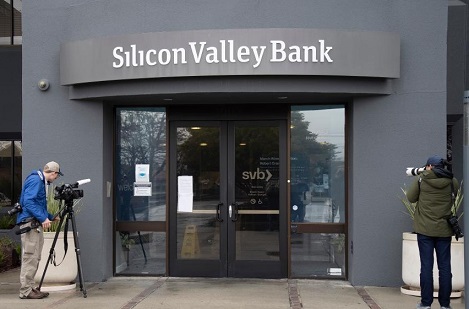 As worries over a potential banking crisis surge, global financial markets are feeling the tremors. Following a significant drop in Credit Suisse's share price and the collapse of US lender Silicon Valley Bank, concerns regarding the stability of the banking system are mounting.
On 15 March, Credit Suisse's share price plummeted by 24% after its largest investor announced it could not provide the bank with more funds. The Swiss bank has suffered multi-billion-dollar losses associated with the collapse of investment fund Archegos and Greensill Capital. Consequently, stock markets worldwide experienced sharp declines, with banking stocks witnessing the most significant drops. This turmoil led to a decrease in yields for US Treasuries and Eurozone bonds, while gold prices and bitcoin enjoyed a renewed rally as investors sought refuge in safe havens.
To shore up liquidity and investor confidence in Credit Suisse, Switzerland's central bank has stepped in with a $54 billion emergency lifeline, making it the first major global bank to receive such support since the 2008 financial crisis. However, the sell-off of Credit Suisse shares has sparked questions about potential issues lurking within the broader banking system. In an effort to save the lender, large US banks injected $30 billion in deposits into First Republic Bank on 16 March, following a 70% drop in its share price this month.
The banking sector's widespread share slump occurred a day after Moody's Investors Service downgraded its outlook for the entire banking system from stable to negative. This downgrade was a result of the collapse of Silicon Valley Bank and fellow US mid-sized lender Signature Bank. As smaller banks may cut back on loans to preserve liquidity amid the possible banking crisis, Goldman Sachs has revised its forecast for fourth-quarter US GDP growth.
Although the federal government's steps to bolster confidence in the US financial system have seemingly contained the potential banking crisis after the collapse of Silicon Valley Bank and Signature Bank, uneasiness remains. The increased scrutiny from US regulators and questions about the fitness of banks worldwide have unsettled financial markets this week.
Former US Treasury Secretary Lawrence H. Summers commented on the prospect of implementing stricter regulations on banks and whether the recent collapses could foreshadow more severe global financial trouble. Summers explained that many factors contributed to the current situation, including regulatory and supervisory failures. He emphasized that while there might be financial aftershocks and potential implications for lending levels and the economy, it is too early to determine the full extent of the impact.
As the situation continues to unfold, regulators face the challenge of balancing safety with maintaining the flow of credit. The Federal Reserve is reportedly considering tightening capital and liquidity requirements for mid-sized banks, which could help prevent future collapses. Despite the current financial strains, Summers stressed that the focus on inflation should not be lost, while also remaining aware of economic conditions.
Meanwhile, there are also calls by Trump followers and also dissatisfied Americans to make bank withdrawals this week to further exacerbate the financial crisis that the Democrats are dealing with wrongly as they seem to be using tax payers' monies to remedy mistakes committed by the certain corrupted and unethical conglomerates and technocrats.
The coming week should manifest some interesting developments in the United States.
For the latest
US.News
, keep on logging to Thailand Medical News.