COVID-19 News: Study Finds That Hypernatremia Was Frequently Observed In COVID-19 Patients Who Were Critically Ill And Died!
COVID-19 News
: The COVID-19 pandemic has brought forth numerous challenges, and as researchers delve deeper into the intricacies of the virus, new revelations continue to emerge. This
COVID-19 News
report covers a recent study conducted jointly by Aga Khan University Hospital in Karachi, Pakistan, and the Royal London Hospital at Barts Health NHS Trust in London, UK, that sheds light on a critical aspect of COVID-19 infection - dysnatremia. This study, spanning 12 weeks, aimed to investigate the frequency of dysnatremia among COVID-19 patients and its association with inpatient mortality.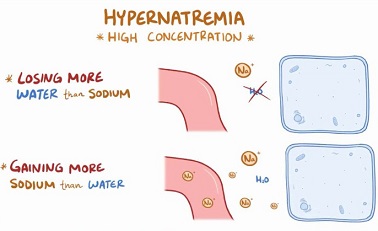 Dysnatremia, characterized by imbalances in serum sodium levels, has been linked to increased mortality in various medical conditions. In the context of COVID-19, where severe pneumonia can lead to a mortality rate as high as 27.9%, understanding the role of dysnatremia becomes paramount.
Frequency and Dynamics of Dysnatremia
The retrospective study included 574 patients, with a majority being men (69.7%) and an average age of 55.6 years. On admission, the mean sodium level was 135.9 ± 6.4 mEq/L, with 39% experiencing hyponatremia and 4.7% presenting with hypernatremia. Throughout the hospital stay, hypernatremia increased to 18.8%, reaching a maximum of 140.6 ± 5.0 mEq/L in survivors and 151.0 ± 9.9 mEq/L in those who succumbed to the virus. The final sodium levels further highlighted the significance, with 145.4 ± 9.4 mEq/L in patients who died compared to 137.7 ± 3.7 mEq/L in survivors.
Predictors of Mortality
The study identified several predictors of mortality among COVID-19 patients. Hypernatremia stood out as a notable factor, with an odds ratio of 1.22 (95% confidence interval: 1.13–1.32), emphasizing its association with an increased risk of death. Other significant predictors included ischemic heart disease (OR: 3.65), acute kidney injury (OR: 6.07), invasive ventilation (OR: 28.4), and length of stay (OR: 0.91).
Dysnatremia in COVID-19: A Critical Exploration
While respiratory tract involvement is a hallmark of COVID-19, dysnatremia has emerged as a noteworthy complication. The study highlights that 43.7% of patients exhibited dysnatremia on admission, with 39% having hyponatremia and 4.7% presenting with hypernatremia. Notably, severe treatment-resistant hypernatremia exceeding >150 mEq/L was observed in some cases, posing a challenging scenario for correction.
Comparisons with Other Studies
The findings of this study align with existing literature on dysnatremia in COVID-19 patients. The prevalence of dysnatremia on admission, as observed in this study, is comparable to previous longitudinal studies. However, the increase in hypernatremia during the hospital stay, particularly in patients who did not survive, sets this study apart. The incidence of hypernatremia in COVID-19 patients reported in other studies ranges from 10.69% to 12.17%, indica ting variability that may be attributed to different thresholds for defining hypernatremia and variations in the timing of sodium measurements.
Potential Mechanisms of Hypernatremia
The study delves into potential mechanisms leading to hypernatremia in COVID-19 patients. Reduced water intake due to loss of taste, anorexia, and nausea, coupled with increased insensible losses from continuous fever, are identified as contributing factors. Furthermore, the activation of the renin–angiotensin–aldosterone system and the conservative approach to fluid management, often necessitated by lung involvement in COVID-19, may lead to hypernatremia. The use of furosemide, administered to manage shortness of breath and fluid overload, also emerges as a potential contributor to hypernatremia.
Association with Acute Kidney Injury
The study addresses the association between dysnatremia and acute kidney injury (AKI). While AKI was prevalent in 34.8% of patients, the study did not establish a significant association between dysnatremia and the development of AKI. However, final serum sodium levels were identified as a significant predictor of mortality, emphasizing the multifaceted nature of dysnatremia's impact on COVID-19 outcomes.
Study Strengths and Limitations
The strength of this study lies in its longitudinal design, allowing for a comprehensive analysis of dynamic serum sodium levels at different stages of hospitalization. However, its single-center nature may limit generalizability, and the absence of data on urine and serum osmolality poses a limitation in determining the precise cause of hyponatremia. Additionally, the retrospective and observational nature of the study precludes establishing a causal relationship between hypernatremia and mortality.
Conclusion
In conclusion, this study illuminates the frequent occurrence of hypernatremia in critically ill COVID-19 patients, particularly those who did not survive. While dysnatremia, especially hypernatremia, may serve as a predictor of mortality, further research is warranted to unravel the intricate mechanisms and establish a clearer association. The study underscores the need for vigilant monitoring of serum sodium levels in COVID-19 patients, recognizing it as a crucial element in predicting outcomes and guiding clinical management. As the fight against the pandemic continues, insights from studies like these contribute to the evolving understanding of COVID-19's complex manifestations and pave the way for more effective therapeutic approaches.
The study findings were published in the peer reviewed Journal of International Medical Research. (Sage Journals.)
https://journals.sagepub.com/doi/full/10.1177/03000605231202180
For the latest
COVID-19 News
, keep on logging to Thailand Medical News.
Read Also:
https://www.thailandmedical.news/news/dysnatremia-a-common-manifestation-in-covid-19-a-deep-dive-into-the-colos-study
https://www.thailandmedical.news/news/breaking-news-a-retrospective-cross-sectional-study-discovers-that-hypermagnesemia-is-a-marker-of-fatality-in-covid-19-patients
https://www.thailandmedical.news/news/thailand-medical-news-exclusive-many-exposed-to-the-sars-cov-2-are-experiencing-mild-to-moderate-hypokalemia-or-fluctuations-in-potassium-levels
https://www.thailandmedical.news/news/covid-19-research-updates-chinese-study-reveals-that-hypokalemia-present-in-almost-all-covid-19-patients