Individuals diagnosed with post-COVID-19 syndrome frequently experience cognitive and memory issues. A new study from researchers from the Federal University of Rio de Janeiro (UFRJ)-Brazil and Rio de Janeiro State University (UniRio)-Brazil sheds light on the mechanism behind these problems.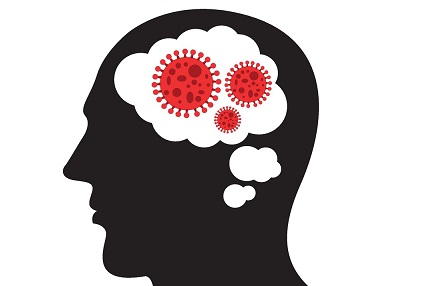 The study found that the Spike protein, which enables the virus to enter human cells, could be responsible for memory loss in post-COVID-19 syndrome.
Additionally, the study identifies the TLR4 receptor as a potential therapeutic target for addressing these symptoms.
the study involved experiments on mice, in which the researchers introduced the SARS-CoV-2 Spike protein into the animals' brains. The results revealed that the infusion caused delayed memory impairment, similar to what is seen in humans with post-COVID-19 syndrome.
The
SARS-CoV-2 Research
team observed an increase in the number and activation of microglia, a type of brain cell involved in the innate immune response and crucial in neuroinflammatory diseases.
Study leaders, Claudia Figueiredo and Giselle Passos from UFRJ's School of Pharmacy, explained that the TRL4 receptor's activation by the viral protein leads to neuroinflammation, causing microglia to eliminate synaptic proteins through a phagocytosis process. This results in memory impairment.
This phenomenon was observed in both mice and humans, with patients carrying gene polymorphisms related to TLR4 found to have an increased risk of developing late memory impairments after SARS-CoV-2 infection.
The study team concluded that the Spike protein plays a key role in cognitive changes following COVID-19 and suggested that TLR4 is a promising target for developing preventive and therapeutic strategies to address or treat memory loss caused by SARS-CoV-2.
Study Highlights
The key finds of the study were:
-SARS-CoV-2 Spike protein infusion into mouse brain induces late cognitive dysfunction
-SSARS-CoV-2 pike protein induces late hippocampal microgliosis and synapse loss
-Blockage of TLR4 renders mice resistant to Spike-induced cognitive dysfunction
_TLR4-2604G>A GG genotype was related to poor cognitive outcome in COVID-19 patients
Important Details From Study Abstract
The study findings demonstrated that brain infusion of Spike protein in mice has a late impact on cognitive function, recapitulating post-COVID-19 syndrome. We also show that neuroinflammation and hippocampal microgliosis mediate Spike-induced memory dysfunction via complement-dependent engulfment of synapses. Genetic or pharmacological blockage of Toll-like receptor 4 (TLR4) signaling protects animals against synapse elimination and memory dysfunction induced by Spike brain infusion. Accordingly, in a cohort of 86 patients who recovered from mild COVID-19, the genotype GG TLR4-2604G>A (rs10759931) is associated with poor cognitive outcome. These results identify TLR4 as a key target to investigate the long-term cognitive dysfunction after COVID-19 infection in humans and rodents.
The study findings were published in the peer reviewed journal: Cell Reports.
https://www.cell.com/cell-reports/fulltext/S2211-1247(23)00200-0
Post-COVID-19 syndrome involves numerous symptoms that appear after the acute phase of infection, including psychiatric issues and cognitive dysfunction. Current studies have not yet identified the molecular mechanisms or targets for treatment.
The study team hypothesize that the Spike protein plays a central role in neurological dysfunction, independent of SARS-CoV-2 replication in the brain.
Brain scans of recovered patients have shown significant changes in the hippocampus, which is particularly vulnerable to viral infection.
Conclusions
The study model demonstrates that exposure to the Spike protein results in reversible neuroinflammation and memory dysfunction, causing synapse loss and long-lasting neurological dysfunction. Microglia, the most abundant immune cells in the central nervous system, seem to be the primary cell type affected by the Spike protein.
The study findings showed that cognitive impairment induced by the Spike protein involves the activation of the TLR4 receptor, leading to microglial activation, neuroinflammation, and synaptic pruning.
Additionally, the study findings indicated that TLR4 genetic variants are associated with poor cognitive outcomes in patients with mild COVID-19. Overall, the findings suggest potential targets for preventing or treating long-term brain outcomes of COVID-19.
For the latest
COVID-19 News
, keep on logging to Thailand Medical News.