Saudi Arabia Reports First Omicron Case, Germany Reports Four More New Cases Among Fully Vaccinated! More Updates
Omicron Updates
: Saudi Arabia Reports Its First Omicron Case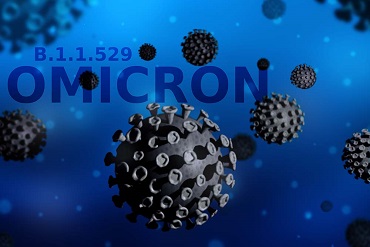 The Omicron variant is expected to hit the Middle-East pretty badly next due to its close proximity to the African continent which currently has the Omicron variant in at least 75 percent of countries on the continent and also because of the connectivity between Muslims in both the African and Middle-east regions.
Saudi Arabia has confirmed its first case of the Omicron coronavirus variant in the country a few hours ago according to state-run Saudi Press Agency (SPA).
The first positive case came from a Saudi citizen traveling from a north African country, SPA reported. The infected person and their contacts are in quarantine.
Outside of the African continent, a total of 20 countries now have the Omicron variant on their soils including Austria, Australia, Belgium, Brazil, Canada, Czech Republic, Denmark, France, Germany, Hong Kong, Japan, India, Israel, Italy, Netherlands, Portugal, Spain, Saudi Arabia, Sweden and the United Kingdom.
In Africa itself, 8 countries have the Omicron variant including South Africa, Botswana, Nigeria, Namibia, Zambia, Angola, Cameroon and Malawi with another 24 out of the 54 countries in the African continent having suspected cases.
Omicron Updates

: Germany Reports Another Four Fully Vaccinated People Infected With Omicron!
It is interesting to note that more cases of fully vaccinated individuals are contracting the new Omicron variant and contrary to the lies disseminated by those trying to control the COVID-19 narratives especially the Biden administration (Led by an ape from behind the scenes!), many also develop disease severity and require hospitalizations and already there a number who have died from it due to increased viral loads causing sudden deteriorating medical conditions leading to sepsis and organ failure.
Four people in southern Germany have tested positive for the Omicron variant even though they were fully vaccinated against the coronavirus, the public health office in the state of Baden-Wuerttemberg said.
The state public health office said that three of the infected people returned from a business trip to South Africa on November 26 and November 27 respectively, and the fourth person is a family member of one of the returnees,
The office said in a statement that all four were in quarantine.
The statement read, "All four people are fully vaccinated. A mutation analysis carried out by the State Health Office has confirmed that all of them are infected with the new variant of concern"
Omicron Updates: More Omicron Cases Among Fully Vaccinated In Australia.
Australia has identified its seventh case of the Omicron coronavirus in a traveler who arrived in the country last week, health authorities said Wednesday.
Health officials from New South Wales Health said in a statement that the traveler who was fully vaccinated had recently visited southern Africa and landed in Sydney from Qatar on November 25. The traveler tested positive for COVID-19 on Tuesday and is isolating in Sydney.
r /> It was reported that at least five passengers on the same flight ie QR908 from Doha to Sydney on November 25 have tested positive for COVID-19, according to NSW Health. Investigations into the positive cases are ongoing, but so far include two confirmed Omicron infections.

The case involved a traveler had visited a pharmacy in the state of New South Wales before testing positive for the virus.

It was also reported that effective Tuesday, all travelers arriving in New South Wales who have been in South Africa, Lesotho, Botswana, Zimbabwe, Mozambique, Namibia, Eswatini and Malawi during the 14-day period before their arrival must undergo hotel quarantine for 14 days, irrespective of their vaccination status.

As of today, there are now seven confirmed cases of the Omicron COVID-19 variant in Australia ie six in New South Wales, and one in the Northern Territory.



Please help to sustain this site and also all our research and community initiatives by making a donation. Your help means a lot and helps saves lives directly and indirectly and we desperately also need financial help now.




https://www.thailandmedical.news/p/sponsorship



More Omicron Updates coming soon, keep on logging to Thailand Medical news to stay abreast about the Omicron variant.