Thailand Reintroduces Quarantine As Omicron Cases Starts To Rise But Measures Are Inadequate As Full Border Closures Are Urgently Needed
Thailand Omicron News
: The Thai government in the last few hours decided to finally cancel the test and go scheme for fully vaccinated tourist and reimpose the mandatory quarantine rules as before in order the protect its citizens and prevent a bad Omicron surge in the country as what is being witnessed in badly managed countries like the United Kingdom.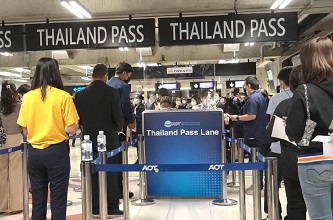 Although the decision is a blow to efforts to revive Thailand's battered tourism sector ahead of the peak holiday season, many locals felt that the government was correct in its decision while many leading experts and doctors felt that the measures were not enough as the country needs to impose a full border closure similar to Japan, China or the Netherlands to prevent a catastrophic surge as what is currently starting to occur in the United Kingdom.
Contrary to what a lot of ignorant people are saying or even garbage media reporting that the Omicron variant is mild, emerging data is showing that the Omicron variant is evolving rapidly and with three already identified sub-lineages and more being identified and currently being classified. Even if an individual develops asymptomatic or mild symptoms, the long-term health and medical risk are enormous as preliminary data suggest that the newer Omicron sub-lineages have different pathogenesis modes that are more worrying.
https://www.thailandmedical.news/news/breaking-the-omicron-sub-lineage-temporarily-called-england-milk-2d24ac9-2021-that-is-spreading-in-uk-is-vastly-different-from-the-south-african-omicr
https://www.thailandmedical.news/news/breaking-study-alarmingly-shows-omicron-could-be-possibly-evolving-to-shift-its-focus-on-human-receptors-from-ace2-to-ddp-iv,-similar-to-mers
https://www.thailandmedical.news/news/breaking-study-from-imperial-college-london-shows-that-omicron-spreads-three-times-more-rapidly-than-delta-but-with-the-same-degree-of-severity
Already the UK is starting to see death rates and hospitalization rise demonstrating that the Omicron is not as mild as claimed by certain ignorant individuals.
https://www.thailandmedical.news/news/uk-reporting-increasing-deaths-and-hospitalizations-from-omicron-the-primates-who-said-omicron-is-mild-and-made-people-lax-should-be-punished
Thai government spokesman Thanakorn Wangboonkongchana also announced the suspension of "sandbox" programs that allow visitors to remain and move around specific locations, except for the resort island of Phuket, where he said it will stay in effect.
He said, "This is not to shut off tourists but to temporarily suspend a rrivals." He added that the decision would be reviewed on Jan. 4.
According to
Thailand Omicron News
, about 200,000 people who have registered for the "test-and-go" scheme, known as Thailand Pass, but have not yet entered Thailand will still be allowed to come. They will be subject to a coronavirus test on arrival and a second test seven days later at the expense of the government.
The Thai Prime Minister Prayuth Chan-o-cha said that the country will not accept any new applications for the "test-and-go" program.
He told media, "Today we no longer accept more applications for travelers. No new applications. We have about 200,000 travelers who already registered. No other restrictions apply for these people, but we will have to track them."
The Thai prime minister added, "From now, we are back to the old system of quarantine when entering."
The drastic decision came after Thailand recorded its first case of domestic transmission of the omicron variant last week, when a returning resident tested negative on arrival but later tested positive and infected members of his family. The few other positive cases were all caught after testing on arrival and quarantined.
Despite like about 85 confirmed Omicron cases in the country so far and another 20 suspected cases according to online data, local physicians are worried that the variant could be spreading rapidly in the country due to travelers from the African, European and Middle-Eastern and South Asian regions.
https://en.wikipedia.org/wiki/Template:SARS-CoV-2_Omicron_variant_cases
Many are calling for full border closures, mandatory testing and also expedition of the vaccination and booster shot programs along with more restrictions in place as they do not want the country to end up like the United Kingdom.
Numerous countries Southeast Asia including Thailand had earlier eased entry restrictions for fully vaccinated travelers in November in an effort to kickstart tourism, a major revenue earner that collapsed with the start of the pandemic. But with the exception of Thailand, few have attracted the return of many foreign visitors due to complex entry requirements.
For example, Bali, a prime tourism destination, has had only a few dozen foreign tourists since it reopened, and Cambodia and Vietnam have also struggled.
However, Thailand managed to attract a lot of tourists due to it reputation as a sex destination and a place for cheap booze.
Starting in November, Thailand began reopening to fully vaccinated visitors without quarantine, easing a lockdown that could endanger the whole population.
The tourism industry accounted for some 30% of the economy before the pandemic.
However, with the onset of omicron, Thailand and other countries in Asia moved swiftly to block entry from an initial group of African nations. But Thailand kept its "test-and-go" program active for fully vaccinated travelers from more than 60 countries. The scheme was such that fully vaccinated visitors had to show negative results from RT-PCR tests before flying and upon their arrival had a second PCR test. They had to spend their first night in a government-approved hotel awaiting their test results. If the results were negative, they could travel anywhere in Thailand.
However, it was reported that the size of inbound travelers testing positive for Omicron was growing and was a potential risk. Coupled with news of a local transmission, Thai government reacted fast to change the entry rules.
To date, COVID-19 cases have steadily been dropping, with 2,476 new cases and 32 deaths reported Tuesday. Thailand has recorded 2,196,529 cases and 21,346 deaths since the start of the pandemic. However, many locals are skeptical of the daily figures and believe the actual situation could be far worse not to mention that insufficient COVID-19 testing is being conducted.
To date, more than 100 million doses of the COVID-19 vaccines has been administrated and the country has already quickly started its booster programme.
Thailand is the only country in the world with a strange mix and match vaccine programme that has not been properly studied coupled with a majority of a population that is ever eager to get jabbed. There are stories of locals proudly announcing that they have got four to five shots of various vaccines on their social media accounts.
Many are speculating that by early February, Thailand could be once again in a bad scenario and that lockdowns might once again be implemented domestically.
For the latest
Thailand Omicron News
, keep on logging to Thailand Medical News.