Doctors Cry Foul About Official Data Showing COVID-19 Cases Declining In India For 3 Straight Days Claiming That There Is Not Extensive Testing!
COVID-19 News
: Many local physicians and health experts are crying foul about official daily COVID-19 figures in India released by federal health authorities as while official data shows that COVID-19 cases are declining in India for three straight days, testing rates have also declined rapidly when in reality there should be more testing. It was also reported that some states not even reporting their actual testing rates…only supplying positivity rates!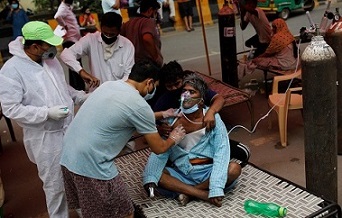 Pic Credit:Reuters/Adnan Abidi
It is not known if this is being done deliberately to reflect that the COVID-19 crisis is improving and is well-managed in India or if certain state or even federal politicians are interfering in the COVID-19 reporting protocols and also making testing less available.
According to Indian
COVID-19 News
coverages by local media, India recorded 6,660 new COVID-19 cases in the 24 hours period on Tuesday. The daily positivity rate was reported at 3.52% and the weekly positivity rate was pegged at 5.42%. Twenty-four fatalities were reported during the said period.
Reports claimed that India is witnessing a dip in the daily COVID-19 caseloads for the third straight day on Tuesday as 6,660 fresh cases of the infection were reported for the prior 24 hours.
In all, a total of 24 fatalities were reported on Tuesday. There were four deaths in Punjab, three in Delhi, two each in Madhya Pradesh and Karnataka and one each in Bihar, Haryana, Rajasthan and Tamil Nadu. Kerala reconciled nine deaths.
The death toll rose to 5,31,369 and the case fatality rate is 1.18%. There are 63,380 active cases.
The total active cases comprise 0.14% of the total number of COVID-19 cases.
On April 24, India logged 7,178 new Covid-19 cases while 10,112 cases of the infection were recorded the day before. On April 22, the country reported 12,193 new COVID-19 cases.
However, testing rates were not properly disclosed and in some states, testing rates were not disclosed in their daily submissions.
Doctors are also warning that COVID-19 hospitalization rates are increasing in many states and in some cases the COVID-19 death rates reported for certain states do not reconcile or correlate with the total deaths reported for the whole country!
Delhi Alone Records 1,095 New COVID-19 Cases, 6 Deaths, Positivity Rate At 22.74% In The Last 24 Hours.
Latest reports this morning indicate that the death toll from COVID-19 in Delhi has risen to 26,606. The total case tally is 20,35,156. The positivity rate was recorded at 22.74%.
On Tuesday, Delhi reported 1,095 fresh Covid-19 cases and six fatalities, while the positivity rate was recorded at 22.74%, according to data shared by the Delhi government's health department.
The COVID-19 death toll in Delhi has risen to 26,606. The total case tally is 20,35,156. The report claimed that there was now only 318 COVID-19 hospitalizations in Delhi, while many private hospitals in Delhi at the moment do not even have sufficient hospital beds for COVID-19 infected in dividuals!
On Monday logged 689 fresh Covid-19 infections and three fatalities.
The national capital witnessed 948 cases and two fatalities with a positivity rate of 25.69% on Sunday (April 23).
Clearly figures are showing a rise in COVID-19 infections in Delhi.
The health department did not issue a bulletin on Friday (April 21).
Newer XBB Sub-Lineages Circulating In India
Experts are warning that not only is the XBB1.16 behind the COVID-19 surge in India but newer XBB sub-lineages are also at play.
There are currently more than 58 different XBB sub-lineages circulating in India with many newer spawns emerging in the country.
https://cov-spectrum.org/explore/India/AllSamples/Past6M/variants?nextcladePangoLineage=xbb*&
Among the new sub-lineages that some experts warn could be worrisome are the XBB.2.3, XBB.2.3.3, XBB.2.3.5, XBB.3, XBB.3.2, XBB.6, XBB.8 and EG.2 sub-lineages.
It will be interesting to see how things play out in India in the next 4 weeks.
For the latest
COVID-19 News
, keep on logging to Thailand Medical News.