Dengue News: Taiwan Faces Dengue Surge With Over 2100 New Cases And A Second Death. Travel Alerts Issued For Numerous Countries Including Thailand!
Dengue News
: Amidst escalating concerns over the rapid spread of dengue fever in Taiwan, the nation grapples with its second reported death due to the disease this year. As the tally of local cases surpasses the 2,000 mark, health authorities are issuing alerts and implementing measures to curb the outbreak. With the situation intensifying, regions once untouched are now reporting infections, prompting an urgent call to action.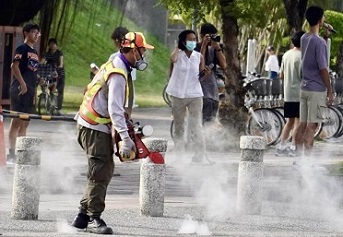 Last week's data from August 15th to August 21st sent shockwaves across the nation, as Taiwan's Department of Disease Control announced a staggering 556 new local cases of dengue fever. Leading the grim statistics was Tainan City with 471 cases, closely followed by Yunlin County with 61 cases, and Kaohsiung City with 17. Even in areas like New Taipei City, Taoyuan City, and Hsinchu County, cases began to emerge for the first time this year. Alarming reports revealed that this week was the year's peak in new cases, a somber reality that demands attention and action.
According to local
Dengue News
updates, Taiwan now grapples with a total of 2,135 local dengue fever cases as of August 21st, with the numbers only inching closer to the historic 2015 outbreak where 2,554 cases were reported in the same timeframe. Among the afflicted regions, Tainan City stands as the epicenter, recording a staggering 1,781 cases. Yunlin County trails behind with 236 cases, while Kaohsiung City has witnessed 75 cases, and Pingtung County follows with 21 cases. The contagion's reach extends further with 6 cases each in Chiayi County and Taichung City, 2 cases each in Hsinchu City and Nantou County, and sporadic cases across other cities and counties.
This relentless outbreak has not only brought the nation's healthcare system to its knees but has claimed the lives of vulnerable individuals. Among the casualties is an elderly woman in her 80s from Yunlin County, who succumbed to dengue fever on August 15th. Battling chronic ailments such as hypertension, diabetes, and heart failure, her tragic demise highlights the severity of the situation.
Dengue fever, a mosquito-borne disease, exhibits a wide array of symptoms ranging from fever, headaches, and muscle pain to nausea, vomiting, and rash. In severe cases, it can lead to hemorrhage, shock, organ failure, and even death. Health experts warn that as the disease can escalate rapidly, severe cases demand immediate medical intervention and hospitalization.
Moreover, the crisis extends beyond Taiwan's borders, as the Centers for Disease Control (CDC) issues travel alerts for various countries. Southeast Asian and South Asian regions face escalating dengue fever outbreaks, prompting heightened travel advisories for Thailand, Malaysia, Vietnam, Brazil, Peru, Bolivia,
Bangladesh
and Argentina. Travelers are urged to exercise caution and undertake preventive measures, given the dire consequences of contracting this formidable virus.
https://www.taiwannews.com.tw/en/news/4977985
In a startling d evelopment, dengue fever has breached the northern regions of Taiwan in the past week. While Tainan City has borne the brunt of the outbreak with 1,781 cases, the once-insulated New Taipei City, Taoyuan City, and Hsinchu County have now reported their first local infections. With 14 counties and cities succumbing to the contagion, the threat looms larger than ever.
As the nation grapples with the gravity of the situation, health authorities emphasize the importance of preventive measures. Residents are urged to eliminate stagnant water containers that serve as breeding grounds for mosquitoes, which are the primary vectors for the disease. Cleaning these containers with bleach and brushes after heavy rainfall is crucial in curbing the spread of the virus.
The dengue fever outbreak has ushered in a new era of awareness and urgency in Taiwan. With infection rates climbing, experts stress the need for robust public health measures, individual responsibility, and international collaboration to combat this pervasive threat. As the world watches, Taiwan's battle against dengue fever serves as a poignant reminder of the urgent need to prioritize public health and unite against a common adversary.
For the latest
Dengue News
, keep on logging to Thailand Medical News.