Measles News: WHO Warns That Measles Is A Global Threat As Infections Surge By 18 Percent And Deaths By Measles Increase By 43 Percent In 2022!
Measles News
: The World Health Organization (WHO) has issued a stark warning about the escalating threat of measles, revealing an 18% surge in infections and a staggering 43% increase in deaths in 2022. This alarming trend, outlined in a joint report with the U.S. Centers for Disease Control and Prevention (CDC), emphasizes the urgent need for comprehensive global action to address declining vaccination rates and prevent further devastation.
https://www.cdc.gov/mmwr/volumes/72/wr/mm7246a3.htm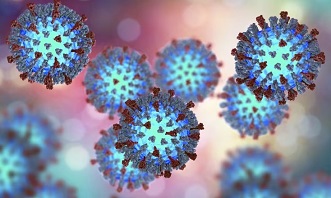 The Escalation of Measles Cases
Measles, a highly contagious yet preventable disease, has witnessed a relentless resurgence, affecting children worldwide. In 2022 alone, measles cases soared by 18%, reaching a staggering nine million globally. The accompanying rise in deaths was even more alarming, with a 43% increase compared to the previous year, resulting in 136,000 reported fatalities. According to latest
Measles News
updates, most of these cases and deaths occurred in low-income countries, highlighting the disproportionate impact on vulnerable populations.
Factors Contributing to the Surge
The CDC's Global Immunization Division Director, John Vertefeuille, attributes the surge in measles outbreaks and deaths to declining vaccination rates witnessed in recent years. Measles, which typically presents with symptoms such as fever, cough, and a characteristic rash, is highly preventable through routine childhood vaccinations. However, the report indicates a decline in vaccination rates globally, with consequences that extend beyond measles prevention.
Impact of the COVID-19 Pandemic on Vaccination Rates
The COVID-19 pandemic has played a pivotal role in the decline of vaccination rates. Dr Stephen Elledge, a professor at Harvard Medical School, explains that the pandemic caused disruptions in routine vaccinations as people felt unsafe visiting hospitals or clinics. Additionally, the proliferation of misinformation has fueled vaccine hesitancy, further contributing to the decline in immunization rates.
In Canada, for instance, data from Toronto Public Health reveals a concerning drop in vaccination rates among Grade 12 students, with only 22% up-to-date on routine vaccinations at the beginning of the 2022-23 school year. This decline is a significant departure from the nearly 90% vaccination rate observed pre-pandemic.
Global Vaccination Coverage and Persistent Challenges
The WHO reports a global vaccine coverage rate of 83% for the first dose and 74% for the second dose. While there was a modest increase in coverage in 2022, 33 million children still missed a measles vaccine dose, underscoring the challenges faced in achieving optimal vaccination rates. Low-income countries, where the risk of measles-related deaths is highest, continue to grapple with the lowest vaccination rates, stagnating at 66% and showing no recovery from pandemic-induced setbacks.
The Urgency of Vaccination Efforts
Measles is preventable through two vaccine doses, making th e decline in vaccination rates a matter of grave concern. Dr Isaac Bogoch, an infectious disease specialist, emphasizes the importance of preventing secondary transmission within countries and providing impeccable care to individuals with measles infections. He warns that with global travel resuming, there is a likelihood of increased measles cases in Canada and other countries.
Dr Bogoch further underscores the broader implications of the measles resurgence, suggesting it could be a harbinger of outbreaks in other vaccine-preventable illnesses. The need for urgent, targeted efforts to reverse declining vaccination rates and prevent measles-related deaths is paramount.
The Inequity Virus: Measles Hits Hardest in Low-Income Countries
The report identifies low-income countries as particularly vulnerable to measles-related deaths, with vaccination rates stagnating at 66%. Of the 22 million children who missed their first measles vaccine dose in 2022, over half reside in just 10 countries, including Angola, Brazil, the Democratic Republic of the Congo, Ethiopia, India, Indonesia, Madagascar, Nigeria, Pakistan, and the Philippines.
Kate O'Brien, WHO Director for Immunization, Vaccine and Biologicals, emphasizes the lack of recovery in measles vaccine coverage in low-income countries as an alarming signal for action. Measles, often referred to as the "inequity virus," has a knack for finding and attacking those who lack protection. O'Brien asserts that every child, regardless of their location, has the right to be safeguarded by the lifesaving measles vaccine.
Global Call to Action
Both the CDC and WHO are urging countries to intensify efforts to find and vaccinate all children against measles and other vaccine-preventable diseases. This call extends to global stakeholders, emphasizing the need for support in vaccinating vulnerable communities. To thwart future outbreaks, the report stresses the importance of investing in robust surveillance systems and outbreak response capacity at all levels of the global health infrastructure.
Conclusion
The resurgence of measles on a global scale demands immediate and comprehensive action to address declining vaccination rates and prevent further loss of life, particularly among vulnerable populations in low-income countries. Urgent efforts are needed to dispel vaccine hesitancy, counteract the impact of the COVID-19 pandemic on routine vaccinations, and ensure equitable access to immunization. Only through a collective and concerted global response can we hope to curb the escalating threat of measles and safeguard the health of children worldwide.
For the latest
Measles News
, keep on logging to Thailand Medical News.
Read Also:
https://www.thailandmedical.news/news/measles-news-outbreak-of-measles-declared-in-various-cities-in-united-kingdom-including-leicester-and-cardiff
https://www.thailandmedical.news/news/measles-news-yemen-witnessing-a-catastrophic-measles-crisis-with-more-than-41,000-suspected-cases-and-more-than-447-deaths-so-far
https://www.thailandmedical.news/news/while-uk-health-authorities-are-warning-of-an-impending-catastrophic-measles-outbreak,-they-did-not-reveal-two-key-issues-as-to-why-it-could-be-bad