Study Finds That Cannabis Use Disorder In Young Males Leads To Higher Risk Of Developing Schizophrenia!
A groundbreaking study recently conducted by a group of researchers from the Mental Health Services in the Capital Region of Denmark and the National Institute on Drug Abuse (NIDA) at the National Institutes of Health has shed light on a grim, yet preventable, correlation between cannabis use disorder (CUD) and schizophrenia. The comprehensive study, spanning five decades of detailed health records, representing a stunning 6 million-plus individuals from Denmark, hints at a tangible link between the two conditions, a link that is particularly evident in young men.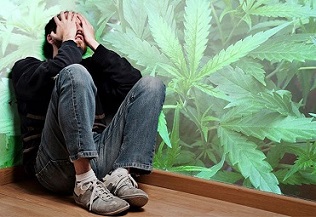 Cannabis and Schizophrenia: A Troubling Link
According to the study findings, an alarming percentage, up to 30%, of schizophrenia cases in young men aged between 21-30 could potentially be averted if cannabis use disorder were prevented. These findings paint a concerning picture of the possible repercussions of cannabis misuse and underscore the urgency to address this issue, especially in young male populations.
Cannabis use disorder and schizophrenia, both serious, treatable mental health conditions, can significantly disrupt and impact the lives of those affected. People suffering from cannabis use disorder (CUD) struggle with compulsive cannabis use, despite experiencing negative consequences. Schizophrenia, a severe mental health disorder, affects a person's ability to think, feel, and behave coherently. Those afflicted may seem out of touch with reality and may find it challenging to function normally in day-to-day activities.
Cannabis use disorder, wherein individuals struggle to cease cannabis use despite harmful consequences, coupled with schizophrenia - a severe mental illness marked by delusions, hallucinations, and disturbed thinking, can pose a formidable challenge for mental health services.
Co-author, Dr Nora Volkow, M.D., NIDA Director told
Thailand Medical
News, "The entanglement of substance use disorders and mental illnesses is a major public health issue, requiring urgent action and support for people who need it. As access to potent cannabis products continues to expand, it is crucial that we also expand prevention, screening, and treatment for people who may experience mental illnesses associated with cannabis use."
Probing the Depths: The Study Design
Past studies have demonstrated an increased risk of schizophrenia among daily or near-daily cannabis users and those diagnosed with cannabis use disorder. However, these studies did not delve into the specifics of how the association between cannabis use disorder or CUD and schizophrenia might vary across different age and sex groups.
To bridge this knowledge gap, the study team adopted a broad-based approach, poring over data from nationwide health registers in Denmark, which covered health records data from over 6.9 million people aged between 16-49, from 1972 to 2021.
The objective was not only to uncover a correlation between cannabis use disorder (CUD) and schizophrenia but also to estimate what proportion of schizophrenia cases might be attributed to CUD across different sex and age groups at the population level.
The study findings were telling. The study team estimated that about 15% of schizophrenia cases among men aged 16-49 in 2021 might have been prevented by avoiding cannabis use disorder, compared to just 4% among women of the same age group.
Furthermore, the study estimates that the proportion of preventable schizophrenia cases linked to CUD among young men aged 21-30 might climb as high as 30%.
This suggests that cannabis use disorder or CUD could be a major modifiable risk factor for schizophrenia, particularly among young men. It also points to the concerning trend that the proportion of new schizophrenia cases attributable to CUD has been on the rise over the past five decades, likely influenced by the increasing potency of cannabis and the growing prevalence of diagnosed CUD over time.
Dr Carsten Hjorthøj, Ph.D., lead author of the study, and an associate professor at the Mental Health Services in the Capital Region of Denmark and at the University of Copenhagen, commented on the broader implications of the study. "Increases in the legalization of cannabis over the past few decades have made cannabis one of the most widely used substances worldwide. However, with this increasing usage and acceptance, we need to pay attention to the potential negative health implications. Our study demonstrates that a significant proportion of schizophrenia cases might be associated with
cannabis
use disorder, underscoring the importance of public health policies aimed at preventing this disorder."
He stressed, "This study adds to our growing understanding that cannabis use is not harmless, and that risks are not fixed at one point in time."
Addressing the Crisis: Prevention and Treatment
Public health policies need to reflect this newfound understanding of the potential harm of cannabis use disorder or CUD, especially in young men. As Dr Volkow noted, "Integrating substance use and mental health services would be one strategy to address the challenges faced by those with co-occurring disorders." Prevention strategies need to be aimed at younger populations, and education about the risks of cannabis use and cannabis use disorder needs to be integrated into school and community programs. In addition, mental health screening should be a routine part of healthcare, particularly for those who are using or have used cannabis regularly.
Importantly, as the potency of cannabis products has increased over time, so too has the risk of developing cannabis use disorder (CUD). Users are often unaware of the strength of the products they consume, and the risks associated with high-THC cannabis are not widely understood. Efforts should be made to educate consumers about the risks associated with these potent products and to discourage their use, particularly among young people.
In addition to prevention, treatment for cannabis use disorder (CUD) is crucial. Fortunately, there are many effective strategies available, including cognitive-behavioral therapy, motivational enhancement therapy, and contingency management. These treatments can help individuals overcome their addiction to cannabis and reduce the risk of developing co-occurring disorders such as schizophrenia.
Future Directions: More Research Needed
While the study's findings are significant, more research is needed to further understand the relationship between cannabis use disorder (CUD) and schizophrenia. For example, it's unclear how genetic and environmental factors might influence the risk of developing both disorders. Furthermore, research is needed to understand whether preventing CUD can indeed reduce the incidence of schizophrenia and how best to implement such prevention efforts.
Moreover, as more states and countries move toward the legalization of cannabis, it's crucial that public health officials, policymakers, and healthcare providers have a clear understanding of the potential risks associated with cannabis use and cannabis use disorder (CUD). This will enable them to make informed decisions about cannabis legislation and regulation, and to provide effective prevention and treatment services for those at risk.
Conclusions
The study from the Mental Health Services in the Capital Region of Denmark and NIDA reveals a concerning correlation between cannabis use disorder and schizophrenia, particularly in young men. The findings underscore the urgent need for prevention and treatment strategies aimed at reducing the prevalence of cannabis use disorder, particularly among younger populations, and suggest that such efforts could potentially prevent a significant proportion of schizophrenia cases.
As the global conversation around cannabis legalization continues, these findings reiterate the necessity of targeted public health measures and intervention efforts to regulate cannabis use and address associated disorders. More importantly, it's essential that we understand and address the potential health risks associated with its use.
The study findings were published in the peer reviewed journal: Psychological Medicine.
https://www.cambridge.org/core/journals/psychological-medicine/article/association-between-cannabis-use-disorder-and-schizophrenia-stronger-in-young-males-than-in-females/E1F8F0E09C6541CB8529A326C3641A68
For the latest Cannabis News, keep on logging to
Thailand Medical
News.