SARS-CoV-2 Accessory Proteins ORF6, ORF8, ORF9b, ORF9c Have The Ability To Trigger Inflammatory And Profibrotic Processes Through IL11 Signaling
Of all, ORF9b showed a greater effect in extracellular matrix remodeling. Interestingly, increased IL11 also led to ECM remodeling
COVID-19 News
: The SARS-CoV-2 virus carries eleven enigmatic accessory proteins encoded within its genome. Scientists have long sought to understand the roles of these proteins during infection, and a groundbreaking study has shed light on their involvement in triggering inflammatory and profibrotic processes through IL11 signaling.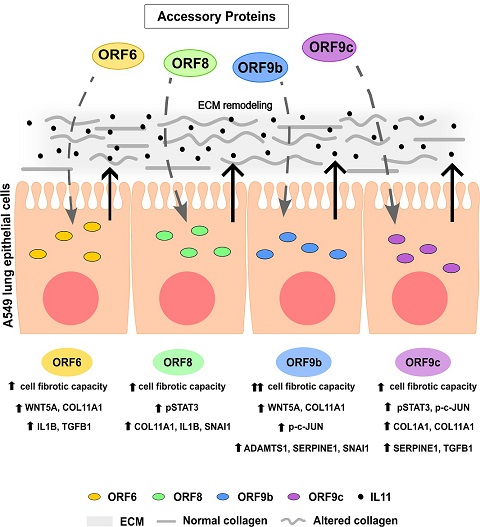 Graphical summary. Effects of SARS-CoV-2 accessory proteins ORF6, ORF8, ORF9b or ORF9c in
A549 lung epithelial cells described in this study
Conducted by a team of Spanish researchers from the Margarita Salas Center for Biological Research (CIB-CSIC), University of Córdoba-Spain, GA-14 Research-Spain, National Centre for Biotechnology (CNB-CSIC), Institute for Health Research Hospital '12 de Octubre'-Spain, and the Institute of Health Carlos III (ISCIII) this study has unlocked vital insights into the pathogenesis of COVID-19.
Since the outbreak of COVID-19, medical professionals have observed a spectrum of disease severity, ranging from mild upper respiratory symptoms to fatal pneumonia and acute respiratory distress syndrome (ARDS)as covered in previous
COVID-19 News
reports. One perplexing consequence of COVID-19 is pulmonary fibrosis, a condition in which lung tissue becomes scarred and stiff, impairing respiratory function. Even in long-term COVID-19 cases, fibrotic sequels have been found in approximately 20% of patients one year after viral infection.
To better comprehend the underlying mechanisms driving these fibrotic alterations, the study team delved into the accessory proteins encoded by SARS-CoV-2. The virus, like other coronaviruses, contains 14 open reading frames (ORFs) encoding 31 proteins, including the mysterious accessory proteins: ORF6, ORF8, ORF9b, and ORF9c.
IL11 Signaling - A Key Player in COVID-19 Fibrosis
The research team's findings pointed towards the pivotal role of Interleukin 11 (IL11) signaling in the development of fibrosis in COVID-19. IL11, a member of the IL6 family of cytokines, has been associated with fibrosis, chronic inflammation, and extracellular matrix (ECM) remodeling. Surprisingly, the study revealed a significant upregulation of IL11 in A549 lung epithelial cells expressing the SARS-CoV-2 accessory proteins.
Furthermore, the accessory proteins ORF6, ORF8, ORF9b, and ORF9c were found to trigger both inflammatory and fibrotic responses in varying degrees. Among them, ORF9b showed a particularly strong effect on ECM remodeling, providing crucial insights into the mechanisms of pulmonary fibrosis in COVID-19.
Potential Therapeutic Targets for COVID-19
As the study's revelations unfolded, it became apparent that targeting these accessory proteins could offer new therapeutic opportunities against COVID-19 disease. By inhibiting IL 11 signaling with specific inhibitors, such as BAZ, researchers observed a reversal of the profibrotic response triggered by the accessory proteins. This exciting discovery opens up the possibility of developing targeted therapies to combat COVID-19-induced fibrosis and potentially improve patient outcomes.
Connecting the Dots with Real-world Evidence
To validate their findings, the researchers compared the gene expression profiles from SARS-CoV-2-infected lung cell lines and lung biopsies from COVID-19 patients. Strikingly, the altered gene expression patterns in these real-world samples aligned with the results obtained in the study, further confirming the involvement of the identified accessory proteins and IL11 in COVID-19 fibrosis.
The Road Ahead
Although this study represents a significant leap forward in our understanding of COVID-19 pathogenesis, more investigations are needed to unravel the complex web of interactions between SARS-CoV-2, accessory proteins, and IL11 signaling. Moreover, the potential implications of these findings for different patient populations and disease stages remain to be explored.
The study findings were published in the peer reviewed journal: Frontiers In Immunology.
https://www.frontiersin.org/articles/10.3389/fimmu.2023.1220306/full
For the latest
COVID-19 News
, keep on logging to Thailand Medical News.