Hong Kong's COVID-19 Surge Fueled By Omicron Variants And Also From Reverse Zoonosis Of Delta AY.127 and B.1.258 Variants From Dutch Hamsters!
In the last 24 hours, Hong Kong reported 782 New COVID-19 cases and 3 new COVID-19 deaths, bringing the total number of COVID-19 infections in the territory to 19,881 cases and 227 deaths so far in a population of about 7.1 million people.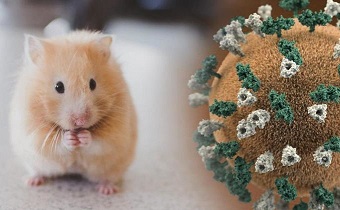 The new COVID-19 surge has been driven by not only the Omicron BA.1 and BA.2 variants but also by a new delta subvariant called
AY.127
and also the SARS-CoV-2 variant B.1.258 that were both transmitted from hamsters to humans via reverse zoonotic transmissions. The hamsters were reported to have been imported from the Netherlands.
Although to date 58 patients have been identified as carrying these variants that were from the hamsters, local health authorities are concerned and believe that there could be hundreds of the such cases involving interspecies spill-over that are epidemiologically linked to three pet shops that were selling these hamsters from the Netherlands.
https://www.thailandmedical.news/news/breaking-illegal-dutch-hamsters-reported-spreading-new-delta-subvariant-in-hong-kong-authorities-have-ordered-all-hamsters-to-be-surrendered-for-eutha
To date the surge is already putting a strain on local hospitals as many symptomatic individuals are turning up at hospitals and many more are awaiting test results.
Researchers from the Li Ka Shing Faculty of Medicine at the University of Hong Kong have also detailed a study involving the identification of the variants that are spreading in the local community via the infected hamsters.
The study team found that during the investigation of a pet shop outbreak of SARS-CoV-2 with probable hamster-to-human transmission, the environmental and hamster samples in epidemiologically linked pet shops were found positive for SARS-CoV-2 Delta variant AY.127 which is phylogenetically closely related to reported variants found in patients in Europe especially the Netherlands.
Worryingly, it was further found that this interspecies spill-over had triggered transmission chains involving 58 patients epidemiologically linked to three pet shops.
It was also found that another three dwarf hamsters imported from Netherlands and centralized in a warehouse distributing animals to pet shops were positive for SARS-CoV-2 spike variant phylogenetically related to the European B.1.258 variant that emerged around March 2020. This B.1.258 strain has almost disappeared since July 2021.
Although no hamster-to-human transmission of B.1.258-like strain was found in this outbreak, molecular docking showed that its spike receptor binding domain (RBD) has similar binding energy to human ACE2 when compared with that of Delta variant AY.127. Therefore, the potential of this B.1.258-related spike variant for interspecies jumping cannot be ignored.
The study findings were published in the peer reviewed journal: Emerging Microbes and Infections.
https://www.tandfonline.com/doi/full/10.1080/22221751.2022.2040922
Importantly the study findings reve aled that the co-circulation of both B.1.258-related spike variants with Delta AY.127 which originated in Europe and was not previously found in Hong Kong suggested that hamsters in the wholesale warehouse and retail pet shops more likely have acquired these viruses in Netherlands or stopovers during delivery by aviation than locally.
The study team warned that the risk of human-to-hamster reverse zoonosis by multiple SARS-CoV-2 variants leading to further adaptive spike mutations with subsequent transmission back to human cannot be underestimated as outbreak source of COVID-19.
It is also predicted that as a result of more wild and domestic animals getting infected with the various SARS-CoV-2 variants, indirectly becoming viral reservoirs in the ecosystem, such reverse zoonotic transmission events are more likely to start becoming more common and could also lead to some more dangerous and lethal recombinant variants eventually emerging!
For more on the
Delta AY.127 and B.1.258 variants
, keep on logging to Thailand Medical News.