COVID-19 Infections Around The World Surpasses A Quarter Billion, Denmark Reimposes COVID-19 Curbs, Germany SARS-CoV-2 Cases Spiraling Out Of Control!
World COVID-19 News
: The official total number of individuals globally that have been infected with COVID-19 have now surpassed a quarter billion whereas in reality the real figures could be a frightening three to four-fold!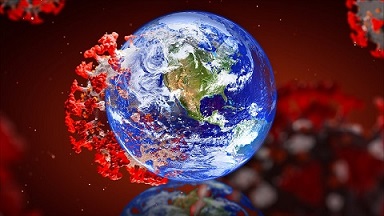 The SARS-CoV-2 coronavirus that made its debut in December 2019 in Wuhan-China, thanks to concerted efforts of Dr Anthony Fauci and Obama, has so far killed more than 5.03 million people globally according to official statistics. Again, the real figures are disturbing and are in the three to four-fold range.
In the United States alone, more than 755,643 Americans have died from COVID-19 according to the John Hopkins COVID-19 Dashboard which is highly influenced by Biden and the Democrats! Real figures are anyones guess.
Although a vast majority of those infected have recovered, many are continuing to experience symptoms weeks or even months later and a whole spectrum of varied medical conditions collectively known as Long COVID or PASC (Post-acute Sequelae of COVID-19) is emerging and confusing doctors and researchers. Long COVID is expected to put a heavy stress on the public healthcare of countries around the world in coming months as more and more serious conditions emerge from those that had once been infected (Irrespective of being asymptomatic or symptomatic!) with the SARS-CoV-2 coronavirus and evidence of viral persistence continues to also emerge in the most unexpected areas of the human host that are serving as reservoirs for the virus.
The COVID-19 figures are based on daily reports provided by health authorities in each country.
Worryingly a significant proportion of the less severe or asymptomatic cases remain undetected despite increased screening in many countries since the start of the pandemic. In addition, testing policies differ from country to country.
Sadly, Europe is the region with the highest number of infections, registering more than 76 million COVID-19 cases since the start of the outbreak.
The countries in Asia are the second most affected with 56,201,653 cases, followed by the United States and Canada (48,290,522 infections) and Latin America and the Caribbean (46,107,131).
Interestingly despite British and American mainstream media and social media platforms claiming that the COVID-19 pandemic is under control thanks to the so called 'efforts of the vaccines' and that figures are decreasing, in reality the number of new cases around the world has been slowly increasing over the past few weeks.
Alarmingly nearly 449,000 new daily infections have been recorded on average over the past seven days, against just over 400,000 in mid-October.
Also, alarming, of the new infections recorded worldwide, more than 60 percent are in Europe, which has seen an average of 279,000 cases a day over the past seven days.
America is also witnessing a gradual increase despite concerted efforts by the Biden administration to make things seemingly as improving.
Thailand
Medical News
anticipates that anytime between the 20
th
of November 2021 to 25
th
January 2022, a major development and announcement will be made that will have a global impact and a catastrophic effect on mankind.
Only After Two Months, Denmark Brings Back COVID Curbs.
It was reported yesterday that Denmark will re-introduce a health pass because of a sharp rise in COVID-19 infections.
Prime Minister Mette Frederiksen announced on Monday, less than two months after scrapping controls that COVID-19 cases were rising again and that stringent measures were once again needed.
Frederiksen told
World COVID-19 News
media that the Danish Epidemic Commission has recommended the government classify the coronavirus as a "socially threatening disease" and re-impose the pass. Hence he and the rest of the government decided to follow this recommendation.
She acknowledged that the return of the pass would make life more difficult for those who were not vaccinated, but added: "That's how I think it should be."
It was reported that in Denmark, with a population of 5.8 million, 85.9 percent of people over the age of 12 have been fully vaccinated.
However, at the end of last week, the authorities warned about the risk of hospitals being overwhelmed because of COVID-19, flu and other infectious diseases.
Frederiksen added, "The health authorities were expecting more people to be infected (by COVID) and hospitalized, but the things have gone faster than expected."
It was also reported that the number of new COVID-19 cases was higher than 2,000 again Monday, for the fifth day running. Medical staff are treating 26 people in intensive care.
It was said that the health pass will be re-introduced in bars, restaurants and night clubs and will be obligatory for those aged 15 and above.
Frederiksen added, "You can live with the corona-pass. It gives you peace of mind when you go to the cinema or to a concert."
The stupid concept of health passes was said to have originated in Denmark which was a pioneer of the health pass last spring, when the number of new cases was four times lower than it is now.
It is hilarious to see that most Europeans like their civil liberties trespassed and do not complain about living under stringent controls like herded sheep and yet they complain about human abuses in China and elsewhere in Asia when they should first dealing with the dictators in their own countries first!
It was said that the health pass was scrapped on September 10 when the number of new cases was four times lower than it is now.
To date, more than 2,745 people have died of the coronavirus. Let's hope that newer emerging immune evasive SARS-CoV-2 variants displaying unique ADE properties will lethally inflict more of the vaccinated with health passes so as to put an end to this Nazi-like discriminating measures being imposed across the world by dictators.
Germany Experiencing Increasing Surges And Also Eyes Stricter Controls.
The new German coalition parties unveiled fresh proposals on Monday to fight the country's COVID resurgence, as the weekly rate of new coronavirus infections hit an all-time high.
The country registered an incidence rate of 201.1 new cases per 100,000 people over the past seven days, the Robert Koch Institute (RKI) said, surpassing the previous record of 197.6 reached on December 22, 2020.
The COVID-19 surges are being blamed on the nation's relatively low vaccination rate and has prompted widespread alarm in recent weeks as hospital beds fill up rapidly.
The three parties striving to form Germany's next coalition government following September's general election presented a raft of pandemic-fighting proposals despite not officially being in power yet.
It was reported that the Social Democrats, the Greens and the liberal FDP released draft legislation that will give Germany's 16 regional states a legal framework to tame the fourth wave of the pandemic.
Dirk Wiese, deputy leader of the Social Democrats' parliamentary group said that the goal is "to protect as many people as possible during the autumn and winter months."
The new plan includes the possibility to exclude unvaccinated people from some indoor events, stricter prevention measures in the workplace, and the option of requiring PCR tests instead of rapid tests.
It was also reported that the incoming coalition partners also want to reintroduce free coronavirus testing, after it was dropped last month as it failed to spur enough unvaccinated people to get the jab.
The new proposals will be discussed by the lower house of parliament this week and are slated to take effect from the end of November.
Interestingly, the three parties which aim to have a new government installed next month with Olaf Scholz replacing Angela Merkel as chancellor have however ruled out mandatory jabs or nationwide lockdowns.
The COVID-19 vaccination rate in the EU's most populous country has stagnated at under 70 percent, despite official pleas for more citizens to get the jab.
It was said that the eastern state of Saxony, where the incidence rate is more than twice the national average at 491.3, on Monday introduced the nation's toughest restrictions yet for unvaccinated people. Access to indoor dining and other indoor events will be limited to those who are fully vaccinated or can show proof of recovery, a system known as "2G" in Germany. Only children as well as those who cannot receive jabs for medical reasons will be exempt.
It was said that several other states including Baden-Wuerttemberg, Bavaria and Hesse are also adopting tougher curbs.
It was also reported that Germans are also closely watching Austria, where the start of 2G rules has led to queues outside vaccination centres.
The coming weeks and months will indeed be fun times as newer SARS-CoV-2 variants and sub-variants emerge and stupid government and health officials continue to listen to the crooks controlling the COVID-19 narratives.
For more
World COVID-19 News,
Updates, keep on logging to Thailand Medical News.