BREAKING Medical News! Study Shows That Israel Is Currently Experiencing The Largest And Longest Reported Outbreak Of Parvovirus B19!
Medical News
: In a shocking revelation, recent research from the Kahn Sagol Maccabi (KSM) Research & Innovation Center, Tel Aviv-Israel, Maccabitech Institute for Research and Innovation, Tel Aviv-Israel, Shamir Medical Center (Assaf Harofeh Medical Center), Zerifin-Israel, Tel Aviv University-Israel, and Maccabi Healthcare Services-Israel has uncovered a concerning trend. Israel is currently facing the most significant and prolonged outbreak of human parvovirus B19 (B19V) ever recorded, with staggering implications for public health and pregnant women.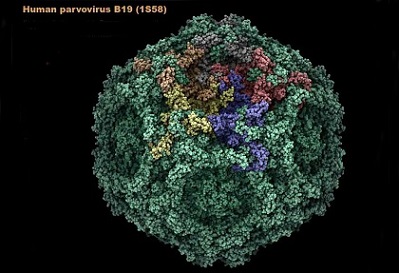 The Complexity of Parvovirus B19
Human parvovirus B19, a single-stranded DNA virus belonging to the Parvoviridae family, has been a known pathogen for over three decades. Its clinical manifestations range from asymptomatic infection to severe, life-threatening conditions, particularly impacting pregnant women and children. In children, B19V commonly leads to erythema infectiosum, while in adults, it can cause a range of symptoms, including joint pain, rashes, and even neurological complications. Furthermore, B19V poses a significant risk during pregnancy, potentially resulting in fetal loss and hydrops fetalis.
Retrospective Study Reveals Alarming Trends
This groundbreaking study covered in this
Medical News
report, delved into the incidence rates of B19V in Israel by analyzing anonymized electronic medical records of 2.7 million individuals from January 2015 to September 2023. The research revealed a marked increase in B19V cases in 2023, with an adjusted incidence rate ratio (IRR) of 6.6 (95% CI 6.33–6.89) compared to previous years. Notably, when comparing 2023 to the COVID-19 years (2020–2022), the adjusted IRR climbed to a staggering 9.21 (8.66–9.80). This surge in cases was accompanied by a disappearance of the previously observed seasonality.
Social Disparities and Demographic Variances
The study identified high socioeconomic status (SES) as a common characteristic among B19V-positive individuals, revealing a notable social discrepancy. Intriguingly, the Arab population displayed significantly lower B19V positivity rates even when adjusting for SES, raising questions about the virus's impact on specific social sectors. School-aged children (6–11 years old) emerged as the primary demographic affected, with pregnant women experiencing a dramatic rise in B19V incidence, particularly in the first trimester.
Clinical Spectrum and Complications
The clinical spectrum of B19V is diverse, ranging from mild symptoms in children to severe complications in adults and pregnant women. Erythema infectiosum, characterized by a "slapped cheek" rash, is common in children. Joint involvement, transient aplastic crisis, and neurologic manifestations add to the complexity. Pregnant women face heightened risks, including fetal loss and hydrops fetalis, with the first trimester being particularly vulnerable.
Unprecedented Outbreak Characteristics
The study's primary analysis revealed an alarming surge in B19V cases in 2023, comprising over 40% of the tota l infections recorded in the past nine years. The surge deviated from previous seasonality patterns, extending into late summer and early autumn. Notably, September 2023 exhibited a partial slowdown, but incidence rates remained higher than in previous fall seasons.
Children and Pregnant Women Bear the Brunt
A sub-analysis focused on children and pregnant women, with school-aged children showing the most significant surge in B19V infections in 2023. Pregnant women experienced an adjusted IRR of 11.47 (9.44–13.97), emphasizing the vulnerability of this population during the current outbreak.
Supplementary Analyses Confirm Trends
Supplementary analyses corroborated the main findings, emphasizing the reliability of the study's outcomes. The surge in B19V cases in 2023 was not mirrored in cytomegalovirus (CMV) infection rates, reinforcing the specificity of the observed B19V outbreak.
Challenges and Limitations
Despite the study's comprehensive scope, certain limitations exist. The absence of routine B19V screening policies in Israel may underestimate the true incidence. Discrepancies in testing practices, particularly in high SES and Arab populations, highlight the influence of social determinants of health. However, the study's findings align with increased awareness, as evidenced by a surge in B19V cases and positivity rates without a proportional rise in overall testing rates.
Conclusion - Urgent Need for Policy Action
In conclusion, Israel is grappling with an unprecedented and prolonged outbreak of B19V, demanding immediate attention from policymakers. The surge's impact on school-aged children and pregnant women necessitates the implementation of screening policies, especially for high-risk populations. Moreover, addressing social disparities and specific demographic variations is crucial to prevent health inequalities. As Israel navigates this historic outbreak, continuous monitoring and further research are imperative to understand the evolving patterns of this viral epidemic.
The study findings were published in the peer reviewed journal: Viruses.
https://www.mdpi.com/1999-4915/15/11/2261
For the latest
Medical News
, keep on logging to Thailand Medical News.