Dengue News: Dengue Infections Rising Even In Cooler Temperate Regions With Switzerland And Italy Now Reporting increasing Cases!
Dengue News
: Dengue infections which are rare in cooler temperate climatic zones are now posing a threat to citizens in the European region as well! Many Europeans have been reading about news of catastrophic dengue outbreaks in various warmer countries, assuming that they safe from the disease. However, dengue fever, a mosquito-borne disease, is making headlines as it emerges as a public health concern in Switzerland, Italy and even in other countries across Europe. This new emergence of dengue infections is attributed to the resumption of travel after the COVID-19 pandemic and also rising climate temperatures, and European health authorities are closely monitoring the situation to prevent further spread.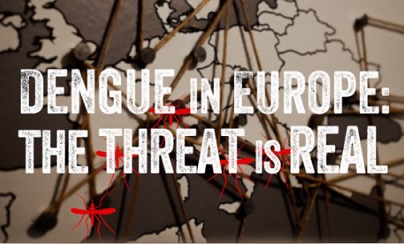 Switzerland is witnessing a significant increase in dengue fever cases, with 154 reported cases since the beginning of the year, compared to just 68 in 2022. The rise is not limited to dengue alone; cases of chikungunya and malaria are also on the upswing. Chikungunya cases surged from a mere 2 in 2022 to 17 this year, while malaria cases climbed from 241 last year to 272 in 2023.
https://www.swissinfo.ch/eng/society/cases-of-dengue-fever-on-the-rise-in-switzerland/48855580
The Federal Office of Public Health (FOPH) in Switzerland attributes this spike in mosquito-borne diseases to the resumption of travel. Most cases reported in Switzerland involve individuals who contracted the infections abroad. However, the presence of the tiger mosquito in Switzerland raises concerns about the potential for local transmission. Although the tiger mosquito's presence doesn't guarantee a dengue epidemic, there's a possibility that a local mosquito could bite an infected person returning from an endemic region and then transmit the virus to another individual.
According to local
Dengue News
outlets, to mitigate this risk, Swiss cantons are actively monitoring the spread of the tiger mosquito and implementing control measures to prevent its further proliferation.
On the other side of the Alps, Italy is also grappling with an increase in dengue fever cases. Local health authorities have reported locally acquired dengue fever cases in multiple regions, marking a significant shift from the situation in 2020 when no locally acquired cases were reported. The province of Lodi has been the most affected, with 25 cases, followed by the province of Rome with 9 cases and the province of Latina with 2 cases.
https://crisis24.garda.com/alerts/2023/10/italy-confirmed-dengue-fever-activity-reported-in-multiple-regions-through-early-october-update-3
In response to this resurgence, Italian health authorities have initiated vector control measures in the affected regions and have urged the public to take precautions to prevent mosquito bites.
Dengue fever is a viral illness transmitted by infected mosquitoes. It typically presents with sudden fever, severe headache, joint and muscle pain, rash, and can le ad to more severe forms such as dengue hemorrhagic fever if not promptly treated. While a vaccine for dengue fever exists, it is recommended primarily for individuals with a prior dengue infection and in regions with a high dengue burden.
As the situation evolves, individuals in affected areas are advised to avoid mosquito bites, eliminate sources of standing water to reduce mosquito breeding, and seek medical attention promptly if they exhibit dengue-like symptoms within two weeks of being in affected areas. It's also crucial to refrain from using aspirin or ibuprofen products if dengue fever is suspected, as these medications can exacerbate bleeding tendencies associated with the disease.
In conclusion, the resurgence of dengue fever in both Switzerland and Italy highlights the importance of continued vigilance against mosquito-borne diseases, especially in the context of increased travel and changing environmental factors that promote mosquito proliferation. Public health efforts and individual precautions are essential in preventing further spread and ensuring the safety of affected communities.
For the latest
Dengue News
, keep on logging to Thailand Medical News.