COVID-19 News: Phase 2 Randomized Clinical Trial Shows That High-Dose Inhaled Nitric Oxide Helped In COVID-19 Acute Hypoxemic Respiratory Failure
COVID-19 News
: In the ongoing battle against COVID-19, researchers and healthcare professionals around the world have been exploring various treatment modalities to alleviate the severe respiratory distress that accompanies the disease. Among these approaches, inhaled nitric oxide (NO) has emerged as a potential game-changer. A recent Phase II randomized clinical trial, conducted by a collaborative team from Massachusetts General Hospital, the University of Alabama, the Karolinska Institute in Sweden, Brigham and Women's Hospital, Beth Israel Deaconess Medical Center, LSU Health Shreveport, and Danderyd University Hospital in Sweden, has shed light on the promising benefits of high-dose inhaled nitric oxide for individuals suffering from COVID-19 acute hypoxemic respiratory failure.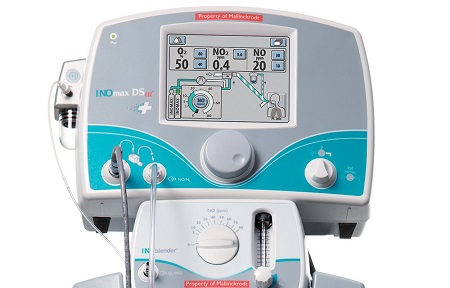 Thailand Medical News had as early June 2020, also covered in its
COVID-19 News
reports about the usage of inhaled nitric oxide as an adjuvant COVID-19 treatment for pulmonary issues.
https://www.thailandmedical.news/news/exploring-inhaled-nitric-oxide-ino-as-as-an-adjuvant-covid-19-treatment-for-pulmonary-issues
https://www.thailandmedical.news/news/covid-19-drugs-nitric-oxide-could-slow-progression-of-covid-19-according-to-study-from-george-washington-university
https://www.thailandmedical.news/news/nitric-oxide-for-covid-19-study-shows-inhaled-nitric-oxide-could-be-used-as-an-adjunct-therapy-for-pregnant-covid-19-patients
The study aimed to investigate the effects of high-dose inhaled nitric oxide on hypoxemia in COVID-19 acute respiratory failure, a condition where the oxygen levels in the blood drop to dangerously low levels, leaving patients in a critical state. With the pandemic continuing to challenge healthcare systems worldwide, the need for effective treatments to combat respiratory complications has never been more pressing.
Previous Research on Inhaled Nitric Oxide
To understand the significance of this Phase II clinical trial, it's crucial to delve into the history of inhaled nitric oxide as a therapeutic agent. Inhaled nitric oxide is a selective pulmonary vasodilator initially approved by the United States Food and Drug Administration (FDA) in 1999 for use in newborns with hypoxemic respiratory failure and persistent pulmonary hypertension. Over the years, its application expanded to include critically ill adult patients with hypoxemic respiratory failure and postoperative cardiac patients.
The primary benefit associated with inhaled nitric oxide is its ability to reduce intrapulmonary shunting, leading to improved oxygenation within the fir st 24 hours of treatment in mechanically ventilated adult patients with severe acute respiratory distress syndrome (ARDS). However, earlier randomized trials failed to demonstrate significant efficacy in improving clinical outcomes among adults with ARDS.
Beyond its vasodilatory effects, nitric oxide has been shown to possess dose-dependent bactericidal properties and the ability to inhibit viral replication in laboratory studies. During the severe acute respiratory syndrome (SARS) outbreak in 2003, low-dose inhaled nitric oxide was found to improve oxygenation, providing early evidence of its potential in combating respiratory viral infections.
High-Dose Inhaled Nitric Oxide and COVID-19
Building upon this foundation, the Phase II clinical trial sought to evaluate the impact of high-dose inhaled nitric oxide (up to 80 parts per million) on COVID-19 patients with acute hypoxemic respiratory failure. The trial hypothesized that high-dose nitric oxide could inhibit viral replication and sustainably improve oxygenation in these critically ill patients.
The study enrolled 200 participants with respiratory failure due to SARS-CoV-2 between March 2020 and May 2022. The primary modified intention-to-treat analysis included 193 participants who met the inclusion criteria. The cohort had a median age of 62 years, with a balanced distribution of baseline clinical and demographic characteristics between the intervention and control arms.
Key Findings
The primary outcome of the study was the change in arterial oxygenation (PaO2/FiO2 ratio) at 48 hours. The results were remarkable. Participants in the high-dose inhaled nitric oxide group exhibited a mean increase in the PaO2/FiO2 ratio of 28.3 mmHg, while the control group experienced a decrease of 1.4 mmHg. This translated to a mean difference of 39.1 mmHg in favor of the nitric oxide group.
Secondary outcomes were also analyzed. The time to reach a sustained PaO2/FiO2 ratio above 300 mm Hg was similar between the two groups, with a mean difference of 0.44 days. However, at 28 days, a significantly higher proportion of participants in the inhaled nitric oxide group (27.7%) attained a PaO2/FiO2 ratio above 300 mm Hg compared to the control group (17.2%), highlighting the sustained impact of nitric oxide on oxygenation.
The study also assessed mortality at both 28 and 90 days and found no significant differences between the groups. Importantly, the administration of high-dose inhaled nitric oxide was well-tolerated, with no serious adverse events reported.
A Ray of Hope
This investigator-initiated Phase II clinical trial presents a compelling case for the use of high-dose inhaled nitric oxide in the treatment of acute hypoxemic respiratory failure in COVID-19 patients. Notably, the sustained improvement in systemic oxygenation observed in the nitric oxide group sets this treatment approach apart from earlier trials with lower doses of inhaled nitric oxide.
Several factors may explain this divergence in outcomes. First, the trial implemented protective lung ventilation strategies, minimizing the risk of lung injury - a crucial difference from prior investigations that utilized high tidal volumes and high airway pressures, which were associated with lung injury. Second, COVID-19 pneumonia is characterized by severe endothelial injury, thrombosis, and microangiopathy in the pulmonary vessels, contributing to perfusion abnormalities. Inhaled nitric oxide may directly alleviate intrapulmonary shunting and improve pulmonary blood flow, resulting in sustained oxygenation.
Moreover, in a subset of participants with daily sputum and plasma sampling, the use of inhaled nitric oxide was associated with faster clearance of the virus and a more rapid reduction in viral load in sputum samples. This antiviral property of nitric oxide adds another dimension to its potential benefits.
Beyond its respiratory effects, inhaled nitric oxide demonstrated a reduction in sensory neurologic symptoms at 90 days post-randomization. This finding is particularly significant as persistent neurological deficits have emerged as a major concern in survivors of severe COVID-19 infections.
Future Directions
While this Phase II trial provides valuable insights, it is essential to acknowledge its limitations. The study was relatively small and not powered to assess mortality, prompting the need for larger Phase III trials to evaluate the effects of high-dose inhaled nitric oxide on survival. Additionally, the lack of blinding and placebo intervention in the control group was necessitated by the urgency of the pandemic and the need to protect healthcare workers from unnecessary exposure.
Furthermore, the trial exclusively enrolled critically ill COVID-19 patients with acute hypoxemic respiratory failure, limiting the generalizability of the results to other causes of respiratory distress. Future research should explore the benefits of inhaled nitric oxide therapy in broader patient populations.
In conclusion, the Phase II clinical trial's findings offer hope in the battle against COVID-19 acute hypoxemic respiratory failure. High-dose inhaled nitric oxide, with its sustained improvement in oxygenation, potential antiviral properties, and reduced neurologic symptoms, holds promise as a valuable tool in the treatment arsenal against this devastating disease. As the world continues to grapple with the ongoing pandemic, further investigations into the antimicrobial and clinical properties of high-dose inhaled nitric oxide therapy are imperative. These trials may unlock new avenues for effectively managing severe respiratory complications and improving outcomes for COVID-19 patients worldwide.
The study findings were published in the peer reviewed American Journal of Respiratory and Critical Care Medicine.
https://www.atsjournals.org/doi/abs/10.1164/rccm.202304-0637OC
For the latest
COVID-19 News
, keep on logging to Thailand Medical News.