Turkey Facing A Measles Crisis. Urgent Action Needed to Protect Children's Lives!
Emerging reports show that cases could be in the range of hundreds with about 11 deaths so far in young children!
Measles News
: Doctors and physicians in turkey have taken to online platforms to bring attention to the current measles crisis in the country that is predominantly affecting children although there has been rising case reports of adults also contracting the disease.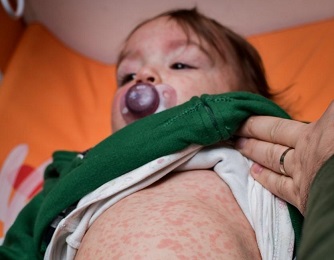 According to local
Measles News
reports, Istanbul is being reported as the epicenter of the measle outbreak. Doctors have raised the alarm over the significant rise in measles cases and the devastating impact it has had on children with a number of child deaths already occurring. Despite the availability of a highly effective vaccine, Turkey ranks third in Europe for measles cases, trailing only behind Russia and Tajikistan. The situation calls for immediate attention to prevent further loss of young lives.
https://www.duvarenglish.com/health-officials-raise-concern-over-spike-in-istanbul-measles-cases-news-62553
https://www.hurriyetdailynews.com/istanbul-hospitals-face-an-alarming-rise-in-measles-cases-183948
Measles Resurgence in Istanbul
The Istanbul Medical Chamber (İTO) recently issued a statement highlighting the exponential increase in measles cases within the megacity. The distressing reality is that children have tragically lost their lives due to the outbreak. The İTO emphasized that measles is a preventable disease, thanks to a vaccine that has been successfully utilized for nearly half a century. Nevertheless, Turkey is far from achieving the measles elimination targets set by the World Health Organization (WHO) for the European Region.
https://istabip.org.tr/7602-basin-toplantisi-istanbul-da-kizamik-hastaligindaki-artis-endise-verici.html
https://twitter.com/istabip/status/1668592487655415808
Lack of Accurate Data
In addition to the rising number of cases, the Turkish government has faced criticism for not providing accurate data regarding the outbreak. Unlike during the COVID-19 pandemic, where transparency was prioritized, the authorities have not shared comprehensive information about the measles crisis. This lack of transparency hampers efforts to effectively combat the outbreak and protect vulnerable populations.
Contributing Factors
Several factors have contributed to the resurgence of measles in Turkey, particularly in recent years. The rise of anti-vaccination sentiment has played a significant role, fueled by misinformation and fear. Additionally, irregular migration patterns have impacted vaccination rates. Before the COVID-19 pandemic, schools played a crucial role in facilitating vaccinations. However, the shift to online education disrupted this process, leading to an increased number of unvaccinated children.
Experts stress the urgent need for widespread vaccination to combat the measles crisis. To stop the circulation of the measles virus, vaccination rates must reach 92-95 percent of the population. Unfortunately, recent data shared by the Ministry of Health with the WHO indicates that this target has not been met in many cities, including Istanbul. Efforts to educate the public about the safety and efficacy of measles vaccines are crucial to dispel vaccine hesitancy and protect the vulnerable.
Possible Spread
It is also being reported that many illegal Afghans whose children have been infected are returning back to their country and some even travelling to Pakistan to seek treatments. This could help to spread the measles crisis to other countries.
Call to Action
As the number of measles cases continues to rise, urgent action is required to address the crisis in Turkey. The government, healthcare authorities, and medical professionals must work together to ensure accurate data collection, transparency, and efficient distribution of vaccines. Public awareness campaigns should be launched to educate communities about the importance of vaccination and dispel misconceptions. It is imperative to prioritize the health and well-being of children and take immediate steps to eliminate measles and protect future generations.
For the latest
Measles News
, keep on logging to Thailand Medical News.
Special Thanks To:
https://twitter.com/FarukFirat1987
for highlighting the measles crisis in Turkey to us.