COVID-19 News: SARS-CoV-2 Infections Rising Again In Australia, India, United Kingdom, Russia, Taiwan, Mexico, Japan, South Korea, Austria And Poland
COVID-19 News
: In the last 36 hours, the WHO had once again opened their mouths prematurely and said that the threat from COVID-19 would likely be reduced and be on par with that of flu and that the agency will likely be able to declare an end to the health emergency sometime in 2023.
https://www.voanews.com/a/who-sees-covid-posing-similar-threat-to-flu-this-year-/7010599.html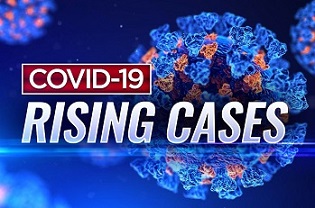 Interestingly in the same 36 hours, numerous reports and
COVID-19 News
coverages are emerging that SARS-CoV-2 infections and deaths are once are starting to rise in a number of countries including Australia, India, the United Kingdom, Taiwan, South Korea, Japan, Austria, Poland, Russia, Mexico, Canada and Philippines.
In Australia, there has been 22,289 new SARS-CoV-2 infections in the last 7 days with 1,125 individuals hospitalized and 24 in ICU due to COVID-19 and 107 COVID-19 deaths in the last 24 hours alone.
https://www.abc.net.au/news/2023-03-17/covid-19-case-numbers-from-around-the-states-and-territories/102103772
It should be noted that there is very little testing in the country and in many states, true caseloads and deaths are being underreported.
Australian media are already warning that COVID-19 caseloads are increasing in South Australia and also in New South Wales.
https://www.abc.net.au/news/2023-03-17/covid-19-cases-jump-by-nearly-40-per-cent-in-south-australia/102113576
https://www.theguardian.com/australia-news/2023/mar/16/covid-cases-on-the-rise-in-nsw-with-a-patchwork-quilt-of-variants
India saw 796 new COVID-19 infections in the last 24 hours although actual figures could be as high as 7 to 8-fold as many states are not reporting actual figures coupled with limited testing as well.
https://indianexpress.com/article/india/covid-19-cases-india-rise-flu-8502503/
https://timesofindia.indiatimes.com/city/pune/rise-in-respiratory-illnesses-covid-19-h3n2-lead-the-surge-in-pune/articleshow/98718233.cms?from=mdr
https://indianexpress.com/article/cities/mumbai/active-covid-19-cases-maharashtra-cross-900-over-threefold-rise-since-march-3-8502699/
ity/goa/goa-records-17-new-covid-19-cases/articleshow/98737839.cms">https://timesofindia.indiatimes.com/city/goa/goa-records-17-new-covid-19-cases/articleshow/98737839.cms
https://timesofindia.indiatimes.com/city/chennai/tamil-nadu-records-49-new-cases-of-covid-19/articleshow/98720682.cms
In the United Kingdom, the Zoe app showed more than 127,000 symptomatic COVID-19 cases in the last 24 hours.
https://health-study.joinzoe.com/data
Daily COVID-19 deaths averaged about 110 in the last few days and hospitalizations are rising once more again.
https://twitter.com/LawrenceGilder/status/1636435312204185602
It is also interesting to note that excess deaths are rising in the United Kingdom.
https://twitter.com/1goodtern/status/1635948936119611393
Canada is also reporting a rise in COVID-19 infection and hospitalizations but more so in British Columbia and on Nova Scotia.
https://bc.ctvnews.ca/covid-19-hospitalizations-rise-in-latest-b-c-update-led-by-fraser-health-1.6316541
https://www.cbc.ca/news/canada/nova-scotia/nova-scotia-covid-19-update-march-16-2023-1.6780859
Parts of Philippines are also witnessing the start of a new SARS-CoV-2 onslaught.
https://www.gmanetwork.com/news/topstories/nation/864212/covid-19-positivity-rate-in-ncr-climbs-to-3-octa/story/
Various countries including Taiwan, South Korea, Russia, Poland, Austria, Mexico are all witnessing new rise in COVID-19 infections.
https://www.worldometers.info/coronavirus/
At present there are more than 1000 different SARS-CoV-2 sub-lineages and recombinant variants that have emerged in the last few months with many in circulation. Researchers do not even have details about the pathogenicity and virulence of many of these new sub-lineages.
https://cov-spectrum.org/collections/71
Media reports have also emerged in the last 24 hours about Israel discovering a possible new recombinant SARS-CoV-2 variant.
https://www.hindustantimes.com/world-news/israel-coronavirus-new-covid-variant-in-israel-israel-records-2-cases-of-unidentified-new-covid-variant-what-we-know-so-far-101679022010678.html
Unfortunately, most people are still being brainwashed into the fallacy that COVID-19 is now mild and endemic and that there is nothing to be worried about.
What is even more worrisome is that many millennials and Gen Zers that I have come across do not even know what Long COVID is or are not even aware that some of the health issues that they are having could be due to Long COVID!
While new onslaughts of SARS-CoV-2 continue silently in many geolocations across the world, we can expect reinfections and coinfections to drive the excess deaths rates in coming months.
For the latest
COVID-19 News
, keep on logging to Thailand
Medical News
.