University of Colorado Study Shows That Ginger Supplementation Helps In Autoimmune Diseases As It Suppresses Neutrophil Extracellular Trap Formation!
Herbs And Phytochemicals
: Autoimmune diseases, including lupus, antiphospholipid syndrome, and rheumatoid arthritis, pose significant challenges for those affected, as they involve chronic inflammation and immune system dysfunction. Recent research conducted at the University of Colorado School of Medicine sheds light on a promising avenue for managing these conditions: ginger supplementation. This study explores the effects of ginger on a specific type of white blood cell called neutrophils and their involvement in autoimmune disease-related inflammation.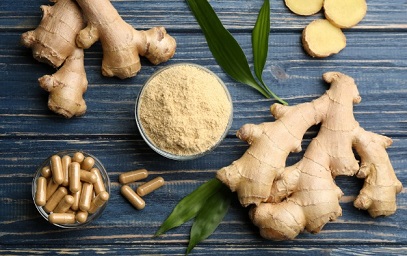 Ginger's Potential Role in Autoimmune Disease Management
Neutrophils are a critical component of the immune system, responsible for defending the body against pathogens. However, in individuals with autoimmune diseases, these white blood cells can become overactive, leading to the formation of neutrophil extracellular traps (NETs), a process known as NETosis. NETs are intricate web-like structures that contribute to inflammation and clotting, exacerbating the symptoms of autoimmune diseases.
The University of Colorado study delves into the impact of ginger supplementation on neutrophils, with a specific focus on NETosis. The research suggests that ginger supplements may hold the key to restraining NETosis and, consequently, reducing inflammation associated with autoimmune diseases.
Ginger's Anti-Inflammatory Mechanism
The research team found that the consumption of ginger by healthy individuals increased the resistance of their neutrophils to NETosis. This effect is attributed to ginger's ability to boost the levels of cyclic AMP (cAMP) inside neutrophils. Elevated cAMP levels inhibit NETosis in response to various disease-related triggers.
Dr Kristen Demoruelle, an associate professor of medicine at the University of Colorado School of Medicine, told
Herbs And Phytochemicals
reporters at TMN
,
"There are a lot of diseases where neutrophils are abnormally overactive. We found that ginger can help to restrain NETosis, and this is important because it is a natural supplement that may be helpful to treat inflammation and symptoms for people with several different autoimmune diseases."
The Potential of Ginger Supplements
One of the critical takeaways from this study is the potential of ginger supplements to complement existing treatment programs for autoimmune diseases. According to Dr Jason Knight, associate professor in the Division of Rheumatology at the University of Michigan, "There are not a lot of natural supplements, or prescription medications for that matter, that are known to fight overactive neutrophils. We, therefore, think ginger may have a real ability to complement treatment programs that are already underway. The goal is to be more strategic and personalized in terms of helping to relieve people's symptoms."
Future Directions: Clinical Trials and Beyond
The study team is now planning clinical trials involving ginger supplementat ion for patients with autoimmune and inflammatory diseases characterized by overactive neutrophils, including lupus, rheumatoid arthritis, antiphospholipid syndrome, and even COVID-19. These trials aim to assess the therapeutic potential of ginger supplements in real-world patient populations.
Ginger Extract Suppresses NETosis
Intriguingly, the study also delves into the mechanistic details of how ginger extract suppresses NETosis. The most abundant phytochemical in ginger root, 6-gingerol, was previously identified as a key player in inhibiting neutrophil phosphodiesterase (PDE) activity. PDE inhibition leads to increased cAMP levels inside neutrophils, counteracting their hyperactivity. This mechanism was initially observed in mouse models of antiphospholipid syndrome (APS) and lupus.
Expanding on these findings, the researchers explored the impact of an orally administered whole-ginger extract on neutrophils in both autoimmune mice and healthy humans. The results demonstrated a notable reduction in NETosis and associated disease outcomes in APS and lupus mouse models following ginger extract intake.
Clinical Trials and Human Studies
The study team also conducted pilot clinical trials involving healthy volunteers who consumed a ginger supplement daily for seven days. This supplement contained approximately 20 mg of gingerols, the active compounds in ginger. The results were promising, as the participants experienced an increase in neutrophil cAMP levels and a significant reduction in NETosis when exposed to disease-relevant stimuli.
Furthermore, the study's findings were replicated in a second cohort of healthy volunteers, bolstering the robustness of the results. This suggests that ginger supplementation has the potential to alter neutrophil function in vivo, making them less prone to NETosis.
Future Research and Implications
While this study provides valuable insights into the anti-inflammatory properties of ginger and its impact on neutrophils, the researchers acknowledge the need for further investigations. Specifically, the study did not assess the effects of ginger supplementation on neutrophils in patients with inflammatory diseases.
Additionally, the potential impact of ginger on neutrophil response to infections requires further exploration.
The results of this research open the door to the possibility of ginger supplementation as an adjuvant therapeutic intervention targeting NETosis, a common pathological mechanism in various autoimmune diseases. Future clinical studies are needed to assess the effectiveness of ginger supplements in managing autoimmune conditions and improving patients' quality of life.
The study findings were published in the peer reviewed journal: JCI Insight.
https://insight.jci.org/articles/view/172011
Long COVID
Thailand Medical News would like to add with various studies showing that SARS-CoV-2 infections also lead to the generation of various autoantibodies that trigger autoimmune issues in some that lead to specific Long COVID manifestations, ginger supplements would also be useful for such individuals. But always consult a licensed doctor before making any decisions on supplements and also to treat your existing medical or health conditions. Never attempt to self-treat or self-prescribe.
For the latest on
Herbs And Phytochemicals
, keep on logging to Thailand Medical News.