Herbs And Phytochemicals: Wedelolactone From Herbal Plants Eclipta Alba And Wedelia Calendulacea Shows Promise In Inhibiting Herpes Simplex Virus!
Herbs and Phytochemicals
: In a groundbreaking discovery, researchers from the Key Laboratory of Marine Drugs at the Ocean University of China and the Medical Research Center at the Affiliated Hospital of Qingdao University have found that wedelolactone (WDL), a natural coumarin compound extracted from medicinal plants Eclipta Alba (False Daisy) and Wedelia Calendulacea, has the potential to inhibit both Herpes Simplex Viruses: HSV-1 and HSV-2. This breakthrough could open new doors for developing anti-HSV treatments with novel mechanisms that differ from traditional nucleoside analogues.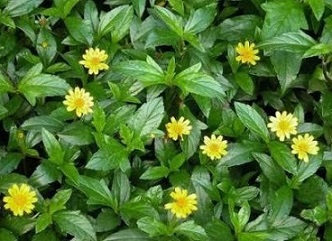 Eclipta Alba (False Daisy)
Herpes simplex virus (HSV) is a common pathogen affecting a large portion of the global population. HSV-1 and HSV-2, the two primary serotypes of the virus, cause oral, ocular, and genital infections, respectively. Current antiviral treatments, such as acyclovir, primarily target viral genome replication, but drug resistance and side effects have remained significant challenges. This has prompted the need for the development of innovative anti-HSV agents with distinct mechanisms of action.
Wedelolactone, a natural compound derived from Eclipta Alba, Wedelia Calendulacea or Wedelia chinensis, is well-known for its various biological activities, including immune regulation and anti-inflammatory effects. Previous
Herbs And Phytochemicals
studies have also highlighted its potential as an IKK inhibitor to block the activation of the NF-κB pathway involved in virus-induced inflammatory responses and immune evasion.
In their research, the study team investigated the anti-HSV effects and mechanisms of WDL both in vitro and in vivo. The results of the study showed that WDL exhibited low toxicity while possessing remarkable anti-HSV-1 and HSV-2 activities. The compound demonstrated the ability to directly inactivate the HSV particle by damaging the viral envelope. Furthermore, it down-regulated key cellular pathways associated with HSV infection and the host immune response, specifically the TBK1/IRF3 and SOCS1/STAT3 pathways.
Wedelolactone's Mechanisms of Action
The study conducted extensive research into WDL's mechanisms of action against HSV. The natural compound demonstrated several significant effects:
-Direct Inactivation of HSV Particle
: WDL was found to damage the viral envelope, rendering the virus particles non-infectious. This mechanism sets it apart from traditional nucleoside analogues like acyclovir, which primarily target viral genome replication.
-Inhibition of HSV Replication:
WDL not only inactivated the virus but also interfered with the replication process that occurs after the virus has adhered to host cells. This interference resulted in a reduction in both HSV mRNA and protein expression.
gt;
-Influence on Host Genes and Signaling Pathways:
Transcriptome analysis indicated that WDL could influence host genes and signaling pathways related to HSV infection and immune responses. This suggests that the compound has broader effects on the host's antiviral response.
-Down-regulation of TBK1/IRF3 and SOCS1/STAT3 Pathways:
Further studies confirmed that WDL primarily interferes with two critical cellular pathways: TBK1/IRF3 and SOCS1/STAT3. By doing so, it reduces both HSV infection and inflammatory responses, which are key elements in the host's defense against viral infections.
In Vivo Success
The promising results obtained in vitro were further validated in animal studies. WDL treatment was administered to mice infected with both HSV-1 and HSV-2, leading to several positive outcomes:
-Improved Mice Survival:
Mice treated with WDL demonstrated significantly improved survival rates compared to untreated mice, indicating the potential of WDL as a life-saving intervention.
-Attenuated Inflammatory Symptoms:
WDL treatment was associated with a reduction in inflammatory symptoms. This finding is particularly significant since excessive inflammation often accompanies HSV infections.
-Reduced Virus Titers
: In both HSV-1 and HSV-2 infected mice, the viral load was significantly reduced with WDL treatment. Lower virus titers can lead to milder symptoms and quicker recovery.
These findings suggest that wedelolactone, derived from the herbal plants Eclipta Alba and Wedelia Calendulacea, holds great promise as a novel anti-HSV agent with a unique mechanism of action. It directly targets the viral envelope while simultaneously interfering with cellular pathways critical to the host's immune response. This dual-action approach not only inhibits viral replication but also reduces inflammatory responses, making WDL a potential game-changer in the fight against HSV.
The research paves the way for further investigations and potential clinical trials to harness the full therapeutic potential of WDL in combating herpes simplex virus infections. With drug resistance and side effects remaining critical concerns in the treatment of HSV, the discovery of new, effective agents like WDL is a significant step forward in the field of antiviral therapeutics.
The study findings were published in the peer reviewed International Journal of Antimicrobial Agents.
https://www.sciencedirect.com/science/article/abs/pii/S0924857923002741
For the latest of
Herbs and Phytochemicals
, keep on logging to Thailand Medical News.
Read Also:
Wedelolactone: A molecule of interests
https://www.sciencedirect.com/science/article/abs/pii/S0367326X22002337
Wedelolactone Acts as Proteasome Inhibitor in Breast Cancer Cells
https://www.mdpi.com/1422-0067/18/4/729
Exploring the Multitarget Activity of Wedelolactone against Alzheimer's Disease: Insights from In Silico Study
https://pubs.acs.org/doi/10.1021/acsomega.2c08014
Wedelolactone, a medicinal plant-derived coumestan, induces caspase-dependent apoptosis in prostate cancer cells via downregulation of PKCε without inhibiting Akt
https://www.spandidos-publications.com/10.3892/ijo.2012.1664?text=fulltext
Biological and Functional Properties of Wedelolactone in Human Chronic Diseases
https://www.techscience.com/phyton/v90n1/40606/html
Wedelolactone Attenuates Pulmonary Fibrosis Partly Through Activating AMPK and Regulating Raf-MAPKs Signaling Pathway
https://www.frontiersin.org/articles/10.3389/fphar.2019.00151/full
Wedelolactone, a Naturally Occurring Coumestan, Enhances Interferon-γ Signaling through Inhibiting STAT1 Protein Dephosphorylation*
https://www.jbc.org/article/S0021-9258(19)54522-7/fulltext
Wedelolactone inhibits human cytomegalovirus replication by targeting distinct steps of the viral replication cycle
https://www.sciencedirect.com/science/article/abs/pii/S0166354219302207
In Silico Study of Coumarins: Wedelolactone as a Potential Inhibitor of the Spike Protein of the SARS-CoV-2 Variants
https://www.hindawi.com/journals/jtm/2023/4771745/
Wedelolactone protects against cisplatin-induced nephrotoxicity in mice via inhibition of organic cation transporter 2
https://journals.sagepub.com/doi/full/10.1177/09603271211047915
Wedelolactone Regulates Lipid Metabolism and Improves Hepatic Steatosis Partly by AMPK Activation and Up-Regulation of Expression of PPARα/LPL and LDLR
https://journals.plos.org/plosone/article?id=10.1371/journal.pone.0132720
Wedelolactone from Eclipta alba inhibits lipopolysaccharide-enhanced cell proliferation of human renal mesangial cells via NF-κB signaling pathway
https://e-century.us/files/ajtr/9/5/ajtr0046889.pdf
Enhancing Chemosensitivity of Breast Cancer Stem Cells by Downregulating SOX2 and ABCG2 Using Wedelolactone-encapsulated Nanoparticles
https://aacrjournals.org/mct/article/18/3/680/92612/Enhancing-Chemosensitivity-of-Breast-Cancer-Stem
Wedelolactone disrupts the interaction of EZH2-EED complex and inhibits PRC2-dependent cancer
https://www.oncotarget.com/article/3790/text/
Anti-inflammatory effect of wedelolactone on DSS induced colitis in rats: IL-6/STAT3 signaling pathway
https://www.sciencedirect.com/science/article/pii/S0975947622000031
Wedelolactone facilitates Ser/Thr phosphorylation of NLRP3 dependent on PKA signalling to block inflammasome activation and pyroptosis
https://onlinelibrary.wiley.com/doi/10.1111/cpr.12868
Wedelolactone ameliorates Pseudomonas aeruginosa-induced inflammation and corneal injury by suppressing caspase-4/5/11/GSDMD-mediated non-canonical pyroptosis
https://www.sciencedirect.com/science/article/pii/S001448352100316X
Wedelolactone as an Antibacterial Agent extracted from Eclipta alba
https://print.ispub.com/api/0/ispub-article/5459
Wedelolactone inhibits LPS-induced pro-inflammation via NF-kappaB Pathway in RAW 264.7 cells
https://jbiomedsci.biomedcentral.com/articles/10.1186/1423-0127-20-84
Anti-cancer effects of wedelolactone: interactions with copper and subcellular localization
https://pubs.rsc.org/en/content/articlelanding/2018/mt/c8mt00191j
The Wedelolactone Derivative Inhibits Estrogen Receptor-Mediated Breast, Endometrial, and Ovarian Cancer Cells Growth
https://www.hindawi.com/journals/bmri/2014/713263/
Wedelolactone affects breast cancer cells in biphasic manner
https://www.muni.cz/en/research/publications/1185575
A standardized herbal extract mitigates tumor inflammation and augments chemotherapy effect of docetaxel in prostate cancer
https://www.nature.com/articles/s41598-017-15934-0