French Study Provides Molecular Insights Into Endothelial Dysfunction In SARS-CoV-2 Infection And Long COVID - Role of ACE2-Mediated VE-Cadherin Cleavage
Long COVID
: The relentless global impact of Coronavirus disease 2019 (COVID-19) caused by the Severe Acute Respiratory Syndrome-Corona Virus 2 (SARS-CoV-2) has led to a growing concern about its long-lasting consequences, often referred to as "
Long COVID
" syndrome. This syndrome is characterized by persistent symptoms, including damage to microcapillaries, microthrombi, and endothelialitis. Although these vascular changes have been observed, the underlying molecular mechanisms driving these processes remain poorly understood.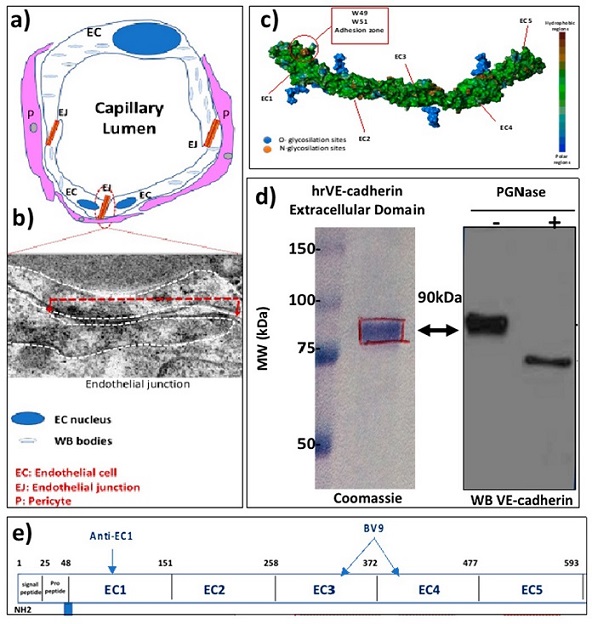 The Endothelial Junction (EJ) are composed of a transmembrane protein (VE-cadherin). (a) Schematic representation of a capillary composed of three ECs. The capillary is surrounded by pericytes. The overlap of two ECs is the EJ. (b) Electron microscopy of the endothelial junction. The dashed white line delineates two ECs. (c) Extracellular domain of VE-cadherin showing the hydrophobic amino acid W49 and W51 responsible for cohesion of ECs. (d) Coomassie-stained SDS-PAGE showing that human recombinant extracellular domain of VE-cadherin with an apparent mass of 90 kDa and immunoblotted with VE-cadherin antibody (clone BV9) not treated (left lane) or treated (right lane) with PGNase-F. (e) Schematic representation of VE-cadherin extracellular domain with the epitopes of the antibodies (Anti-EC1 and the clone BV9) against human VE-cadherin.
Recent investigations have hinted at the involvement of the vascular endothelium, particularly VE-cadherin, a vital component of endothelial cell junctions, and its potential interaction with angiotensin-converting enzyme 2 (ACE2), the host cell receptor for SARS-CoV-2.
The Crucial Role of Endothelial Cells in COVID-19 Pathology
Endothelial cells, which form a monolayer lining the interior of blood vessels, play a crucial role in maintaining vascular health and preventing coagulation. The integrity of these endothelial cells is essential for the proper functioning of blood vessels. Among the proteins that regulate the integrity of endothelial cells is VE-cadherin, which is responsible for maintaining the stability of blood vessels through homophilic interactions mediated by its adhesive extracellular domain. Disruption of these interactions can lead to increased vascular permeability, a hallmark of vascular dysfunction.
ACE2 and VE-Cadherin: Unveiling the Interaction
The study by researchers from from the University Grenoble Alpes, CNRS, TIMC-IMAG/T-RAIG-France, Grenoble Hospital Grenoble Alpes (CHUGA)-France, and University Hospital Centre Grenoble Alpes-France, sheds light on the potential molecular mechanisms underlying endothelial dysfunction in COVID-19. The study explores the interaction between ACE2, the receptor for SARS-CoV-2, and VE-cadherin.
The research revealed that the extracellular domain of VE-cadherin contains amino acid sequences recognized by ACE2 for cleavage. Experimental results demonstrate that incubating VE-cadherin with ACE2 leads to a dose-dependent decrease in VE-cadherin levels, highlighting the potential cleavage of VE-cadherin by ACE2. This novel finding suggests that ACE2 might play a role in destabilizi ng the integrity of endothelial cell junctions, potentially contributing to the observed vascular damage in COVID-19 patients.
Clinical Implications and Future Directions
To validate these findings, blood samples from COVID-19 patients were analyzed. The study observed higher levels of a circulating form of ACE2 in patients with severe COVID-19 compared to those with mild symptoms. Furthermore, distinct fragments of truncated VE-cadherin were detected in the blood of severe COVID-19 patients, indicating potential VE-cadherin cleavage. These fragments could serve as biomarkers for disease severity and vascular dysfunction, paving the way for personalized COVID-19 patient care and management.
This research provides crucial insights into the intricate interplay between ACE2 and VE-cadherin, shedding light on the molecular underpinnings of endothelial dysfunction in COVID-19. As the global medical community continues to grapple with the challenges posed by Long COVID-19 syndrome, these findings offer promising avenues for targeted therapeutic interventions and improved patient outcomes. Further investigations are warranted to comprehensively unravel the complex molecular mechanisms driving vascular damage and to develop innovative strategies for treating and managing Long COVID.
The study findings were published in the peer reviewed Journal of Molecular Sciences.
https://www.mdpi.com/1422-0067/24/15/12525
For the latest on
Long COVID
, keep on logging to Thailand Medical News.