BREAKING NEWS! Researchers Discover New XBB.1.16 Sublineage With E Protein Mutation P71S That Could Possibly Increase Lethality!
COVID-19 News
: While majority in the world are still under the illusion that SARS-CoV-2 is no longer a threat and that it is just as mild as common flu…the SARS-CoV-2 coronavirus has been evolving rapidly, spawning hundreds of more transmissible and immune evasive variants that typically cause asymptomatic or mild infections to the majority initially (except for those in the vulnerable groups) while killing them slowly via viral persistence and damage to various cellular pathways, genes, proteases, cells, tissues and organs.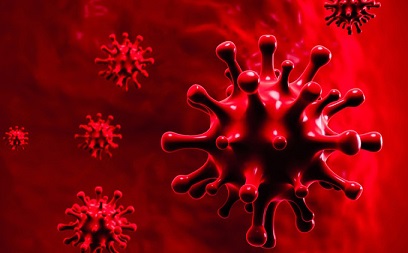 However, the world is actually in a hyperendemic state with regards the SARS-CoV-2 and the restless virus to add more fun to its repertoire, has started to spawn a number of concerning sub-lineages that carry mutations that that either could change pathogenic pathways in a more seriously manner or simply increase lethality. Of course, many of these many new sub-lineages will need the right viral fitness to become predominant in circulation and asome are already displaying the necessary traits required or that. Kindly read our
COVID-19 News
coverage about SARS-CoV-2 being hyperendemic.
https://www.thailandmedical.news/news/warning-what-they-are-not-telling-you-sars-cov-2-is-now-possibly-hyperendemic-globally
Some of these some of these new sub-lineages are already displaying the right viral fitness and are expected to play more dominant roles in the coming fun in late fall and winter of 2023.We have identified 8 such sub-lineages and will be featuring each of them in a separate article starting with a new XBB.1.16 sub-lineages with E protein mutations P71S.
This new sub-lineage was discovered by variant hunters about a week ago. (It should be noted that with many countries conducting extremely low genomic sequencings, it is becoming more difficult to really identify and comprehend the actual situation taking place in many geolocations across the world and with COVID-19 cases starting to surge in literally every part of the world due to the hyperendemic state we are in, it is very critical for health authorities to increase genomic sequencings.)
The first sequence of the XBB.1.16 sub-lineages with E protein mutations P71S was found in India and subsequently there was more than 165 identified identical sequences from samples collected from Japan, South Korea, China and Australia.
https://github.com/sars-cov-2-variants/lineage-proposals/issues/513
The numbers are growing especially in Japan, South Korea and China and seems to be correlating with the rise in hospitalizations seen in these countries. We can comment on increased correlation with COVID-19 deaths as many of these countries are currently concealing death rates!
What makes this new XBB.1.16 sub-lineage concerning is the mutation found on the Envelope or E protein.
Unknown to many, the SARS-CoV-2 E proteins play a very important role in pathogenicity.
https://www.sciencedirect.com/s cience/article/pii/S0753332223000306?via%3Dihub
https://www.mdpi.com/1999-4915/15/4/1000
https://journals.plos.org/plospathogens/article?id=10.1371/journal.ppat.1004077
https://www.sciencedirect.com/science/article/pii/S0005273621000596
https://www.jbc.org/article/S0021-9258(20)00101-5/fulltext
https://www.scirp.org/journal/paperinformation.aspx?paperid=114157
TheE protein P71S mutation found on the new XBB.1.16 sub-lineage have been found to be associated with driving lethality!
https://www.thailandmedical.news/news/researchers-warn-that-sars-cov-2-envelope-protein-mutations-affects-pathogenicity-of-omicron-xbb-sub-lineages
https://www.nature.com/articles/s41421-023-00575-7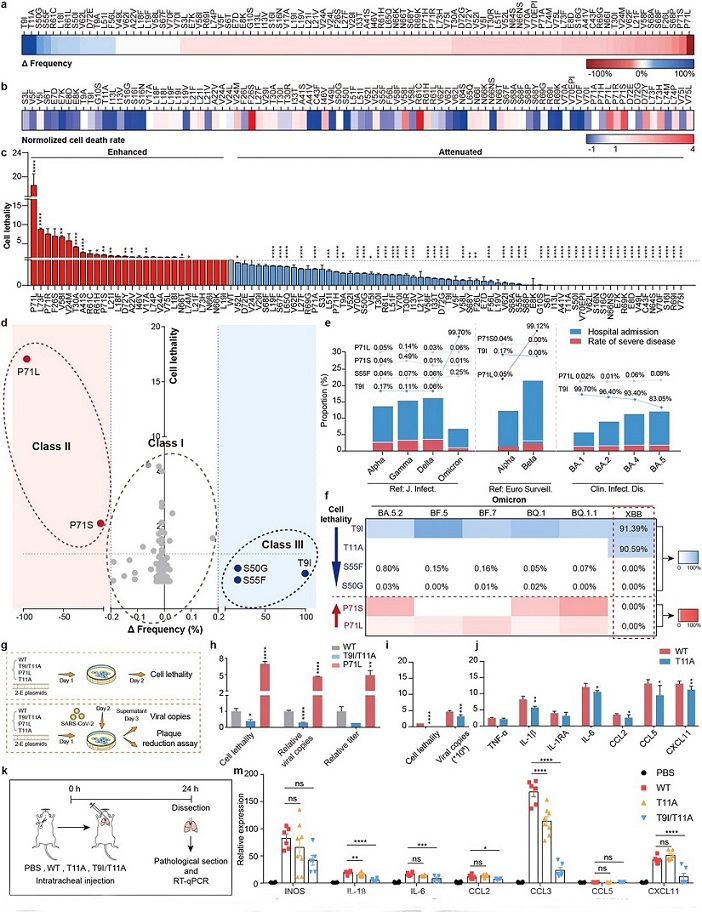 The Δfrequency of 92 2-E mutations. b The normalized cell death rate of 2-E mutations. c The cell lethality of 2-E mutations. d Correlation analysis of Δfrequency and cell lethality. The dotted gray circles represent Class I, the dotted red circles represent Class II, and the dotted blue circles represent Class III (Spearman's correlation analysis: R2 = 0.33, P < 0.0001). e The quantification of hospitalization rate and disease severity up to Omicron BA.5 and the contribution of Class II and III mutations in tabulate. Pathogenicity of different SARS-CoV-2 variants3,7,8. f Heatmap of 6 key mutation frequencies in Omicron subvariants. g Flow chart of the experiments. h Cell lethality and viral loads for Vero E6 cells after transfection with plasmids as indicated. i, j The activity of 2-E WT and T11A in causing cell lethality, cytokine release, and viral production. k Flow chart of the experiments.
The XBB.1.16 variant is already known to be highly immune evasive and has enhanced transmissibility. With an E-mutation such as P71S on it
that drives lethality coupled with
the fact that it is exhibiting the right viral fitness to be able to gain increases in spread, we can expect that this new variant that definitely cause disease severity and also increases the risk of mortality to be more predominant in circulation in coming months.
The late fall and winter of 2023 definitely looks promising for crematoriums and the undertaker business.
This is just one of the many few more pathogenic and lethal SARS-CoV-2 sub-lineages that has been identified, there are more that we will be covering in coming articles.
Follow us on twitter for more regular updates.
https://twitter.com/ThailandMedicaX
For the latest
COVID-19 News
, keep on logging to Thailand Medical News.