COVID-19 News: Those With Systemic Arterial Hypertension Will Likely Develop Functional Capacity Issues After Contracting Mild COVID-19!
COVID-19 News
: The emergence of the novel coronavirus disease 2019 (COVID-19) has prompted intensive research to understand its impact on various aspects of human health. Systemic arterial hypertension (SAH) has been identified as a significant risk factor for severe outcomes in COVID-19 cases. Individuals with SAH are known to face higher risks of disease severity and mortality when infected with the virus as shown in past studies and
COVID-19 News
reports. This heightened risk is attributed to the presence of angiotensin-converting enzyme 2 (ACE2) receptors, which the virus targets for cell entry, and the associated cardiovascular abnormalities.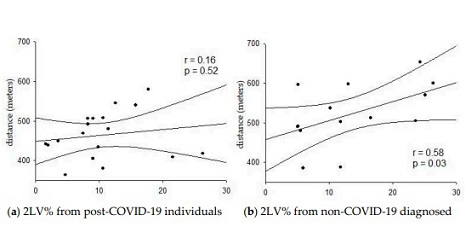 Correlation between the distance covered in the 6-minute walk test and the 2LV% index of heart rate variability acquired in the supine position from individuals with systemic arterial hypertension (n = 32). (a) 18 post-COVID-19 individuals - G1; (b) 14 non-COVID-19 diagnosed - G2.
This new study by researchers from multiple institutions, including Universidade de Pernambuco in Brazil, University of Jyvaskyla in Finland, International University of Health, Exercise & Sports SA-Luxemburgo and Luxembourg Health & Sport Sciences Research Institute aims to explore the impact of COVID-19 on cardiac autonomic function (CAF) and functional capacity (FC) in individuals with systemic arterial hypertension (SAH). The study compared SAH patients without a history of COVID-19 infection to those who had recovered from mild COVID-19.
Cardiac Autonomic Function
The autonomic nervous system (ANS) plays a crucial role in regulating heart rate and other cardiovascular functions. The study focused on cardiac autonomic function, assessing heart rate variability (HRV) using R-R intervals during a 10-minute supine period. HRV indices, both linear and non-linear, were analyzed to gauge the sympathetic and parasympathetic balance in the heart's autonomic control.
Functional Capacity
Functional capacity, defined as an individual's ability to perform physical activities, is often affected by cardiovascular diseases and associated risk factors. The study evaluated functional capacity through the 6-minute walk test (6MWT), a common tool for assessing exercise tolerance. Participants in the study included individuals with systemic arterial hypertension (SAH) who had experienced mild COVID-19 symptoms and those without COVID-19.
Research Findings and Implications
The study's findings revealed that SAH patients who had experienced mild COVID-19 exhibited a reduced functional capacity, as measured by the distance covered in the 6MWT, compared to SAH patients without a history of COVID-19 infection.
The reduction in functional capacity even in mild COVID-19 cases highlights the potential long-term impact of the virus on physical abilities, particularly in populations already susceptible due to underlying health conditions.
Interestingly, the study did not observe significant differences in cardiac autonomic function between SAH patients with or without COVID-19. This finding suggests that while COVID-19 may impact functional capacity, it might not cause substantial impairment in cardiac autonomic modulation in this specific population.
The study's limitations include a relatively small sample size and variations in the timing of post-infection assessments. Additionally, a healthy control group without COVID-19 and SAH was not included, limiting comprehensive comparisons. Despite these limitations, the study contributes valuable insights into the interaction between COVID-19 and systemic arterial hypertension.
Clinical and Research Implications
The study's results have important clinical implications, emphasizing the need for tailored rehabilitation programs for individuals recovering from mild COVID-19, especially those with pre-existing conditions like SAH. Healthcare professionals can use this information to design interventions that focus on improving functional capacity and overall quality of life in these patients.
Furthermore, the study underscores the importance of continued research to understand the broader effects of COVID-19 on populations with various pre-existing conditions. The complexities of interactions between the virus and underlying health factors require further exploration to develop effective treatment strategies and preventive measures.
Conclusion
In conclusion, the study sheds light on the impact of mild COVID-19 on cardiac functional capacity in individuals with systemic arterial hypertension. The findings highlight the reduction in functional capacity among SAH patients post-COVID-19 and the absence of significant changes in cardiac autonomic function. This underscores the importance of targeted rehabilitation interventions and further research to comprehensively understand COVID-19's impact on different population groups. As the world continues to grapple with the repercussions of the pandemic, studies like this contribute to a deeper understanding of the virus's effects and guide the development of evidence-based interventions.
The study findings were published on a preprint server and is currently being peer-reviewed.
https://www.preprints.org/manuscript/202308.2138/v1
For the latest
COVID-19 News
, keep on logging to Thailand Medical News.