Dengue News: Dengue Crisis in India Escalates - Most States and Cities Reporting Exponential Infections With West Bengal And Kolkata Most Badly Affected!
Dengue News
: Dengue, a mosquito-borne viral infection, has been wreaking havoc across India, with an alarming surge in cases reported from various states and cities.
Thailand Medical News delves into the latest updates on the dengue crisis in India, focusing on the most affected regions, preventive measures, and the government's response to combat this escalating health crisis. We have set up a separate section on our site called
Dengue News
to report all dengue updates as the world is possibly going through its worse dengue crisis in history.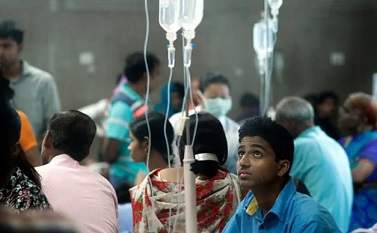 Dengue Cases Surge in Kolkata and West Bengal
Kolkata, the capital city of West Bengal, has been grappling with a relentless surge in dengue cases, with numbers skyrocketing in recent weeks. In the past seven days alone, the city reported over 1,100 new dengue cases, bringing the total to nearly 4,000 by the third week of September. This surge in infections is among the sharpest spikes seen in recent years.
The neighboring Bidhannagar Municipal Corporation (BMC) area is also witnessing a worrisome rise in dengue cases. In just one week, an additional 373 fresh cases were reported, pushing the total count for this year to 1,764. BMC areas have consistently reported over 300 cases for three consecutive weeks, underscoring the severity of the outbreak.
Mayor Firhad Hakim of Kolkata expressed his concern over the situation and emphasized the importance of continued vigilance. Despite diligent efforts by the vector control teams, several localities within the city and its suburbs continue to register an upward trajectory in dengue cases.
Other Dengue Hotspots Identified in West Bengal
Health officials in West Bengal have identified dengue hotspots in several districts, including Nadia, Murshidabad, and North 24 Parganas. These hotspots have been categorized as areas with a significant concentration of dengue cases. In Murshidabad, for instance, Suti, Lalgola, and Bhagbangola blocks have been flagged as hotspots.
The state government is taking special measures to curb the spread of dengue in these identified hotspots. In Nadia's Ranaghat and Haringhata blocks, the number of dengue patients has surged to 1,461 over the past week. Authorities are focusing on increased testing and treatment to control the situation.
Union Minister Alleges Data Withholding by West Bengal Government
Amidst the dengue crisis, Union Minister of State for Health and Family Welfare, Bharati Pravin Pawar, accused the West Bengal government of not sharing crucial data regarding dengue cases with the central government's vector-borne disease control program. Pawar emphasized that timely and accurate data is essential for the central government to allocate resources effectively to combat dengue and malaria.
This accusation comes at a critical juncture when West Bengal is grappling with a rising number of dengue cases. Health department officials have reported six dengue-related deaths, pushing the total dengue mortality count in the state to over 30.
Dengue Outbreak in Mumbai
gt;
Mumbai, India's financial capital, is facing its own dengue crisis. In the first two weeks of September, the city recorded a staggering 756 confirmed cases of malaria and 703 cases of dengue. These numbers are expected to surpass the figures from the previous month. The increased incidence of these diseases is attributed to sporadic rainfall, which provides ideal breeding conditions for disease-carrying mosquitoes.
To combat this surge, the Brihanmumbai Municipal Corporation (BMC) has issued advisories urging residents to take proactive measures against mosquito breeding. These measures include maintaining cleanliness, eliminating water-collecting containers, and following guidelines to prevent the spread of the diseases.
Dengue Cases Soar in Bihar
The state of Bihar is also grappling with a surging number of dengue cases. In a span of just 24 hours, Bihar recorded 294 new dengue cases, bringing the total for the year to 2,766, with a staggering 2,491 cases registered in September alone. The capital city, Patna, reported the highest number of new cases, followed by Jamui, Bhagalpur, Aurangabad, and Saran.
Government hospitals in Bihar are currently treating 231 dengue patients, with JLNMCH-Bhagalpur having the highest number of patients at 103.
Trichy Sets Up Dengue Ward Amidst Rising Cases
The district of Trichy in India has witnessed a rise in dengue cases, prompting authorities to take proactive measures. Trichy recorded two additional cases of dengue, bringing the total to three. A 33-year-old woman and a 10-year-old girl were admitted to private hospitals after testing positive for the virus.
To tackle the situation, the Mahatma Gandhi Memorial Government Hospital in Trichy has established a dedicated 50-bed dengue ward. This move aims to provide specialized care for dengue patients and prevent further transmission of the virus.
Dengue Deaths in Puducherry
Puducherry, too, has been dealing with the tragic consequences of the dengue outbreak. Two individuals, including a 19-year-old girl, succumbed to dengue in the region. A high-level committee has been formed to investigate these fatalities, and measures are being implemented to prevent further spread of the disease.
Puducherry has reported a total of 1,131 dengue cases and 64 chikungunya cases this year, highlighting the urgency of addressing the mosquito-borne diseases in the region.
Dengue Resurgence in Kerala
Kerala, which had seen a decline in dengue cases earlier in the year, is now experiencing a resurgence. Intermittent rains and hot spells have created favorable conditions for mosquito breeding, resulting in a surge of dengue cases. In the last 20 days of September, the state recorded 3,700 suspected or probable cases and 1,106 confirmed cases of dengue, along with 20 probable dengue-related deaths and 38 confirmed deaths.
The resurgence of dengue has caught health officials by surprise, as they had initially projected lower case numbers for the year. The cyclical nature of dengue outbreaks, combined with changing weather patterns, has made it challenging to predict and control the spread of the disease.
Dengue Outbreak in Punjab's Mohali District
Punjab's Mohali district is grappling with a significant dengue outbreak, with 155 new cases reported in September alone. The total number of dengue cases in the district for the year has already exceeded last year's count, with a total of 362 cases recorded. Health workers have been conducting inspections and taking measures to eradicate mosquito breeding sources, but the situation remains challenging.
Calangute Panchayat Initiates Dengue Testing in Goa
Calangute, a popular tourist destination in Goa, has witnessed a surge in suspected dengue cases. In response, the local panchayat initiated a free dengue testing program earlier this month. Several patients have now tested positive for dengue, prompting the panchayat to provide free medicines to those affected.
Preventive measures, including pesticide spraying and efforts to eliminate breeding sources, are being implemented to curb the spread of the virus. The local authorities are collaborating with medical professionals to conduct tests and provide necessary care.
Addressing the Dengue Crisis
The dengue crisis in India has escalated, with multiple states and cities grappling with a surge in cases. As the monsoon season continues and mosquito breeding remains a challenge, it is crucial for authorities, healthcare professionals, and the public to collaborate in implementing preventive measures. These measures include maintaining cleanliness, eliminating mosquito breeding sites, seeking medical attention for symptoms, and adhering to disease management protocols.
The central and state governments must work together to ensure timely data sharing and resource allocation to combat the dengue outbreak effectively. With collective action and increased awareness, India can better manage and eventually overcome this health crisis. However, vigilance and proactive efforts are essential to prevent further escalation of dengue cases in the country.
For the latest
Dengue News
keep on logging to Thailand Medical News.