BREAKING NEWS! Scientists Discover SARS-CoV-2 miRNAs That Contributes To Pathogenesis And Can Be Used As A Biomarker For COVID-19 Severity!
COVID-19 News
: In a stunning breakthrough, scientists from Tongji University School of Medicine in Shanghai, China, and the Shanghai Pudong Center for Disease Control & Prevention-China have discovered small RNA molecules or viral peptides that plays a crucial role in the severity and pathogenesis of COVID-19.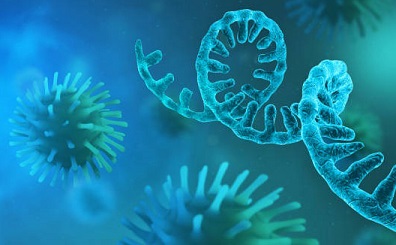 This groundbreaking finding not only sheds light on the mechanisms underlying the disease but also offers potential for the development of new diagnostic tools and therapeutic strategies.
Already for a long time now, Thailand Medical News in its various
COVID-19 News
articles, has been warning that the SARS-CoV-2 is able to encode for viral peptides that are not involved in the replication or structures of the SARS-CoV-2 genome but rather play a role in pathogenesis and affects the human host in variety of ways even after viral clearance!
https://www.thailandmedical.news/news/breaking-long-covid-is-a-misnomer-the-conditions-are-being-caused-by-viral-persistence-and-viral-peptides-similar-to-retrotransposons-and-introns
https://www.thailandmedical.news/news/breaking-covid-19-news-discovery-of-sars-cov-2-short-rnas-by-scientist-from-john-hopkins-is-a-big-gamechanger-in-terms-of-pathogenesis-and-long-covid
https://www.thailandmedical.news/news/there-is-no-such-thing-as-long-covid-sars-cov-2-exposure-causes-persistent-infections-along-with-continuous-presence-of-short-viral-rnas-svrnas
Since the outbreak of the coronavirus disease 2019 (COVID-19) in early 2020, caused by the severe acute respiratory syndrome coronavirus 2 (SARS-CoV-2), the global community has been grappling with the devastating effects of this highly contagious virus. With almost 700 million confirmed cases and about 7.5 million deaths worldwide, finding effective methods for early diagnosis and treatment is of utmost importance.
MicroRNAs (miRNAs) are small non-coding RNA molecules that play a crucial role in regulating gene expression and are involved in various biological processes and diseases. In the case of viral infections, including COVID-19, viruses exploit the host's miRNA regulatory systems to evade immune responses and manipulate cellular processes.
Previous studies have identified virus-derived miRNAs (v-miRs) in several viral infections, but the understanding of RNA virus-encoded v-miRs, particularly in the case of SARS-CoV-2, is still in its early stages.
https://pubmed.ncbi.nlm.nih.gov/15118162/
/>
https://pubmed.ncbi.nlm.nih.gov/25792595/
https://pubmed.ncbi.nlm.nih.gov/17589500/
https://pubmed.ncbi.nlm.nih.gov/18923076/
https://pubmed.ncbi.nlm.nih.gov/22635403/
https://pubmed.ncbi.nlm.nih.gov/17257494/
https://pubmed.ncbi.nlm.nih.gov/25380780/
Using computational prediction methods and screening analysis of patient specimens, the study team identified 15 precursors for SARS-CoV-2-encoded miRNAs (CvmiRNAs), containing a total of 20 mature CvmiRNAs. Of particular interest was CvmiR-2, which was successfully detected in serum and nasal swab samples from COVID-19 patients. Remarkably, CvmiR-2 showed high specificity in distinguishing COVID-19 patients from healthy individuals and demonstrated a positive correlation with disease severity.
To validate the biogenesis and expression of CvmiR-2, the study team transfected the CvmiR-2 precursor into human alveolar basal epithelial cells. The results showed a dose-dependent pattern of CvmiR-2 expression, confirming its role as a viral-encoded miRNA.
Furthermore, sequencing analysis of human cells infected with SARS-CoV-2 or the pre-CvmiR-2 revealed the specific sequence of CvmiR-2.
Through target gene prediction analysis, the study team identified potential genes regulated by CvmiR-2 that may be involved in immune responses, muscle pain, and neurological disorders in COVID-19 patients. These findings provide valuable insights into the pathogenesis of the disease and suggest that CvmiR-2 could serve as a diagnostic biomarker or a therapeutic target.
This groundbreaking discovery not only enhances our understanding of the intricate mechanisms of SARS-CoV-2 but also opens up new possibilities for the early diagnosis and treatment of COVID-19. By harnessing the power of small RNA molecules, scientists may be able to develop more reliable diagnostic tools and targeted therapies to combat the ongoing global pandemic.
The study team's findings have sparked widespread excitement and anticipation in the scientific community. Further studies and clinical trials are now needed to explore the full potential of CvmiR-2 as a diagnostic biomarker and therapeutic target. With continued research and collaboration, we may soon have powerful tools at our disposal to detect and manage COVID-19 more effectively, potentially saving countless lives and bringing an end to this devastating global crisis.
The study findings were published in the peer reviewed journal: Frontiers in Cellular and Infection Microbiology.
https://www.frontiersin.org/articles/10.3389/fcimb.2023.1190870/full
For the latest
COVID-19 News
, keep on logging to Thailand Medical News.