Vaccine News: British Anticounterfeit Technology Specialist Eluceda Develops An Easy, Rapid Testing Solution For Detecting Counterfeit COVID-19 Vaccines!
Vaccine News
: British detection and anticounterfeit technology specialist Eluceda has developed a rapid, 'two-minute' COVID vaccine authentication test that is not only easy-to-use but highly accurate to detect counterfeit Covid-19 vaccines.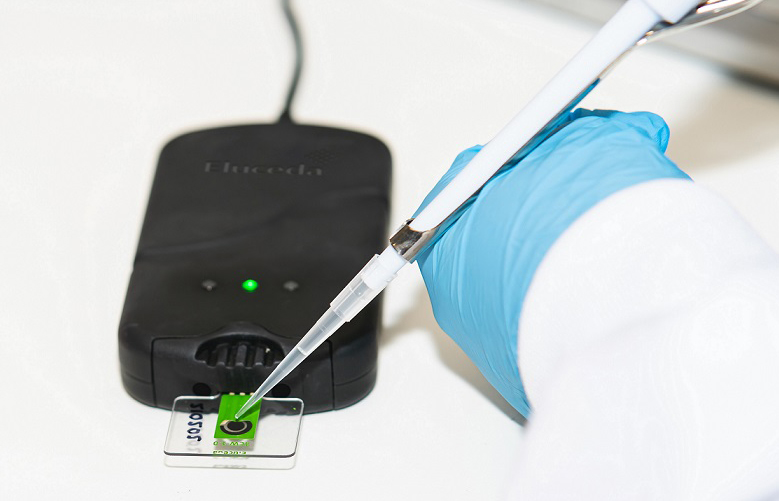 The new testing solution can be conveniently used in the field, providing a practical authentication solution that doesn't require centralized testing infrastructure or specialized personnel.
Current vaccine authentication methods tend to rely on relatively scarce, expensive and centralized equipment with samples often having to travel across borders, leading to lengthy waits on test results.
Eluceda hopes that by providing rapid, cost-effective, and portable authentication technology that requires little training to use, improve both confidence and safety in vaccine use.
The new testing solution is based on its Eluceda's E-Sens™ rapid testing device which can analyze the unique electrochemical 'fingerprint' of covid vaccines and other liquids.
Upon being presented with counterfeit or adulterated vaccines, the reader will compare the 'fingerprint' of a relevant sample against genuine vaccines – providing results in less than two minutes.
According to the company, dedicated software records test data which can be uploaded to a database accessible by authorized stakeholders across the world.
In addition, other relevant data such as time, geolocation and information specific to the electrochemical 'fingerprint' are also logged, allowing for decentralized analysis and for trends to be identified quickly and efficiently.
Basically, the test process involves acquiring a relevant sample, inserting a small sensor into the E-Sens™ reader, which is connected to a mobile phone, tablet or PC, and dropping a small amount of liquid onto the sensor. These specialized sensors are designed to be disposable and are able to detect small variations in electrochemical signal, caused by dilution, contaminants, etc.
Dr Ian Eastwood, CTO at Eluceda said, "Both public and professional confidence is an absolutely critical component of vaccine use and counterfeits pose a serious risk to maintaining that confidence. Putting accurate and easy-to-use authentication technology in the hands of people best placed to detect and ultimately stop counterfeits is a powerful tool in maintaining that confidence and protecting the health of people around the world."
Importantly, the simplicity of Eluceda's authentication solution allows for a diverse range of stakeholders to carry out authentication tests such as enforcement personnel, customs officials, logistics providers and even medical professionals.
It should be noted that even before the COVID-19 pandemic, the World Health Organization or WHO estimated that 1 in 10 medical products in low- and middle-income countries were substandard or falsified.
https://www.who.int/health-topics/substandard-and-falsified-medical-products#tab=tab_1
Shockingly, reports of fake Covid vaccines appea red in early 2021 with distilled water, saline solutions or anti-wrinkle treatments being sold as the vaccine.
https://www.cbsnews.com/news/pfizer-vaccine-fake-covid-19-vaccine-counterfeit-mexico-poland/
Numerous other
Vaccine News
coverages have also reported about fake vaccines appearing in various countries and posing a serious health threat.
https://www.theguardian.com/world/2021/mar/04/interpol-warns-fake-vaccines-seized-in-china-and-south-africa-are-tip-of-iceberg
https://www.interpol.int/en/News-and-Events/News/2021/Fake-COVID-vaccine-distribution-network-dismantled-after-INTERPOL-alert
https://indianexpress.com/article/cities/lucknow/varanasi-fake-vaccine-racket-busted-5-arrested-7754074/
The debut of such an easy-to-use field vaccine authentication platform is timely.
The company has also published a white paper A white paper with more details on Eluceda's Covid vaccine authentication solution on its website.
For the latest
Vaccine News
, keep on logging to Thailand Medical News.