BREAKING! SARS-CoV-2 BA.2 Variant Spawning Mutations On Its MPro Sites That Reduce Efficacy Of The Antiviral Paxlovid! Many Such Variants In America Now!
Emerging worrisome data is showing that numerous BA.2 subvariants are emerging all over the United States spotting mutations on the main protease (MPro) sites which are reducing the antiviral effectiveness of the active pharmaceutical ingredient found in Paxlovid ie nirmatrelvir.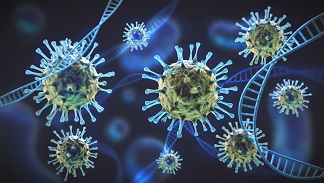 These NSP5 or MPro mutations include: H164N, G15S, T135I.
Genomic sequencing data is showing that a number of such subvariants spotting these variants are emerging in states like Washington, Idaho, California, North Carolina, Colorado, Florida, Georgia, Indiana, Texas, Kentucky, North Dakota, Oregon, Pennsylvania, Tennessee, Utah and Wisconsin.
https://public.tableau.com/app/profile/raj.rajnarayanan/viz/Paxlovid_MPro_Mutations/Dashboard1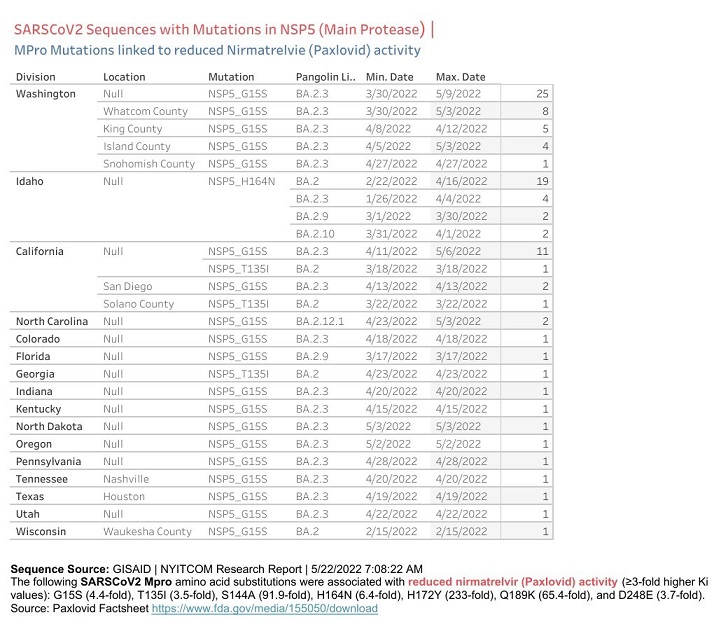 Credit: Raj Rajnarayana Labs – Arkansas State University
It is suspected that due to lack of proper surveillance in many states and the rather laxed attitude with regards to COVID-19 in the United States at the moment, there could be more than these 16 states where such Paxlovid drug resistance subvariants are emerging and the numbers could be far higher.
Scientists are not sure if the incidence of SARS-CoV-2 rebound in many patients who were on Paxlovid could be attributed to the emergence of these subvariants.
Thailand
Medical News
had already warned when Paxlovid and Molnupiravir were approved to treat COVID-19 that drug resistance variants would appear and that these drugs would be driving the mutations and evolutions in these various circulating variants.
What is concerning is that the changes to the MPro/NSP5 proteins as a result of these drug driven mutations would not only make the new subvariants drug resistant to both Paxlovid and Molnupiravir but it would will also render many other compounds ranging from other repurposed drugs, phytochemicals and small bioactive molecules that had demonstrated antiviral activity against SARS-CoV-2 and are currently being investigated in various clinical trials to also become ineffective against these new emerging subvariants.
According to data published on the U.S. FDA site, The following Mpro amino acid substitutions were associated with reduced nirmatrelvir activity (≥3-fold higher Ki values): G15S (4.4-fold), T135I (3.5-fold), S144A (91.9-fold), H164N (6.4-fold), H172Y (233-fold), Q189K (65.4-fold), and D248E (3.7-fold). G15S is present in the Lambda variant, which did not have reduced susceptibility to nirmatrelvir (relative to USA-WA1/2020) in cell culture.
https://www.fda.gov/media/155050/download
(page 24)
It is also believed that the usage of Paxlovid and Molnupiravir is also driving the emergence of other mutations such as NSP5_T21I, NSP5_T24I, NSP5_K90R, NSP5_P108S, NSP5_P132H, NSP5_P241L and NSP5_H246N on the various BA.2 variants.&lt ;br />
Such a massive change in the MPro/NSP5 proteins could have massive implications on the search of effective antivirals and therapeutics.
Importantly, people have to realize that a lot of treatment protocols that were advocated by various groups etc since the start of the pandemic are no longer effective against the various emerging BA.2 subvariants and the BA.4 and BA.5 variants and also against the new third and fourth generation Delta subvariants.
With many people living in denial and many more assuming that the threat from SARS-CoV-2 is over, and many more stupids also assuming that the newer variants are getting mild (mild only upon infection but we have no clue about their pathogenesis and how they are affecting the human host in mid-term and long-term!), the relaxation of COVID-19 measures and travel restrictions coupled with the kinetics of the pandemic, a more catastrophic scenario is likely to debut around the late third quarter and early last quarter of 2022.
For the latest on emerging SARS-CoV-2 variants and subvariants, keep on logging to Thailand
Medical News
.