BREAKING! Cambridge Study Claims That Booster Shots In The Aged Leads To Impaired SARS-CoV-2 Neutralization, Impaired T Cells And Also Atypical B Cells!
COVID-19 News
: Worryingly, new study findings by researchers from Cambridge Institute of Therapeutic Immunology and Infectious Disease (CITIID)- UK, University of Cambridge-UK, Wellcome Sanger Institute-UK and University College London have found that booster shots in the aged leads to impaired SARS-CoV-2 neutralization, impaired T cells and also atypical B cells!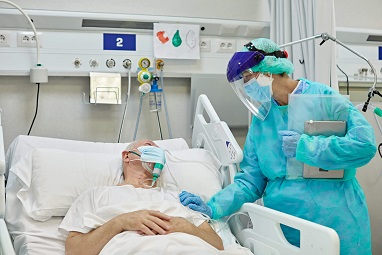 These findings warrant further validation and if need be, guidelines on the COVID-19 jabs for the aged need to be revised.
According to the study team, "Age is a major risk factor for hospitalization and death after SARS-CoV-2 infection, even in vaccinees. Suboptimal responses to a primary vaccination course have been reported in the elderly, but there is little information regarding the impact of age on responses to booster third doses."
The study team showed that individuals 70 or older who received a primary two dose schedule with AZD1222 and booster third dose with mRNA shots achieved significantly lower neutralizing antibody responses against SARS-CoV-2 spike pseudo typed virus compared to those younger than 70.
It was found that one month after the booster neither the concentration of serum binding anti spike IgG antibody, nor the frequency of spike-specific B cells showed differences by age grouping.
Furthermore, the impaired neutralization potency and breadth post-third dose in the elderly was associated with enrichment of circulating "atypical" spike-specific B cells expressing CD11c and FCRL5.
Single cell RNA sequencing confirmed an expansion of TBX21-, ITGAX-expressing B cells in the elderly that enriched for B cell activation/receptor signaling pathway genes.
Interestingly, the study findings also indicated impaired T cell responses to SARS-CoV-2 spike peptides in the elderly post-booster, both in terms of IFNgamma and IL2 secretion, as well as a decrease in T cell receptor signaling pathway genes.
According to the study team, this expansion of atypical B cells and impaired T cell responses may contribute to the generation of less affinity-matured antibodies, with lower neutralizing capacity post-third dose in the elderly.
The study findings reveal the extent and potential mechanistic underpinning of the impaired jab responses present in the elderly after a booster dose, contributing to their increased susceptibility to COVID-19 infection.
The study findings were published on a preprint server and are currently being peer reviewed.
https://www.medrxiv.org/content/10.1101/2022.10.13.22281024v1
This is one of the first study to examine neutralizing antibody responses against the severe acute respiratory syndrome coronavirus 2 (SARS-CoV-2) in individuals aged 70 or above who had received two primary doses of the AZD1222 (ChAdOx1 nCov-19) shots, followed by one booster dose of either the BNT162b2 or mRNA-1273 messenger ribonucleic acid (mRNA) shot.
In the earlier part of the pandemic in the United Kingdom, the adenoviral vector vaccine AZD1222 and the mRNA BNT162b2 and mRNA-1273 shots have been used for widespread inoculation against the COVID-19 disease.
However, emerging SARS-CoV-2 variants associated with improved immune evasion, courtesy of mutations primarily in the spike protein's receptor binding domain (RBD) along with waning immunity has reinforced the need for booster doses.
Typically, a third booster dose has been shown to induce stable spike-protein-specific B-cells that elicit a neutralizing response against SARS-CoV-2 variants with RBD mutations. However, the longevity of B-cell immunity is determined mainly by age.
Past studies and
COVID-19 News
coverages have detailed that neutralizing responses to the two primary mRNA jab doses have been suboptimal in the elderly population.
https://pubmed.ncbi.nlm.nih.gov/34192737/
https://pubmed.ncbi.nlm.nih.gov/32671966/
https://pubmed.ncbi.nlm.nih.gov/28769922/
To date however, the neutralizing antibody responses in the elderly to a booster dose have not yet been investigated.
The current clinical study comprised 60 individuals who had received two doses of the AZD1222 shots and one dose of either of the two mRNA booster shots.
The study participants were divided into two groups based on age, in which one group consisted of individuals younger than 70, and the other consisted of individuals 70 years old or above.
For the study, blood samples were collected one month after the second dose, six months after the second dose, and one month after the booster dose.
Jab-elicited antibody neutralization activity in the serum was measured based on the serum dilution required for 50% infection inhibition (ID50). The cutoff for insufficient neutralization was an ID50 value of 20 or less.
Detailed multiplex particle-based flow cytometry was employed to assess the antibody binding to the SARS-CoV-2 spike protein.
Also, FLUOROSPOT assays for interferon-gamma (IFNγ) and interleukin-2 (IL-2) were performed to measure T-cell responses. Mean fluorescence intensity measured total spike immunoglobulin G (IgG) levels. Spike-pseudotyped lentiviruses for the SARS-CoV-2 D614G wild-type, Delta, and Omicron spike proteins were used to assess neutralizing antibodies.
The study team additionally performed single-cell ribonucleic acid sequencing (scRNAseq) to measure gene expression. Sequencing of the B- and T-cell receptors were also carried out on peripheral blood mononuclear cells (PBMC).
The study findings showed that the neutralizing antibodies and both B- and T-cell responses showed no difference across the two age groups after primary jabs.
Furthermore, neutralizing antibodies diminished significantly in the six months following the second primary dose.
Interestingly, the first mRNA booster dose resulted in a significant increase in antibody titers.
Alarmingly however, individuals in the 70 or above age group showed lower neutralization responses compared to individuals younger than 70.
It was found that serum IgG levels against the SARS-CoV-2 spike protein and spike-specific B-cells were the same across the two age groups.
Surprisingly, the older age group exhibited impaired T-cell responses for IFNγ and IL-2 secretions.
Detailed T-cell receptor sequencing indicated that the expression of the signaling pathway genes for T-cell receptors was lower for individuals aged 70 or older. In contrast, scRNAseq data suggested that the expression of B-cell receptor signaling pathway genes was enhanced.
The study findings also showed that the older age group also exhibited increased atypical memory B-cell levels, which the authors believe is elicited by the secretion of IFNγ and IL-21 that is a consequence of increased inflammation in the elderly.
It should be noted that earlier studies with mice have reported that the AZD1222 shots elicits a lower germinal center response in older mice. This suggests that the atypical B-cell proliferation in older individuals could be due to the involvement of the extra-follicular pathway in memory B-cell production.
https://pubmed.ncbi.nlm.nih.gov/33521747/
Worryingly, the study findings indicate that a booster dose of an mRNA shot resulted in lower neutralizing antibody responses in the older age group and spike-specific B-cell and IgG responses that were similar for both age groups. Individuals aged 70 and older showed an accumulation of atypical memory B-cells and reduced T-cell receptor responses and signaling pathway gene expression, which the study team believes explain the lower neutralizing antibody levels. The impaired booster responses could cumulatively result in increased susceptibility of the elderly to COVID-19.
Health authorities, medical researchers and the pharma representatives need to assess these study findings and make necessary revisions to guidelines on the COVID-19 boosters should further studies validate these findings as the elderly could be placed in a vulnerable position as a result of these boosters!
Individuals whose elderly relatives have succumbed to the virus after getting the booster shots should also consider necessary legal actions against everyone directly or indirectly responsible.
The Cambridge study findings can be found here....
https://www.medrxiv.org/content/10.1101/2022.10.13.22281024v1
For the latest
COVID-19 News
, keep on logging to Thailand
Medical News
.