COVID-19 News: World Health Organization Says Current COVID-19 Trends Are Alarming As Infections, Hospitalizations And Deaths Rise Even Before Winter!
COVID-19 News
: In a world still grappling with the enduring challenges posed by the COVID-19 pandemic, the World Health Organization (WHO) has sounded the alarm with "concerning" trends emerging as we approach the Northern Hemisphere's winter season. The agency has called for immediate action in the form of increased vaccinations (It is really questionable how effective these are and it is amazing that even after 3 years, the WHO is merely focusing on only vaccine or antibody-based approaches instead of effective and safe antivirals!) and enhanced surveillance to combat the escalating crisis.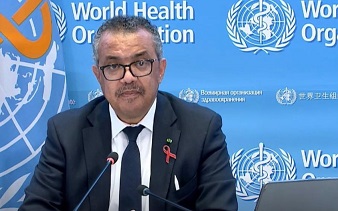 As the COVID-19 landscape continues to evolve, the WHO's Director-General, Tedros Adhanom Ghebreyesus, addressed the global community during an online news conference yesterday, offering insights into the distressing trajectory of the virus.
https://www.who.int/director-general/speeches/detail/who-director-general-s-opening-remarks-at-the-media-briefing---6-septmber-2023
Unfortunately, the current COVID-19 situation is marred by incomplete data, as many countries have halted the reporting of COVID-19 statistics, leaving significant gaps in our understanding of the ongoing crisis. Nonetheless, WHO estimates suggest that hundreds of thousands of individuals around the world are currently hospitalized due to COVID-19, painting a bleak picture for the upcoming winter months.
Tedros Adhanom Ghebreyesus, in his somber address, emphasized, "We continue to see concerning trends for COVID-19 ahead of the winter season in the Northern Hemisphere." He cited a surge in COVID-19 related deaths across parts of the Middle East and Asia, a worrying increase in intensive care unit admissions throughout Europe, and a rise in hospitalizations in various regions worldwide.
It is interesting to note that while the WHO itself it mentioning about increasing COVID-19 deaths in Asia and the Middle East, we see no governments in these countries actually reporting about this nor any media reports or
COVID-19 News
coverages in any mainstream media in these countries about the COVID-19 situation in the various geolocations in these regions. This only reinforces the fact that many governments are simply concealing the true impact of current COVID-19 crisis! Interestingly however, excess death rates in many of these countries are ever increasing at alarming rates!
https://www.mortality.watch/heatmap
The forthcoming winter months are especially concerning, as colder weather drives people indoors, creating fertile ground for the virus to spread more easily. With influenza and respiratory syncytial virus (RSV) also circulating, WHO experts stress the imperative of testing and vaccination as part of a robust defense strategy against the looming healthcare crisis.
Maria Van Kerkhove, the WHO's technical lead on COVID-19, expressed her apprehension, stating, "That is a worry given that when we get to colder months, in some countries, people tend to spend more time indoors together, and viruses that transmit through the air like COVID will take advantage of that."
Amid these distressing developments, the WHO has identified the emergence of the EG.5 Omicron subvariant, which is now on the rise. Additionally, small numbers of the highly mutated BA.2.86 subvariant have been detected in 11 countries. The WHO is closely monitoring this variant to assess its transmissibility and potential impact on global health.
Despite these ominous developments, the WHO claims there is some glimmer of hope in the form of existing vaccines. Preliminary data suggests that current vaccines offer protection against the BA.2.86 subvariant, offering a measure of reassurance to the global population.(Thailand Medical News is however highly skeptical of all these data as some were directly from studies conducted by the vaccine manufacturers themselves which cannot be trusted and the rest by labs that are indirectly or directly receiving monies from the same vaccine manufacturers..it would be naïve for anyone to believe as of these reports! Furthermore many of these studies were vitro studies involving the usage of serum from previously infected individuals exposed to the XBB.1.5 variant….using vitro experiments to assess effectiveness of vaccines are really questionable!)
One of the WHO's primary concerns remains the low vaccination rates among at-risk populations. Tedros Adhanom Ghebreyesus urged individuals not to delay getting a booster dose, emphasizing that the increase in hospitalizations and deaths underscores the persistence of COVID-19 as an ongoing global threat. He stated, "The increase in hospitalizations and deaths shows that COVID-19 is here to stay, and that we will continue to need tools to fight it."
The WHO has been actively engaged in efforts to combat the pandemic. Last week, they announced that a global knowledge-sharing platform, known as C-TAP, successfully secured three new licensing agreements to transfer vaccine technologies. This initiative aims to ensure wider access to vaccines across the globe. (Note once again, the WHO is only concerned about vaccines and antibody approaches but not antiviral based approaches…it seems that it is they who want this pandemic to prolong!)
Tedros Adhanom Ghebreyesus hinted at future developments, stating, "The WHO is now reviewing the C-TAP model with a view to developing a new, broader access model for technologies," with plans to unveil it by the end of 2023. This marks a crucial step in the ongoing battle against COVID-19 and ensuring equitable access to life-saving vaccines.
In light of the sobering trends and uncertain times ahead, the WHO's message to the global community is clear: vigilance, vaccination, and cooperation are key in navigating the ongoing challenges posed by COVID-19. As we stand at the precipice of another winter season, the world must unite in its response to combat this relentless adversary, ensuring that we emerge from this pandemic stronger and more resilient than ever before.
Thailand Medical News would like to add our own warnings…by late December 2023 or early 2024, there is likely to be a cluster of new SARS-CoV-2 sub-lineages ie 2 to 4 new sub-lineages that is likely to be far worse than Delta and will be driving a more catastrophic surge ever seen so far.
For the latest
COVID-19 News
, keep on logging to Thailand Medical News.