BREAKING NEWS! COVID-19 Infections Results In Various Autoantibodies That Target Proteins Associated With The Male Fertility
Study found that SARS-CoV-2 infections results in the emergence of autoantibodies that target SPANXN4, a protein essential for spermiogenesis and male fertility.

COVID-19 News
: In a newstudy that promises to shed new light on the complexities of COVID-19, researchers have discovered a fascinating link between the disease and the male reproductive system. The research, conducted by an international team of scientists, has unveiled the emergence of autoantibodies targeting SPANXN4, a crucial protein involved in spermiogenesis and male fertility. These findings not only provide valuable insights into the mechanisms of COVID-19 but also raise intriguing questions about its potential impact on male reproductive health.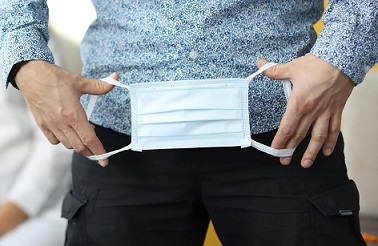 The Study
The study, a collaborative effort between esteemed institutions including Weill Cornell Medicine-Qatar, Hamad Bin Khalifa University-Qatar, University College London, and the University of Greifswald-Germany, employed advanced immunoproteomics analysis to explore the presence of autoantibodies in COVID-19 patients. The study team screened two independent cohorts comprising a total of 97 patients, utilizing cutting-edge technology to evaluate autoantibody responses against 1,318 human proteins.
Results and Implications
The study revealed that COVID-19 patients exhibited altered autoantibody responses against several proteins compared to healthy individuals.
Most notably, elevated autoantibody responses were detected against SPANXN4, a protein essential for spermiogenesis and male fertility. The significance of this finding cannot be understated, as it suggests a potential association between COVID-19 and male reproductive tract complications.
Further research is warranted to fully understand the implications of these autoantibodies on male fertility and the long-term effects on COVID-19 survivors. The identification of autoantibodies targeting proteins associated with the male reproductive system opens up new avenues for diagnostic and treatment strategies in the field of male fertility.
Broader Context
The COVID-19 pandemic has been marked by numerous unanswered questions, and the role of autoantibodies in disease progression and complications remains one of the less explored areas. While the disease primarily affects the respiratory system, mounting evidence indicates its impact extends beyond the lungs. The presence of ACE2 receptors, which are highly expressed in the male reproductive system, has led to concerns about the potential effects of COVID-19 on male fertility.
Autoantibodies, produced by the immune system and capable of attacking the body's own tissues, have been found in a significant proportion of hospitalized COVID-19 patient as covered in previous studies and
COVID-19 News
reports. The study's findings reinforce previous research highlighting the presence of autoantibodies in severe COVID-19 cases and their correlation with immune responses to SARS-CoV-2 proteins.
Conclusion
The discove ry of autoantibodies targeting proteins associated with male fertility in COVID-19 patients represents a groundbreaking breakthrough in our understanding of the disease. The identification of SPANXN4 as a potential diagnostic and treatment marker for male reproductive complications related to COVID-19 opens up new possibilities for research and intervention in this field. As scientists continue to delve into the intricate complexities of COVID-19, this study serves as a beacon of hope, offering valuable insights that could positively impact the lives of millions affected by the pandemic.
The study findings were published in the peer reviewed journal: Frontiers In Physiology.
https://www.frontiersin.org/articles/10.3389/fphys.2023.1203723/full
For the latest
COVID-19 News
, keep on logging to Thailand Medical News.
Read Also:
https://www.thailandmedical.news/news/breaking-news-males-be-aware-sars-cov-2-infections-can-also-cause-penile-ulcers
https://www.thailandmedical.news/news/texas-study-finds-that-sars-cov-2-literally-damages-the-testes-and-testicular-tissues-in-a-variety-of-way-and-also-the-blood-testes-barrier
https://www.thailandmedical.news/news/covid-19-news-groundbreaking-danish-study-shows-than-men-with-mild-covid-19-infections-still-ended-up-with-impaired-testicular-function