Pharma News: Apotex Recalls Glaucoma And Ocular Hypertension Drug Brimonidine Tartrate Ophthalmic Solution Due To Sterility Concerns
Pharma News
: Apotex, Canada's largest generic drug maker, has announced a recall of six batches of the glaucoma and ocular hypertension drug brimonidine tartrate ophthalmic solution due to sterility concerns.
https://www.fda.gov/safety/recalls-market-withdrawals-safety-alerts/apotex-corp-issues-voluntary-nationwide-recall-brimonidine-tartrate-ophthalmic-solution-015-due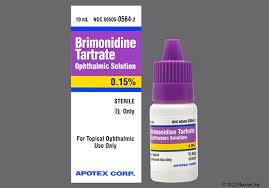 The company is recalling the batches out of an abundance of caution after it found cracks on the caps of certain brimonidine tartrate bottles, which could jeopardize the drug's sterility and potentially lead to unwanted side effects.
The recall comes after several years of eluding U.S.FDA scrutiny, as Apotex has faced regulatory rebukes from the U.S. in the past.
The U.S. FDA has issued separate recall notices for certain eyedrops distributed by Pharmedica and Apotex after the companies voluntarily pulled several lots of their products from the market. The recalls were conducted in consultation with the U.S.FDA, and there is no indication that they are related to the eyedrops made in India that were linked to an outbreak of drug-resistant infections.
Apotex initiated the recall last week, recalling six lots of prescription eyedrops used to treat a form of glaucoma after finding cracks in a handful of bottle caps.
The drops are distributed as Brimonidine Tartrate Ophthalmic Solution. 0.15% and were sold between April 2022 through February 2023. The company has not received any reports of injuries related to the drops, and it has not specified whether it had received any patient complaints or safety signals tied to the recall.
Brimonidine tartrate is an alpha-adrenergic receptor agonist used to help lower intraocular pressure in patients with open-angle glaucoma or ocular hypertension. The recall exclusively pertains to brimonidine tartrate in the 0.15% presentation from Apotex, and the company is reaching out to wholesalers, distributors, warehouses, and pharmacies to track down the affected bottles. The half-dozen brimonidine tartrate batches were shipped out across the U.S. between April 2022 and February 2023.
Apotex has had a relatively good run since it charted a pair of recalls in early 2021. In February of that year, Apotex pulled one lot of the anticoagulant enoxaparin, and a few weeks later in April, it yanked three lots of 2-mg guanfacine extended-release tablets used to treat attention-deficit/hyperactivity disorder.
According to previous
Pharma News
coverages, in 2019, Apotex withdrew 31 of its generic drug approvals from the United States after the U.S. FDA identified manufacturing deficiencies at two plants in India. Among the products that lost their FDA nods were blood pressure drugs valsartan and losartan, the antibiotic azithromycin, and a copycat of Viagra.
The company makes most of its drugs in India and in other manufacturing plants elsewhere in the world, it has a habit of employing Indians to cut labour or manag ement costs often at the risk of generating sub-standard or contaminated drugs!
Apotex's fate was thrown into flux with the murder of the company's founder Barry Sherman and his wife in 2017. Following a CEO switch and a price fixing settlement, the company sold itself to private investment firm SK Capital last September. At the time of the sale, Apotex employed roughly 8,000 people across more than 100 countries, with a significant footprint in India and Mexico. The company was valued at around $3 billion in 2019.
Since the death of Sherman, who founded the company in 1974, Apotex has been in tumult. After the family took control of the company, then-CEO Jeremy Desai stepped down amid allegations that he stole trade secrets from a girlfriend who previously served as an executive at Teva Pharmaceutical. Desai denied the allegations and sued back. The case remains unsolved.
According to industry sources, more recalls of other product lines from Apotex are expected in coming weeks due to a number of complaints that have been registered with the U.S.FDA and also other European drug regulators.
For the latest
Pharma News
, keep on logging to Thailand Medical News.