A new study review by researchers from Aristotle University of Thessaloniki-Greece and Brandenburg Medical School Theodor Fontane-Germany has found that certain antioxidant
supplements
can help with male fertility.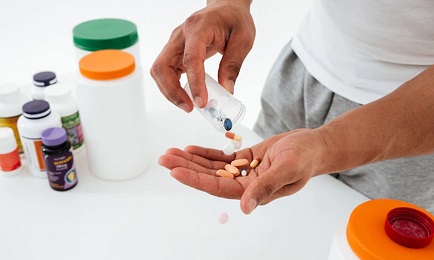 The study explored the potential benefits of antioxidant supplementation (AS) in improving various aspects of male fertility, such as sperm motility, morphology, DNA damage, concentration, and overall fertility rate.
Infertility, which affects over 80 million couples worldwide, is defined as the inability to conceive after one year of unprotected sex. Male infertility accounts for 30-50% of these cases and can be caused by various factors, including varicocele, smoking, radiation exposure, infections, nutritional deficiencies, stress, and environmental factors. Oxidative stress is also a key contributor to make infertility.
Oxidative stress results from an imbalance between the production and accumulation of reactive oxygen species (ROS) in cells and the body's ability to detoxify them. As ROS levels rise due to factors like pollution, poor nutrition, and obesity, oxidative stress becomes more prominent. The Mediterranean diet has been shown to help improve male infertility and cancer risk induced by environmental pollutants.
ROS and Its Impact on Male Infertility
Sperm cells possess a distinct plasma membrane structure that contains polyunsaturated fatty acids (PUFAs), which enhance membrane flexibility, enabling them to penetrate oocytes. Reactive oxygen species (ROS) exposure leads to lipid peroxidation, which directly compromises sperm cell integrity, subsequently decreasing sperm motility and fertility potential.
Furthermore, ROS has a direct detrimental effect on sperm DNA. Sperm cells lack the necessary DNA repair proteins to counteract oxidative damage caused by ROS, leading to DNA fragmentation. Fragmented DNA in sperm cells renders them incapable of maturing and fertilizing an oocyte. However, if unrepaired sperm with damaged DNA enter a zygote during fertilization, it can result in genetic mutations that affect fetal development.
About the Research
Various natural antioxidants like vitamins C and E, thioredoxin, superoxide dismutase, and glutathione are naturally produced in the human body. These antioxidants can safeguard sperm cells and neutralize the harmful effects of ROS. Some studies have suggested that antioxidant supplementation (AS) can improve semen quality, while others have reported negative outcomes.
The current research involved searching Cochrane, Medline, and PubMed electronic databases for studies on the benefits of antioxidants in male infertility. Keywords such as "antioxidants," "sperm function," "semen parameters," "male infertility," and others were used in the search, along with several Medical Subject Heading (MeSH) terms.
Article titles and abstracts were assessed, followed by data extraction, cross-checking, and verification. The mechanisms of action, AS types, and dosages, as well as their effects on semen parameters, sperm function tests, and live birth rates, were also examined.
Research Results
&l t;br /> In total, 50 articles were reviewed, revealing that significant improvements in male fertility could be linked to AS treatment. The most frequently studied AS and their doses included 500-1,000 mg of vitamin C, 400 mg of vitamin E, 25-400 mg of zinc, 100-300 mg of co-enzyme Q10, 500-1,000 mg of carnitines, 6-8 mg of lycopene, 0.5 mg of folic acid, 200 mg of selenium, and 600 mg of N-acetyl cysteine.
The List Of Antioxidant With Potential In Improving Male Fertility:
Vitamin E + Vitamin C
: These antioxidants work together to protect cells from free radicals and improve fertility. Some studies have shown improved DNA damage and ICSI success rates with positive impact on sperm motility and concentration.
Carnitine
: L-carnitine plays an important role in metabolism and is found in high concentrations in the epididymis. Some studies have shown improved sperm motility and pregnancy rates.
Coenzyme Q10
: This antioxidant is involved in cellular energy production and has been shown to improve sperm motility and concentration. However, a meta-analysis found that CoQ10 supplementation does not increase live-birth or pregnancy rates.
Zinc
: Zinc plays an essential role in testicular development and sperm maturation. Some studies have reported improved sperm parameters after zinc supplementation.
Selenium and N-Acetyl-Cysteine
: These compounds contribute to maintaining normal sperm structure and have been shown to improve sperm count, motility, morphology, and concentration in infertile men.
Multiple- Antioxidant Supplementation
Multi-AS, which combines multiple antioxidants, has shown effective results in male infertility. However more research is needed to better understand the potential benefits of antioxidant supplementation in improving male fertility.
Conclusions
Although numerous studies have demonstrated the positive effects of antioxidant supplementation (AS) on male fertility parameters, the highly complex nature of infertility has made it difficult for researchers to identify the ideal AS treatment approach for this condition. The heterogeneity of existing studies and the unknown baseline levels of antioxidants further complicate the determination of optimal treatment options.
The study review highlights that AS therapy's impact on improving male fertility has been extensively investigated across the globe. In some cases, AS has been found to effectively reverse oxidative stress-related sperm dysfunction and enhance pregnancy rates.
The most commonly used AS treatments, either as standalone or in combination as multi-AS, include: vitamin E (400 mg), carnitines (500–1000 mg), vitamin C (500–1000 mg), CoQ10 (100–300 mg), NAC (600 mg), zinc (25–400 mg), folic acid (0.5 mg), selenium (200 mg), and lycopene (6–8 mg).
Nonetheless, determining an ideal AS treatment method remains a subject of debate due to the variability in study designs and the multifactorial origins of infertility. Additionally, the studies involve various AS regimens at different concentrations. The normal physiological levels of all antioxidants are also unknown, which makes accurate diagnosis and treatment selection challenging.
Further prospective research is necessary to identify the optimal combination of AS for treating male infertility globally. These studies should also take into account extrinsic and environmental factors, acknowledging that conducting a perfect study on this topic is complex and demanding.
The study findings were published in the peer viewed journal: Antioxidants.
https://www.mdpi.com/2076-3921/12/4/836
For the latest on
Supplements
, keep on logging to Thailand Medical News.