Rising Cases of SARS-CoV-2 EG.5.1, Dubbed "Eris," Spark Concern in France - Hospitals Report 26% Increase in ER Admissions
COVID-19 News
: The relentless evolution of the SARS-CoV-2 virus has once again taken center stage in France, as a newly identified variant, labeled "Eris," engenders a surge in COVID-19 infections.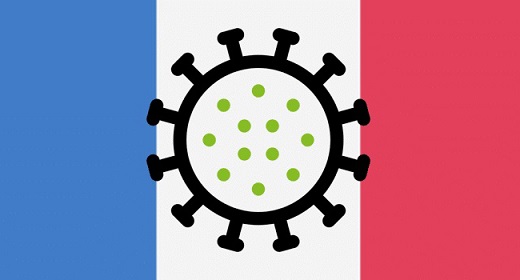 Despite the lifting of the state of emergency by the World Health Organization (WHO) in May, the virus continues to evolve, and this time, the emergence of the Eris variant is being closely monitored by health authorities worldwide.
Eris Variant's Rapid Spread
Since August 2nd, health authorities in France have observed a concerning uptick in emergency room admissions for suspected COVID-19 cases. Santé Publique France reported a noteworthy 26% surge, amounting to 149 additional admissions, signaling a potential resurgence of the virus. This sudden escalation has been attributed to the newly identified variant, Eris, which is believed to be responsible for approximately 35% of COVID-19 infections in the country. The Pasteur Institute, a renowned research institution, has highlighted Eris as a significant contributor to the recent rise in infections.
https://www.connexionfrance.com/article/French-news/Health/Eris-New-more-contagious-variant-sparks-Covid-escalation-in-France
https://france3-regions.francetvinfo.fr/occitanie/haute-garonne/toulouse/covid-19-tout-savoir-sur-la-montee-en-puissance-du-nouveau-sous-variant-eris-qui-pourrait-gacher-vos-vacances-2823326.html
https://www.elle.fr/Societe/News/Covid-19-un-nouveau-variant-responsable-d-une-hausse-des-cas-en-France-4143157
EG.5.1 Has A High Reproductive Number
According to a latest study by Japanese scientists, the new EG.5.1 variant has a reproductive number that is far higher that even the highly transmissible XBB.1.16 and that it is expected to lead a global surge that is likely to be more extensive than the initial Omicron variant.
https://www.thailandmedical.news/news/breaking-covid-19-news-study-warns-about-higher-reproduction-number-of-eg-5-1-compared-to-xbb-1-16-and-raises-alarm-on-humoral-immunity-issues
Global Impact and Surveillance
However, France isn't the only country grappling with the repercussions of the Eris variant. According to
COVID-19 News
update, beyond its borders, the United Kingdom and the United States have also experienced an increased prevalence of this strain. In the UK, Eris accounted for 15% of COVID-19 cases as of July 20th, according to dat a from the British health security agency. Meanwhile, across the Atlantic, the variant contributed to 17% of infections in the United States as of August 5th, reflecting a significant rise from the 12% recorded just two weeks prior.
The Eris Variant
This new subvariant, named Eris or EG.5.1, stems from the Omicron group, and its swift transmission is a cause for concern. It demonstrates a higher transmissibility compared to its predecessors, and is also effective at immune evasiveness.
However, experts emphasize that increased transmissibility does not inherently equate to heightened virulence. Dr Antoine Flahault, director of the Institute of Global Health in Geneva, underscores that Eris has not been associated with distinct symptoms or greater disease severity.
He claims that the existing immunity established through previous infections or vaccinations seems to remain effective against this variant, assuaging concerns of its resistance to the immune response.
Potential Implications for Public Health
As Eris continues to dominate infection rates in various countries, some experts caution against complacency. Professor Mircea Sofonea, an associate professor at the University of Montpellier, urges prudence when interpreting the 35% estimate for Eris-caused infections, highlighting potential biases in the sample population.
This rise in cases, coupled with the decline in immunity over time, raises the prospect of a resurgence in the epidemic. Professor Sofonea forewarns that a conjunction of factors, including the new variant and diminishing immunity, could pave the way for a new wave of infections.
Long COVID-19 Issues
While many health authorities around the world are claiming that EG.5.1 is but a mild variant, there is still the issue of long-term health issues that can arise from contracting the new EG.5.1 virus. Long COVID remains a growing problem in many countries and no one is able to predict what effects that infections or reinfections involving the new EG.5.1 variant could bring.
Preventive Measures Remain Crucial
As authorities and researchers grapple with the evolving landscape of the virus, the importance of preventive measures remains paramount. Despite the presence of the Eris variant, health officials stress that adherence to existing protocols, including vaccination and maintaining personal protective practices, can still play a pivotal role in curbing the spread of the virus.
While concerns regarding the Eris variant's impact on public health persist, ongoing surveillance and research efforts aim to shed light on its behavior and implications.
For the latest
COVID-19 News
, keep on logging to Thailand Medical News.