Malaysia Faces a Surge in COVID-19 Cases Ahead Of The Muslim Hari Raya Holidays As XBB.1.16 Starts Its Spread Across The Country
COVID-19 News
: Malaysia is witnessing a concerning surge in COVID-19 cases just before the Hari Raya Aidilfitri celebrations, raising fears of a new wave of infections. Public health experts are urging citizens to mask up once more and take necessary precautions to prevent further spread of the virus.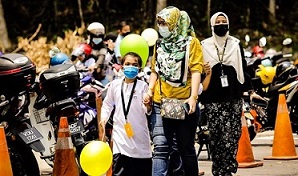 In the 14 days leading up to April 8, the number of confirmed COVID-19 cases in Malaysia skyrocketed by 87.5%. Hospital admissions during this period rose by 30.5%, while deaths due to the virus increased by 25%.
As of April 8, there were over 13,000 active cases in the country.
The total number of cases in Malaysia had reached 5.06 million, with 36,994 deaths and 13,283 active cases as of last week, ever since the start of COVID-19 pandemic.
Amid this alarming situation, the Association of Private Hospitals Malaysia issued a statement on April 17, urging people to wear face masks in crowded places and maintain social distancing to curb the virus's spread. Dr Kuljit Singh, the association's president, emphasized that while healthcare systems are prepared to handle an increase in cases, the public should not become complacent in their efforts to prevent the disease.
In anticipation of a surge in COVID-19 cases in the upcoming festive season, Health Minister Dr Zaliha Mustafa also encouraged the public to wear face masks in crowded and confined spaces where physical distancing is difficult. Currently, masks are only required on public transport, in healthcare facilities, and for those who have tested positive for the virus.
According to Dr Zaliha, the number of COVID-19 patients admitted to hospitals in early April increased by 17.6% compared to the previous month. Most of the patients admitted belonged to high-risk groups, such as the elderly and individuals with comorbidities.
Dr Zainal Ariffin Omar, a Public Health Organisation Malaysia advisor, recommended additional measures, such as avoiding crowded spaces, self-testing, and self-quarantine, especially for high-risk individuals. He noted that while masking remains optional, it is strongly encouraged due to the current situation.
According to
COVID-19 News
data from the KKMNOW health portal, it was revealed that, as of April 8, the country recorded a total of 7,643 new cases within a 14-day period. Selangor recorded the highest number of new cases, followed by Kuala Lumpur and Melaka.
The XBB.1.16 variant has been detected in Malaysia and seems to gradually increasing in circulation.
https://cov-spectrum.org/explore/Malaysia/AllSamples/Past6M/variants?nextcladePangoLineage=xbb.1.16*&
Dr Zainal Ariffin warned the public to be cautious of the various new XBB variants, including the XBB.1.16 sub-lineage which can cause severe health complications and death. He urged everyone to practice preventive measures, including wearing face masks, taking COVID-19 tests, and avoiding contact with others if found positive.
The Health Ministry has recorded 13,283 active COVID-19 cases, with 96.2% of patients quarantined at home and the rest treated at nearby hospitals.
Assoc Prof Dr Malina Osman from Universiti Putra Malaysia also reminded Malaysians to be careful when preparing food for the festive celebration to avoid the risk of food poisoning. She advised maintaining a balanced diet, avoiding unhealthy foods, and ensuring proper rest and sleep, particularly for those driving long distances.
Dr Osman added, "As the Hari Raya Aidilfitri celebrations approach, it is crucial for Malaysians to remain vigilant and take necessary precautions to curb the rise in COVID-19 cases. With public health experts strongly encouraging masking and other preventive measures, the country can work together to avoid another devastating wave of the virus."
For the latest
COVID-19 News
, keep on logging to Thailand Medical News.