Donovanosis, A Rare and Flesh-Eating Sexually Transmitted Infection Emerges Again In The UK
STI News
: Reports have emerged that two women and a man in London could have been infected with a rare sexually transmitted infection (STI) known as Donovanosis, which causes flesh-eating genital ulcers. The STI clinics in London attending to the cases are awaiting diagnostic confirmations.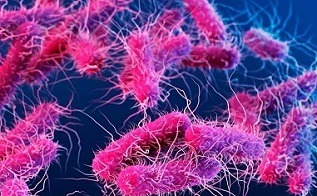 Donovanosis is caused by the bacterium klebsiella granulomatis
Pic Credit: Alissa Eckert/Science Photo Library/imago images
Although treatable with antibiotics, early stages of the Donovanosis disease may go undiagnosed due to its rarity.
The British Association for Sexual Health and HIV (BASHH) had published a report to guide doctors and the public in diagnosis and treatment in 2018 when the first cases was found in the UK.
https://www.bashhguidelines.org/media/1168/donovanosis-2018.pdf
It is important that doctors, healthcare professionals and promiscuous 'sluts and roués' have an in-depth understanding of Donovanosis, its symptoms, types, and the importance of early diagnosis and treatment.
Background
Donovanosis, also known as Granuloma inguinale, is an STI that is typically found in tropical regions such as Brazil, southern Africa, Papua New Guinea, and India. The first known case of Donovanosis in the UK was diagnosed in a woman aged between 15 and 25 in Southport in 2018.
The U.S. Centers for Disease Control (CDC) also recognizes the rarity of the infection in the United States.
Donovanosis is a bacterial infection caused by Klebsiella granulomatis that targets the skin around the genitals, groin, or anal area, leading to lesions and skin disintegration as the flesh consumes itself.
Symptoms
The initial symptoms of Donovanosis will most likely appear on the genitals but can also form on cheeks, lips, gums, or in the throat. The infection comes in four types, according to guidelines from BASHH. These types are:
-Ulcerogranulomatous: The most common type, which appears as painless red ulcers that bleed when touched.
-Hypertrophic or Verrucous: Characterized by a raised bump with an irregular edge, resembling a walnut.
-Necrotic: Accompanied by a foul smell and destruction of the surrounding tissue.
-Sclerotic: Exhibits scar tissue.
The term "flesh-eating" describes the way the ulcers caused by Donovanosis spread, causing the skin to disintegrate.
Diagnosis and Treatment
Donovanosis can be treated with antibiotics; however, early stages of the infection often go undiagnosed due to its rarity. Any delay in treatment can result in the flesh-eating symptom, causing the flesh around the genitals to literally rot away. The infection is twice as likely to affect men and can be transmitted through sexual contact or contact with an open ulcer. Symptoms may appear anywhere between one to 12 weeks after contact with the bacteria.
Public Health England states that Donovanosis primarily occurs in tropical countries or regions of the Americas, Southern Africa, and Oceania, and is very rarely diagnosed and reported in the UK.
According to past
STI News
coverages, the existence of Donovanosis in the UK was discovered in 2018 after a pharmacist from Chemist-4-u.com contacted hospital trusts nationwide to find out how many diagnoses of STIs there had been, the age of people diagnosed, their sex, and the region of the country they live in as part of extensive research into "The Great British STI Taboo."
New Emergence
The emergence of suspected new cases of Donovanosis in the UK highlights the importance of being aware of and understanding rare STIs. Early diagnosis and treatment are crucial to prevent severe complications, such as the disintegration of skin around the affected area. Health professionals and the public must be vigilant and knowledgeable about the symptoms, types, and treatment options for Donovanosis to ensure proper management of the infection and prevent its spread.
STIs In UK
There has been a rising incidence of various types of Sexually Transmitted Infections (STIs) in recent years in the United Kingdom and signals a worrying trend that many are no longer taking safety precautions when having sex and also maintaining proper hygiene. Shocking findings from a survey found that many British do not shower before and after having sex and that many do not have proper hygiene standards. Many also do not use condoms coupled with unsafe oral and other kinds of strange types of sexual practices. A large proportion of British are also sex tourists who prefer to visit countries that offer cheap and strange types of sex such including various countries in the African continent, Netherlands and also Thailand, Cambodia and Philippines. Interestingly, a number of drug resistance STIs are also emerging in the United Kingdom.
For the latest
STI News
, keep on logging to Thailand Medical News.