Taiwan Battling Fourth Omicron Wave : COVID-19 Cases Surge 30% Amidst WHO Exclusion Drama From Annual World Health Assembly!
COVID-19 News
: As Taiwan faces the onslaught of a fourth wave of COVID-19 infections, serious COVID-19 cases have surged by a staggering 30%. However, the country's battle against the pandemic is not limited to the virus itself, as Taiwan finds itself excluded from the World Health Organization's (WHO) annual World Health Assembly due to intense pressure from China and Pakistan. With a spike in cases and controversial international politics at play, Taiwan's fight against COVID-19 takes center stage, raising concerns about public health and global inclusion.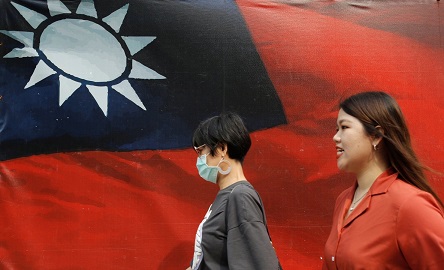 The Omicron Wave Hits Taiwan
The Taiwan Centers for Disease Control (CDC) has reported a daily average of 204 moderate to severe COVID-19 cases in Taiwan from May 17-23, representing a daunting increase of 32% compared to the previous week's average. Moreover, the number of COVID-19 fatalities has seen a slight rise, with an average of 18 deaths per day during May 14-20. These alarming statistics reveal the severity of the situation and the urgent need for effective measures to control the spread of the virus. Local
COVID-19 News
coverages also show that COVID-19 hospitalizations are starting to rise gradually.
Omicron Variants - A Cause for Concern
Within Taiwan, the Omicron XBB variant has emerged as the dominant strain, replacing BA 2.75. The Taiwan CDC warns that XBB sub-lineages are resistant to immunity induced by current vaccines and capable of triggering breakthrough infections, exacerbating the severity of the current wave. The local public has been advised to remain cautious and diligently monitor their health for symptoms associated with the virus, such as high fever, lethargy, and respiratory difficulties.
Data from the CoV-Spectrum platform shows that there are about 9 different XBB sub-lineages circulating in the country in the last 30 days including XBB.1.5, XBB1.16, XBB.1.9.1, XBB.1.24, XBB.1.16.2, XBB.1.5.49, FL.4, FL.10 and EG.5.1
https://cov-spectrum.org/explore/Taiwan/AllSamples/from%3D2023-04-17%26to%3D2023-05-17/variants?nextcladePangoLineage=xbb*&
WHO Exclusion and International Politics
While Taiwan battles the fourth wave of COVID-19, the country's exclusion from the WHO's annual assembly has sparked controversy. Despite growing support for Taiwan's participation, China and Pakistan successfully urged members to reject Taiwan's inclusion, claiming sovereignty over the island. This exclusion highlights the challenging diplomatic landscape faced by Taiwan, limiting its access to vital global resources and hindering its ability to combat the pandemic effectively.
Taiwan's Response and Resilience
Taiwan's CDC is taking proactive steps to combat the current crisis. The government is offering NT$500 (US$16.26) vouchers for hygiene products to seniors aged 65 and above who receive a COVID-19 vaccine shot. This initiative aims to encourage vaccination among the vulnerable population and promote hygiene practices.
Additionally, the CDC continues to enforce mask-wearing in medical facilities to protect the health of both the public and healthcare workers.
Taiwan's Plea and Determination
Taiwan has expressed strong condemnation of China's role in blocking its participation in global organizations. The island nation firmly believes that its democratically elected government is best suited to represent the interests of its 23 million citizens in international bodies. Taiwan asserts its right to protect the health and human rights of its people and vows to continue its fight against the pandemic despite challenges and political barriers.
As Taiwan grapples with the fourth wave of COVID-19 infections fueled by the Omicron variants, the nation finds itself facing not only a public health crisis but also diplomatic hurdles. Excluded from the WHO's annual assembly due to Chinese pressure, Taiwan's fight against the virus is marred by international politics.
For the latest
COVID-19 News
, keep on logging to Thailand Medical News.