Long COVID News: Study Shows That Maraviroc and Pravastatin Can Be Used To Treat Long COVID
Long COVID News
: A study by American and Costa Rican researchers has found that the drugs Maraviroc and Pravastatin can be used to treat Long COVID.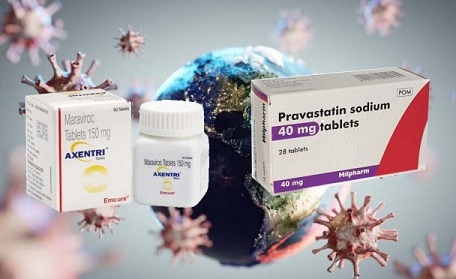 Maraviroc, sold under the brand names Selzentry and Celsentri, is an antiretroviral medication used to treat HIV infection. It is taken by mouth. It is in the CCR5 receptor antagonist class. It was approved for medical use in the United States in August 2007, and in the European Union in September 2007.
Pravastatin, sold under the brand name Pravachol among others, is a statin medication, used for preventing cardiovascular disease in those at high risk and treating abnormal lipids. It should be used together with diet changes, exercise, and weight loss. It is taken by mouth.
Long COVID
or Post-acute sequelae of COVID (PASC) is a multisystem complication of SARS-CoV-2 infection that continues to debilitate millions worldwide thus highlighting the public health importance of identifying effective therapeutics to alleviate this illness.
One explanation behind Long COVID may be attributed to the recent discovery of persistent S1 protein subunit of SARS-CoV-2 in CD16+ monocytes up to 15 months after infection.
The CD16+ monocytes, which express both CCR5 and fractalkine receptors (CX3CR1), play a role in vascular homeostasis and endothelial immune surveillance.
The study team proposed targeting these receptors using the CCR5 antagonist, maraviroc, along with pravastatin, a fractalkine inhibitor, could disrupt the monocytic-endothelial-platelet axis that may be central to the etiology of Long COVID.
Utilizing five validated clinical scales (NYHA, MRC Dyspnea, COMPASS-31, modified Rankin, and Fatigue Severity Score) to measure 18 participants' response to treatment, the study team observed significant clinical improvement in 6 to 12 weeks on a combination of maraviroc 300 mg per oral twice a day and pravastatin 10 mg per oral daily.
Subjective neurological, autonomic, respiratory, cardiac and fatigue symptoms scores all decreased which correlated with statistically significant decreases in vascular markers sCD40L and VEGF.
The study findings suggest that by interrupting the monocytic-endothelial-platelet axis, maraviroc and pravastatin may restore the immune dysregulation observed in Long COVID and could be potential therapeutic options. This sets the framework for a future double-blinded, placebo-controlled randomized trial to further investigate the drug efficacy of maraviroc and pravastatin in treating
The study findings were published in the peer reviewed journal: Frontiers in Medicine.
https://www.frontiersin.org/articles/10.3389/fmed.2023.1122529/full
The study findings also suggest a precision medicine approach may enable differentiation and diagnosis of Long COVID from ME-CFS and supports further evaluation of two therapeutic agents for treatment
Data from the clinical study showed modulation of key immune regulating proteins with maraviroc and pravastatin, and correlates with sympto m reduction in patients with Long COVID.
The research findings also support a precision medicine approach to diagnosis of Long COVID as well as differentiation of Long COVID from ME-CFS (myalgic encephalomyelitis/chronic fatigue syndrome), which presents with similar symptoms.
In the study, 18 COVID-19 survivors experiencing symptoms consistent with Long COVID for more than three months after diagnosis and displaying either isolated or combinations of elevated pro-inflammatory markers, received a combination of maraviroc (300 mg per oral twice a day) and pravastatin (10 mg per oral daily)
Significantly, symptom improvements were reported within 12 weeks of treatment.
Importantly, subjective neurological, autonomic, respiratory, cardiac and fatigue symptoms scores all decreased by statistically significant margins. In particular, the FSS (fatigue being the most common symptom) decreased and was closely correlated in decreases of IL-2 and TNF-α.
Also, specific symptom improvements were correlated with reductions in specific inflammatory biomarkers. These decreases in reported symptom improvements correlated with statistically significant decreases in objectively measured inflammation-related biomarkers.
The study also showed statistically significant positive Pearson's correlation coefficients between subjective scores and cytokine modulation.
The study team said, "These data link specific inflammatory markers to specific symptoms of Long COVID for the first time providing support for a targeted therapeutic approach aimed at specific inflammatory mediators. The study also shows the utility of precision diagnostics as a means of differentiating patients suffering exclusively from Long COVID from those who have conditions with similar symptom profiles, like ME-CFS and Post-Lyme syndromes."
The researchers further added, "In testing potential inclusion and exclusion criteria, the study provides the foundation for development of a protocol for a randomized controlled trial of maraviroc and pravastatin in the treatment of Long COVID. We are encouraged by data from this study demonstrating both subjective and biomarker improvement with this regimen."
The U.S. CDC reports that nearly one in five adults who have had COVID-19 continue to suffer with the symptom complex known as Long COVID, post-COVID syndrome or PASC (post-acute sequalae of COVID).
There is an urgent need to better understand the pathophysiology of this condition and more importantly find a cure. This study provides new insights that address both issues. Having identified a correlation between immune dysfunction, specific inflammatory markers and symptoms, this paper also opens up potential for new diagnostic and treatment options for a number of poorly understood chronic disabling medical conditions.
Chronic Fatigue Syndrome (ME/CFS) in particular shares a number of overlapping symptoms with Long COVID. These data may provide a path forward to improved diagnosis and treatment for the approximately 2 million people in the U.S. and millions more around the world suffering with ME/CFS.
The study team comprised of researchers from
-IncellDX Inc., San Carlos, CA-USA.
-Department of Anesthesiology, Beth Israel Lahey Health, Burlington, MA-USA
-Centro de Investigación en Cirugía y Cáncer (CICICA), Universidad de Costa Rica, San Jose, Costa Rica
-Lab of Tumor Chemosensitivity, CIET/DC Lab, Faculty of Microbiology, Universidad de Costa Rica, San Jose, Costa Rica
-Department of Medicine, St. Francis Medical Center, Trenton, NJ-USA
-Department of Emergency Medicine, Novant Health Kernersville Medical Center, Kernersville, NC-USA
Department of Allergy and Immunology, NYU Langone Tisch Hospital, New York-USA
-Department of Emergency Medicine, New York Presbyterian Hospital, Brooklyn, NY-USA
-Department of Anesthesiology, Stamford Hospital, Stamford, CT-USA
-Rutland Medical Group, Newport Beach, CA-USA
-Department of Community and Family Medicine, Georgetown University Medical Center, Washington, DC-USA
-Department of Medicine, Creighton University School of Medicine, Phoenix, AZ-USA
For the latest
Long COVID News
, keep on logging to Thailand Medical News.