More Americans Died from COVID-19 Under The Biden Administration In 2021 Than Under Trump And The Figures Are Still Increasing!
U.S. Medical News
: It is official, according to the latest data from Johns Hopkins University, (mind you this is an institution that supports the Biden administration and has been reporting a very low rate of COVID-19 infections and deaths which many believe is being manipulated!) the number of COVID-19 deaths recorded so far in 2021 under the Biden administration has surpassed the total for 2020, when the Trump was in power.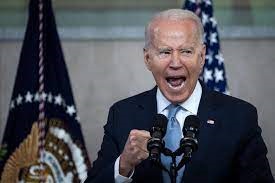 A total of more than 772,000 COVID-19 deaths have been reported in the U.S. during the pandemic. About 385,000 were reported in 2020, according to U.S.CDC data, and more than 387,000 have been reported this year so far.
However, many are saying that the COVID-19 death and infection rates could be much higher than reported as there is a concerted effort by the current administration to try to conceal the actual scenario and make the Biden administration look good. Some reporting sites like the COVID tracker project simply stopped after being exasperated with the concealing of data and the inaccurate figures being revealed. On the Worldometer site, the total deaths for America shows as 794,864.
https://www.worldometers.info/coronavirus/
The good news however is that the 2021 total will continue to increase in coming weeks as COVID-19 cases rise again in 30 states across America despite mainstream media and so called 'experts' loyal to the ape and his puppet Biden are spewing news such that the COVID-19 pandemic is under control and that the crisis will end in early 2022.
Unknown to many Americans, the national average for new daily COVID-19 cases has surpassed 90,000 again in the last week.
Some of these American states that were hit hard early in the pandemic had some of the highest COVID-19 death rates per capita in 2020, according to a recent analysis by
U.S. Medical News
. The Northeast had some of the highest death rates per 100,000 residents, especially New Jersey and New York, as well as North Dakota and South Dakota.
Interestingly this year, Southern states have reported the highest death rates due to a major surge caused by the contagious Delta variant. Alabama, Florida, Mississippi, and Tennessee have reported the highest death rates so far this year.
The state of Vermont has the lowest COVID-19 death rate per 100,000 people since the pandemic began.
The state of Mississippi has the highest death rate since the pandemic began.
It was reported that most deaths tend to be among older adults, though younger people are dying more this year. About 81% of COVID-19 deaths hit ages 65 and older last year, falling to 69% this year. The deaths among people under 45 in 2021 have been more than double the deaths in that age group from last year.
In June, more people had died from COVID-19 globally this year than in 2020, according to an analysis.
At that time, more than 1.883 million deaths had been recorded in the first 6 months of 2021, as compared to 1.88 million in 2020.
As of Tuesday, more than 5.16 million people worldwide had died from COVID-19 throughout the pandemic, the Johns Hopkins data shows.
Many speculate that the actual COVID-19 deaths globally so far could be at least eight-fold as many countries were under reporting and many were never tested.
Meanwhile in America, COVId-19 cases are rising again as upper midwest sees biggest jump and with the Thanksgiving holidays approaching and many states letting their guards down, it is expected that by early winter, America will find itself in a worst-off position.
To add fuel to the coming catastrophe, the data points that America's COVID-19 immunity is waning.
The U.S.CDC data shows about 60 percent of the population is heading into the winter months with reduced protection against the coronavirus.
It was reported that only 40 percent of Americans are at their strongest immunity level against COVID-19, even as health officials warn that waning immunity among vaccinated people is leading to a rise in hospitalizations.
Although about 6 in 10 Americans are fully vaccinated, more than half received their last shot more than six months ago, the threshold currently recommended for those getting a Moderna or a Pfizer booster.
When combined with the 100 million unvaccinated people, about 60 percent of the population is heading into the winter months with reduced protection against the coronavirus.
Health experts say that those who were vaccinated early in the year are likely to have waning immunity.
What is being observed in many states at the moment is an uptick in hospitalizations among people who've been vaccinated but not boosted.
So far, nearly 10 percent of the country, or 31 million people have received a booster shot, according to data from the Centers for Disease Control and Prevention but even then some of those are now going into their fourth or fifth months and it is still not sure if immunity form the booster shots would wane as well.
Last week, the U.S. Food and Drug Administration authorized Moderna and Pfizer boosters for all adults. Combined with those eligible for a Johnson and Johnson booster, about 96 million people or 29 percent of the total U.S. population would be eligible.
Young children ages 5 to 11 started receiving vaccinations this month, and at a briefing last week, the Biden administration proudly announced that 2.6 million, or 10 percent, of kids have received their first dose.
The Biden administration is now trying to shift the blame of its failure to control the COVID-19 situation towards the unvaccinated and are imposing stupid and dictatorial mandates and rules that basically are violating basic human rights. Ironical for politicians coming from a party named as Democrats!
The good news is that already a few new Delta subvariants and also newer recombined SARS-CoV-2 strains that are immune evasive have already made their debut on American soil and although their numbers are extremely low and the U.S. CDC is not revealing much, its is expected that its only a matter of time that some of these new super killer 'babies' start gaining viral fitness and become predominant in circulation.
It will also be great once Merck's Molnupiravir becomes easily available in the United States as hopefully that too will lead to more newer strains emerging!
https://www.forbes.com/sites/williamhaseltine/2021/11/01/supercharging-new-viral-variants-the-dangers-of-molnupiravir-part-1/?sh=2bbadd546b15
It is really a disgrace that a country that has wealth and huge resources and the best of medical researchers and doctors is managing the COVID-19 crisis so badly and letting a few greedy rich politicians, technocrats and big pharma control the COVID-19 narratives. Its time that Americans start doing something about it.
For the latest
U.S. Medical News
, keep on logging to Thailand Medical News.