Omicron Detected In Greece, Norway, Singapore. Omicron Now In 25 Countries Outside The African Continent And In 9 Countries Inside Africa
Omicron Updates
: The Omicron variant has been detected in Greece, Norway And Singapore. In India besides Delhi and the state of Maharashtra and , new cases have been detected in the state of Karnataka.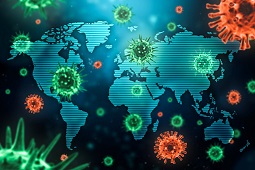 Omicron in Greece
Greece reported its first case of the Omicron coronavirus variant, in a Greek citizen on the island of Crete who had returned from South Africa last month, its Health Minister Thanos Plevris told media.
The patient a male who has mild symptoms, and all his contacts have been quarantined, the head of Greece's public health agency EODY Theoklis Zaoutis said.
So far his contacts have tested negative so far and have been closely watched by Greek authorities.
Norway Detects Omicron
Norway has identified its first two cases of the new Omicron coronavirus variant, the west coast municipality of Oeygarden and the health ministry a few hours ago.
The two individuals who were infected had been on a trip to South Africa. Both of them were currently recovering from the infection, Oeygarden mayor Tom Georg Indrevik said in a statement.
Singapore Reports First Two Cases Of Omicron
In the last hour, Singapore reported detected two imported cases of the SARS-CoV-2 Omicron variant, both of whom have been isolated, its health ministry said.
The Health Ministry also said in a statement that contact tracing was ongoing for passengers on the same flight as those infected, and there was no evidence of community transmission.
More States In India Reporting Omicron
Omicron Updates
in India: Besides Delhi and the state of Maharashtra, new cases have been reported in the state of Karnataka in India.
Two men, a 66-year-old and a 46-year-old, had both tested positive for the variant in southern Karnataka state, top health official Luv Agarwal said in a briefing. "All primary contacts and secondary contacts of both the cases have been traced and are being tested," the health ministry's joint secretary Lav Agarwal told a news briefing.
More Countries Now have The Omicron Variant
All the new detections in various countries now brings a total of 25 countries outside of the African continent that has the omicron variant including Austria, Australia, Belgium, Brazil, Canada, Czech Republic, Denmark, France, Germany, Greece, Hong Kong, Japan, India, Israel, Italy, Netherlands, Norway, Portugal, Spain, Saudi Arabia, Singapore, Sweden, UAE, United Kingdom and the United States.
In the African continent, a total of 9 countries have Omicron variant including South Africa, Botswana, Nigeria, Namibia, Zambia, Angola, Cameroon, Congo and Malawi with another 23 out of the 54 countries in the African continent having suspected cases!
Please help to sustain this site and also all our research and community initiatives by making a donation. Your hel p means a lot and helps saves lives directly and indirectly and we desperately also need financial help now.
https://www.thailandmedical.news/p/sponsorship
For the latest
Omicron Updates
, keep on logging to Thailand Medical news.