SHOCKING! Study Reveals That Teens Infected With COVID-19 Can Develop CNS Autoimmunity Due To Intrathecal Antineural SARS-CoV-2 Autoantibodies!
A new study conducted by researchers from Howard Hughes Medical Institute, Maryland-USA and Weill Institute for Neurosciences at the University of California, San Francisco-USA has shockingly found that teenagers infected with COVID-19 can develop CNS autoimmunity after 'recovery' due to the presence of intrathecal antineural SARS-CoV-2 autoantibodies.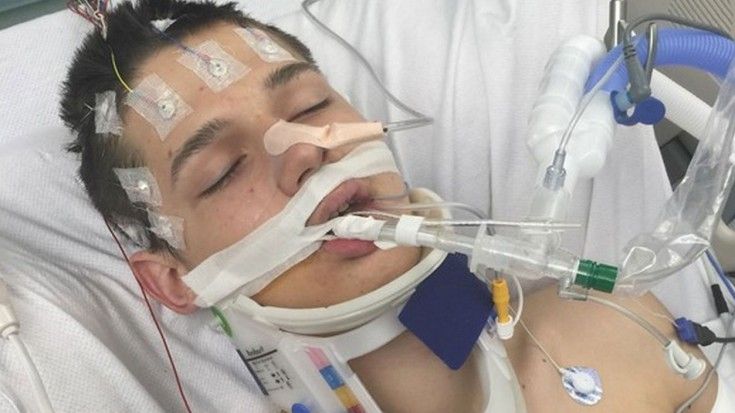 Stock Shot -Open Source
The study was based on case studies involving three pediatric patients with subacute neuropsychiatric impairment as well as investigations as to whether there was anti–SARS-CoV-2 or antineural antibodies present in the cerebrospinal fluid of them.
The study findings found that 2 had intrathecal anti–SARS-CoV-2 antibodies as well as intrathecal antineural antibodies. Anti–transcription factor 4 (TCF4) autoantibodies in one patient who responded to immunotherapy were validated.
The study findings confirm that a subset of pediatric patients with COVID-19 and subacute neuropsychiatric symptoms have intrathecal antineural autoantibodies, suggesting central nervous system autoimmunity in pediatric patients with COVID-19 and recent neuropsychiatric symptoms.
The study findings were published in the peer reviewed journal: JAMA Neurology.
https://jamanetwork.com/journals/jamaneurology/fullarticle/2785032
The study findings suggest that some pediatric patients who develop neuropsychiatric symptoms from COVID-19 may have intrathecal antineural SARS-CoV-2 autoantibodies, which may hint at central nervous system (CNS) autoimmunity in these patients. This also raise the need for pediatric patients who are displaying neurological issues to be further screened for CNS autoimmune issues.
Lead researcher Dr Christopher M. Bartley, MD, PhD, of the Weill Institute for Neurosciences at the University of California, San Francisco told Thailand
Medical News
, "Overall, these study findings indicate that severe neuropsychiatric symptoms can occur in the setting of pediatric COVID-19, including patients who lack many of the cardinal systemic features. These study data highlight the possibility of SARS-CoV-2 neuroinvasion and/or CNS autoimmunity in pediatric patients with COVID-19 and neuropsychiatric symptoms."
The study team examined three pediatric patients who were infected with SARS-CoV-2 and, over a period of 5 months in 2020, were admitted to the hospital where they received a neurology consultation for "subacute, functionally impairing behavioral changes."
The first pediatric patient had a history of unspecified anxiety and depression, and was admitted for erratic behavior, paranoia-like fears, social withdrawal, and insomnia. The patient did not respond to treatment with risperidone and gabapentin, and was readmitted soon after discharge, then treated with olanzapine followed by a transition to valproate and lorazepam.
Clinical investigations found that the patient had cerebrospinal fluid (CSF) abnormalities i n the form of elevated protein levels, and an elevated IgG index, and was given intravenous immunoglobulin followed by IV methylprednisolone.
Although symptoms such as paranoia improved and the patient was able to better organize thoughts after 5 days, other symptoms such as delusions and hyperreflexia persisted for at least 1 month before resolving, and some symptoms, such as lability, did not resolve before discharge.
The second patient had a history of motor tics and anxiety, but showed signs of insomnia, mood lability, impaired concentration, difficulty finding words, and problems completing homework following a SARS-CoV-2 infection.
This patient's father previously had been diagnosed with COVID-19 and the patient developed respiratory symptoms and fever; an IgG serology test later confirmed a SARS-CoV-2 infection. This pediatric patient went on to experience internal preoccupation, aggression, and suicidal ideation. The patient was treated with aripiprazole and risperidone, but did not respond, and was admitted to the hospital.
This second patient also had CSF abnormalities like the first patient, in the form of elevated protein levels, and responded to IV methylprednisolone, with working memory and bradyphrenia improving.
However, this patient developed insomnia, extreme anxiety, suicidal ideation, aggression, and sadness after discharge, and was readmitted. The patient was treated with IV immunoglobulin, and discharged with quetiapine and lithium.
Dr Bartley added, "Six months later, although improved from initial presentation, the patient required academic accommodations and continued to endorse forgetfulness and attention difficulties. The patient's chronic tics and anxiety were unchanged."
The third pediatric patient had no psychiatric history but started to demonstrate "odd behavior, including repetitive behaviors, anorexia, and insomnia" following a SARS-CoV-2 infection. After being hospitalized, the patient showed signs of "ideomotor apraxia, abulia, disorganized behavior, agitation, and diffusely brisk reflexes" and had a high white blood cell count, creatine kinase level, and C-reactive protein level. CSF was also abnormal for this patient, with three unique oligoclonal bands identified. The patient was treated with lorazepam and olanzapine, did not receive immunotherapy, and was discharged without psychiatric medications after 4 days.
Interestingly when the study team performed testing on each of the three patients, they found intrathecal anti–SARS-CoV-2 IgG and immunostained mouse brain tissue, and "a diverse set of candidate autoantigens by human phage immunoprecipitation sequencing" in patient 1 and patient 2. In comparison, patient 3 "neither appreciably immunostained nor enriched candidates by human phage immunoprecipitation sequencing," the study team said.
The study team concluded, "These data motivate a systematic study of humoral immunity in the CSF of pediatric patients with COVID-19 and neuropsychiatric involvement and the potential for immunotherapy in some."
A medical professional who was not involved in the study, Dr Evan J. Kyzar, MD, PhD, a resident physician in psychiatry at New York State Psychiatric Institute in New York Presbyterian–Columbia Campus, commented on the study findings that the results of the case series show some pediatric patients with neuropsychiatric symptoms can have anti-SARS-CoV-2 antibodies after viral clearance.
Dr Kyzar commented, "Interestingly, some of the patients in this study also had antibodies in the CSF that targeted native proteins, demonstrating that COVID-19 may lead to autoimmunity directed at the brain. This study increases our knowledge of how COVID-19 interacts with the nervous system and how autoimmune mechanisms might be contributing to at least a portion of patients with neuropsychiatric symptoms during acute infection, and possibly even after viral clearance."
He noted that the immunological methods in the study were "cutting-edge" and the validation exploring the immune responses was detailed, but was limited because of the small sample size.
Dr Kyzar further added, "The study team are using similar techniques to explore psychiatric disorders such as depression and schizophrenia to determine if some patients diagnosed with these conditions may have CNS-targeting autoantibodies that contribute to their symptoms and clinical presentation. This work has the potential to discover novel neuroimmune mechanisms contributing to neuropsychiatric disease and offer possible pathways for the discovery of new treatments."
Considering that more than 100 million people have been infected with SARS-CoV-2, including nearly 2 million children in the US alone, the proportion of individuals especially pediatrics with CNS autoimmune issues could be worrisome.
https://www.aap.org/en/pages/2019-novel-coronavirus-covid-19-infections/children-and-covid-19-state-level-data-report/
Though respiratory disease in pediatric COVID-19 is generally mild, parainfectious and postinfectious neurologic sequelae are increasingly recognized.
https://pubmed.ncbi.nlm.nih.gov/32202343/
https://pubmed.ncbi.nlm.nih.gov/32232980/
These include encephalitis, seizures, aseptic meningitis, and confusion found in about 20% of cases of multisystem inflammatory syndrome in children.
https://pubmed.ncbi.nlm.nih.gov/33666649/
Notably, rates of new and recurrent psychiatric illness are significantly increased in adults after SARS-CoV-2 infection compared with influenza and other respiratory infections.
https://pubmed.ncbi.nlm.nih.gov/33181098/
It is important that so called recovered COVID-19 patients especially children and teenagers who are displaying any forms or neurological issues get properly assessed for the possibility of CNS autoimmune issues and get treated properly fast.
For the latest on
Long-COVID
, keep on logging to Thailand Medical News.