Medical Startups: Indonesian Biopharmaceutical Startup Etana Acquires Funding To Expand Its Comprehensive Oncology Offerings
Medical Startups
: PT Etana Biotechnologies Indonesia (Etana), a trailblazing Indonesian biopharmaceutical startup, has successfully obtained a fresh influx of investment. The financing round, led by DEG, saw participation from Yunfeng Capital, HighLight Capital, and East Ventures. This monetary boost will enable Etana to enhance its pipeline and product portfolio, with a particular emphasis on oncology.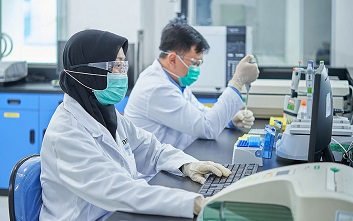 Etana holds the distinction of being the first pharmaceutical enterprise in the ASEAN region to possess mRNA technology. The company's primary focus is on domestic biopharmaceutical production across mRNA platforms, proteins, and monoclonal antibodies. It has produced a COVID-19 vaccine utilizing an mRNA platform, which received Emergency Use Authorization (EUA) from the Indonesian Food and Drug Authority (BPOM). Furthermore, the vaccine has been granted a halal provision from the Indonesian Ulema Council's (MUI) LPOM and a halal certificate from the Halal Product Assurance Agency (BPJPH) under the Indonesian Ministry of Religious Affairs.
As an innovative biopharmaceutical start-up, Etana is committed to delivering high-quality, affordable, and cutting-edge biopharmaceutical products to patients throughout Indonesia and Southeast Asia. Nathan Tirtana, President Director of PT Etana Biotechnologies, emphasized the company's mission to develop local biopharmaceutical production capabilities in accordance with Indonesian government policies. Etana aspires to address challenges in oncology and other life-threatening diseases specific to the Southeast Asian market, including vaccines. The company believes that these biological products have the potential to significantly enhance healthcare for the regional population.
DEG, a development finance institution, is dedicated to supporting the United Nations' Sustainable Development Goals (SDGs), which include improving healthcare. Monika Beck, a DEG management board member, explained that collaborating with Etana helps ensure underprivileged individuals gain access to top-quality biopharmaceutical medications and mRNA vaccines.
Huang Xiao, Managing Director of Yunfeng Fund, praised Etana's capabilities in vaccine manufacturing, local clinical and registration processes, and its own sales force. Huang expressed confidence in Etana's vision, led by Nathan Tirtana, of becoming Southeast Asia's leading biopharma and vaccine enterprise.
Etana's groundbreaking achievements as a leader in
Medical Startups
in Indonesia include producing bevacizumab biosimilar, a recombinant humanized anti-VEGF monoclonal antibody medication for cancer patients in Indonesia. This product has met the safety and efficacy standards established by the Indonesian Food and Drug Authority (BPOM) in June 2022, in terms of both product quality and production procedures.
Additionally, PT Etana Biotechnologies manufactures erythropoietin (EPO) for dialysis treatments and plans to develop an adenovirus platform for vaccine production.
The company's objective is to meet domestic demands and export to the ASEAN market and other select countries, further solidifying its position as a key player in the biopharmaceutical industry.
gt;
It is interesting to see how medical startups in Indonesia and elsewhere in other countries in Asean are taking off and expanding into other markets while in Thailand, health and medical start-ups are simply full of 'hot air' as most of the 'primates' behind the startups and also the local agencies behind the promotion of startups are typically incompetent in English and are often egoistic ignorant individuals who are either corrupted or engaged in nepotism etc. Most Thai health and medical startups are also not innovative or original as most of these morons basically copy ideas and concepts from overseas and merely customized them into Thai language. Furthermore, many fail to realize that Thailand with a small market size of 71 million and only about 8 per cent which the right purchasing power and education cannot sustain most of these Thai startups!
For the latest on
Medical Startups
, keep on logging to Thailand Medical News.