Government Of The Southern Indian State Of Tamil Nadu Raises Alert About Upsurge In SARS-CoV-2 Infections!
COVID-19 News
: While many are claiming that COVID-19 onslaught that was driven by the XBB.1.16 sub-lineage in India is over, they are clueless that there are currently over 207 XBB sub-lineages currently circulating around the world and with many of them also in India that are able to cause continual onslaughts.
https://cov-spectrum.org/explore/World/AllSamples/from%3D2023-04-15%26to%3D2023-05-16/variants?nextcladePangoLineage=xbb*&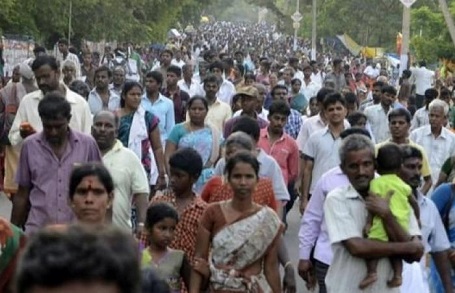 Maskless Tamilians Visting Temples During The Recent Chitra Pournami Festival In Tamil Nadu
In fact, our earlier predictions that the XBB.2.3 and its various spawns will lead the next onslaught is already starting to take root.
https://www.thailandmedical.news/news/covid-19-news-forget-about-xbb-1-16-variant,-experts-and-the-general-public-should-be-more-worried-about-the-xbb-2-3-variant-and-its-spawns
https://www.thailandmedical.news/news/who-designates-xbb-2-3-as-a-variant-under-monitoring-and-warns-about-increasing-covid-19-deaths-in-south-east-asia
https://www.thailandmedical.news/news/are-the-spawns-from-the-xbb-2-3-sub-lineage-aka-the-trans-variant-such-as-xbb-2-3-2,-xbb-2-3-5-evolving-to-cause-t-cell-damage-similar-to-hiv
Data from the COVID-19 spectrum is showing that the XBB.2.3 and especially its spawns XBB.2.3.2, XBB.2.3.3, XBB.2.3.4, XBB.2.5.8, XBB.2.3.9, XBB.2.3.11 are starting to grow in circulation in India.
https://cov-spectrum.org/explore/India/AllSamples/from%3D2023-04-15%26to%3D2023-05-16/variants?aaMutations=s%3A486p&nextcladePangoLineage=xbb*&
Interestingly, the government of the Southern Indian state of Tamil Nadu has raised the alarms a few hours ago about the upsurge in COVID-19 infections.
https://twitter.com/COVID19_disease/status/1661294981666205698
https://www.sakshipost.com/news/tn-govt-alert-over-rise-covid-19-cases-192452
https://www.punjabnewsexpress.com/health/news/tn-govt-on-alert-over-rise-in-covid-19-cases-210708
&am p;nbsp;
According to the local
COVID-19 News
reports, in light of growing concerns regarding the surging number of COVID-19 cases in Tamil Nadu, the state's health department has issued a warning to curb the spread of the virus.
On Tuesday, the count of newly reported infections rose to 13, nearly double the figure from the previous day. The Directorate of Public Health in Tamil Nadu confirmed that three individuals in Chennai and two in Coimbatore tested positive for COVID-19.
Additionally, one person each tested positive in Chengalpattu, Salem, the Nilgiris, Thoothukudi, Tirunelveli, and Vellore. Furthermore, two individuals who had recently arrived from the UAE and Singapore also tested positive.
To address the situation, the state's public health department has instructed the district health officers to enhance their vigilance. Nevertheless, on a positive note, 16 individuals recovered from the disease on Tuesday, with 89 currently receiving treatment. Fortunately, there have been no reported fatalities in the state due to COVID-19.
Ma Subramanian, the State Health Minister, emphasized the need for caution while reassuring the public, stating, "There is no need to worry, but we are exercising caution. A warning has been issued to all district health officers to remain vigilant for any symptoms in potential cases. We are well-prepared to handle the situation."
According to the latest update from the Union Health Ministry, India recorded 552 new COVID-19 cases within a span of the last 24 hours. The active caseload continues to decrease and currently rests at 6,591. The death toll has reached 5,31,849, as six additional deaths were reported, including three cases that were reconciled by Kerala.
We can expect to see new 'COVID-19 wavelets' and onslaughts in coming weeks in various states and parts of India as some of the newer spawns of the XBB.2.3 sub-lineages starts to gain predominance in circulation. The only difference is that we can possibly see more cases of disease severity and hospitalizations this time round!
For the latest
COVID-19 News
, keep on logging to Thailand Medical News.