COVID-19 Cases Gradually Increasing In Mexico Again. University Of Mexico Brings Back Masking!
COVID-19 News
: Reports are emerging that COVID-9 cases are once again rising in Mexico.The National Autonomous University of Mexico (UNAM) also known as University of Mexico has issued the warnings to its student and staff population, and even to the general community to start starting preventive measures including the use of mask. The start of the 2023/2024 school term across the country is also expected to aggravate the situation as seen in previous years.
https://www.elfinanciero.com.mx/salud/2023/07/31/covid-19-mexico-2023-sintomas-y-periodo-de-aislamiento/
https://lopezdoriga.com/nacional/unam-pide-usar-cubrebocas-algunas-situaciones-cambios-covid-19-mexico/
https://www.poresto.net/republica/2023/7/31/unam-alerta-recomienda-usar-cubrebocas-por-cambios-del-covid-19-en-mexico-394132.html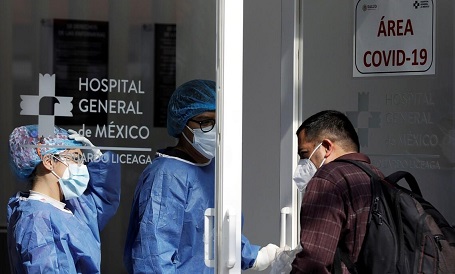 Pic Credit: Gustavo Graf/Reuters
Mexican Health authorities stopped reporting on daily or even weekly COVID-19 statistics with effect from 25
th
of June 2023 although even then, data showed that COVID-19 cases were rising in the country.
https://datos.covid-19.conacyt.mx/
However, hospitals and clinics across the country continued to see a rise in COVID-19 cases and hospitalizations until a week ago when cases seemed to have increased at an exponential and alarming rate.
Local
COVID-19 News
outlets also reporting the rise of other respiratory infections across Mexico including flu infections, RSV infections and adenovirus infections.
Despite warnings from physicians and healthcare staff, the local authorities did not issue any public warnings nor did the mainstream media cover the COVID-19 developments unfolding until healthcare professionals and academics from the National Autonomous University of Mexico (UNAM) issued the warning statement to the local media.
UNAM's recommendations in response to the new surge of COVID-19 cases in Mexico include the following measures for its student and staff population as well as the general community to note:
1. If you experience symptoms of acute respiratory disease (such as flu, cold, cough, sore throat, or fever), isolate yourself and rest for three to five days.
2. Do not self-medicate; instead, seek medical attention or follow-up to monitor the evolution of symptoms and identify any potential complications promptly.
3. & amp;nbsp; Individuals with COVID-19 symptoms or acute respiratory disease should wear face masks at all times while in close contact with others.
4. Use face masks when spending more than 30 minutes with multiple people in enclosed spaces with limited ventilation.
5. In the event of one or more simultaneous COVID-19 cases in a work area or academic setting, sick individuals should self-isolate for three to five days. Additionally, promote ventilation actively, encourage the use of face masks among those working indoors, and notify the health officer of the institution in case of symptoms or positive COVID-19 tests.
6. Maintain proper hygiene practices both individually and for furniture and facilities.
7. For those seeking advice or additional information about COVID-19 in Mexico, UNAM can be contacted through the email
covid19@unam.mx
.
https://www.semana.com/mundo/america-latina/articulo/la-unam-pide-a-mexico-de-nuevo-el-uso-de-tapabocas-ante-cambios-de-comportamiento-de-la-covid-19/202310/
At present identifying what possible SARS-CoV-2 sub-lineages could be driving the start of a new COVID-19 surge in Mexico is extremely difficult to lack of COVID-19 testing and genomic sequencing.
In Jun 2023, Mexico only submitted about 104 genomic sequences while in July only 8!
https://cov-spectrum.org/explore/Mexico/AllSamples/Past6M/sequencing-coverage
There is a very high possibility that the GD.1, XBB.1.16 and EG.5.1 SARS-CoV-2 sub-lineages could be driving the start of a new COVID-19 surge in Mexico.
https://cov-spectrum.org/explore/Mexico/AllSamples/from%3D2023-06-01%26to%3D2023-07-25/variants?aaMutations=orf9b%3Ai5t&
More COVID-19 testing, genomic sequencing and also proper, transparent and regular COVID-1 reporting is required to be able to contain the impending COVID-19 surge in Mexico.
For the latest
COVID-19 News
on Mexico, keep on logging to Thailand Medical News.