Study Finds That Inflammation Causes Heart Cells To Produce A Protein Called ISG15 That Sticks To Other Proteins Causing Heart Failure!
Medical News
: Researchers at St. Michael's Hospital, Toronto-Canada have discovered a way in which inflammation can cause heart failure, a chronic health condition affecting hundreds of thousands of people in Canada and elsewhere globally. Heart failure is a major cause of illness and death, with symptoms that include breathlessness, tiredness, palpitations, and ankle swelling.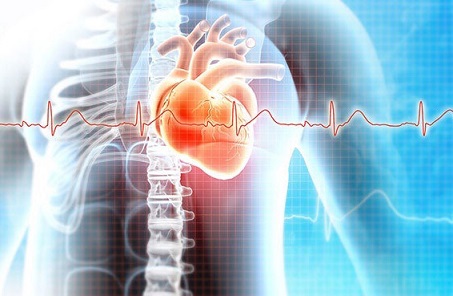 Inflammation is a process that occurs when white blood cells come together in one place. While it can be beneficial, such as when white blood cells work together to fight an infection, inflammation without infection can lead to negative outcomes.
Scientists have known for years that heart failure is associated with inflammation, but it was unclear how white blood cells impair heart function.
Through a series of experiments, the study team lead by Dr Andrew Advani, a St. Michael's endocrinologist and Keenan Chair in Medicine, discovered that inflammation causes heart cells to produce a protein called ISG15. This protein sticks to other proteins in heart muscle cells, causing them to stop working properly. When cell proteins stick together, this is known as a post-translational modification. Post-translational modifications can affect how proteins work and play crucial roles in the development of heart failure.
The discovery of ISG15's role in inflammation-induced heart failure opens up a new field of heart failure research. However, it may take many years for the findings to benefit patients. The results offer the potential for new treatments, including therapies to stop ISG15 from sticking to proteins or new ways to identify people who are at risk of developing heart failure.
In the study, the researchers set out to understand how immune cells recruited to the heart during ventricular remodeling affect cardiomyocyte function. They discovered that the Ubl ISG15 is constitutively expressed by cardiomyocytes and is induced in cardiomyocytes during pressure overload as part of a type I IFN response. ISG15 post-translationally modifies actively translated cardiomyocyte proteins, regulates cardiomyocyte protein turnover, and limits cardiac performance under stressed conditions.
ISG15 induction and protein ISGylation are intracellular mechanisms that provide a mechanistic link between sterile inflammation, adverse ventricular remodeling, and eventual heart failure development.
The study's findings reveal that pressure overload-induced ventricular remodeling is accompanied by an IFN response, characterized by the induction of the Ubl ISG15 and the conjugation of ISG15 to actively translated cardiomyocyte proteins, facilitating left ventricular functional decline.
Dr Advani told Thailand
Medical News
, "This is a new discovery, that this particular post-translational modification caused by inflammation can affect the functioning of heart muscle and cause heart failure. The discovery opens up a whole new field of heart failure research."
In summary, the researchers have discovered that inflammation can cause heart cells to produce the protein ISG15, which sticks to other proteins in heart muscle cells and impairs their function. This process can lead to heart fai lure, and the findings open up new avenues for research and potential treatments for the condition.
The study findings were published in the peer reviewed Journal of Clinical Investigation.
https://www.jci.org/articles/view/161453
For the latest
Medical News
, keep on logging to Thailand Medical News.