U.S. Medical News: Ravaging Vibrio Bacteria Outbreak Claims Lives in New York And Connecticut!
U.S. Medical News
: In a harrowing turn of events that has sent shockwaves through the tranquil coastal communities of New York and Connecticut, a lethal bacterial outbreak has claimed the lives of three individuals, leaving health officials grappling to stem the tide of an emerging public health crisis. The culprit behind this tragic saga is Vibrio vulnificus, a ruthless bacterium that has unleashed a wave of vibriosis infections, pushing local authorities to sound the alarm and issue new guidelines to protect the vulnerable population.
https://www.governor.ny.gov/news/following-death-suffolk-county-tied-rare-vibrio-vulnificus-bacteria-governor-hochul-updates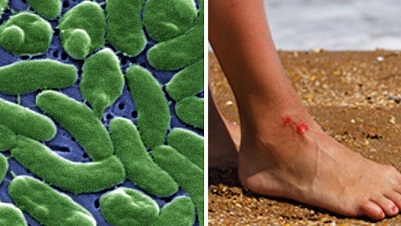 Vibriosis, an often-misunderstood and underestimated illness, has been thrust into the spotlight due to this recent outbreak. Caused by the Vibrio vulnificus bacterium, which thrives in coastal saltwater and brackish water environments, the summer months, especially between May and October, provide the perfect breeding ground for its proliferation. This potent bacterium has a notorious reputation as a "flesh-eating" agent, capable of causing severe infections that can lead to necrotizing fasciitis, a condition that rapidly destroys flesh around wounds.
It should be noted that Thailand Medical News sounded alarms about the dangers of Vibrio vulnificus affecting the U.S. coastlines due to climate changes as early as March 2023!
https://www.thailandmedical.news/news/breaking-u-s-medical-news-terrifying-flesh-eating-vibrio-vulnificus-infections-set-to-ravage-the-u-s-coastlines-due-to-climate-changes
According to local
U.S. Medical News
coverages, the distressing journey into this outbreak began on the serene shores of New York's Suffolk County, nestled on the eastern tip of Long Island. Despite the idyllic surroundings, tragedy struck as officials confirmed the presence of Vibrio vulnificus in a deceased individual. As investigations continue to unravel the circumstances of this case, health authorities are grappling with the perplexing question of how this deadly bacterium made its way into these pristine waters.
In Connecticut, renowned for its thriving oyster industry and coastal traditions, the contagion's tendrils reached even further. Two residents fell victim to the relentless assault of vibriosis infections, casting a shadow over the region's cherished way of life. The infections included cases of wounds infected after swimming in salt or brackish waters and a separate instance involving the consumption of raw oysters from an out-of-state establishment. The unprecedented nature of these infections has left health officials and communities alike struggling to comprehend the scope of the threat.
Dr James McDonald, New York State Health Commissioner, emphasized the pressing need for heightened awareness and vigilance among healthcare providers. Vibriosis infec tions often do not present as the immediate diagnosis, potentially leading to delayed treatment and exacerbation of the illness. In the race against time, early detection and intervention are crucial factors in mitigating the impact of this bacterial scourge.
The consequences of vibriosis infections range from mild symptoms such as diarrhea and stomach cramps to severe cases requiring intensive care or even limb amputation. Astonishingly, the Centers for Disease Control and Prevention (CDC) estimates that one in five patients afflicted with serious infections succumb to the illness, underscoring the urgency of effective prevention and management strategies.
https://www.cdc.gov/vibrio/faq.html
Certain populations are particularly vulnerable to Vibrio infections, especially those with weakened immune systems, liver disease, cancer, diabetes, HIV, or other underlying health conditions. The bacterium's merciless assault on these individuals highlights the need for targeted protective measures that extend beyond general guidelines.
In response to this escalating crisis, health officials are advocating for a series of preventive measures to curtail further infections. Covering wounds, piercings, or tattoos when exposed to warm seawater, and avoiding the consumption of raw or undercooked shellfish, have been identified as critical steps in minimizing risk. Individuals handling raw shellfish are advised to wear gloves and adhere to rigorous hand hygiene practices to break the transmission cycle of the bacterium.
This distressing outbreak serves as a stark reminder of the broader challenges posed by the rise in vibriosis infections across the Eastern United States.
Researchers have linked this surge to the effects of climate change and the warming of water temperatures, creating an environment conducive to the rapid proliferation of Vibrio vulnificus. As our planet grapples with the complex consequences of environmental shifts, the battle against this insidious bacterium underscores the urgency of addressing the interconnected issues of public health and climate change.
In a world already grappling with the multifaceted challenges of an ongoing global COVID-19 pandemic, the emergence of the vibriosis outbreak adds another layer of complexity to the intricate tapestry of public health concerns. As health officials work tirelessly to contain the outbreak and prevent further loss of life, communities must unite, equipped with knowledge and unwavering vigilance. The very waters that once symbolized serenity and abundance now harbor an invisible peril, demanding a collective response that transcends geographic boundaries.
As the investigation continues, the affected communities remain on edge, grappling with the aftermath of these devastating infections.
For the latest
U.S. Medical News
, keep on logging to Thailand Medical News.